Sesame Street - 50 Years and Counting

Phillip Chapman (October 1, 2019) - It's finally here. Sesame Workshop and Shout Factory are releasing Sesame Street 50 Years and Counting, a two-disc DVD set packed full of over five and a half hours of the most loved and iconic moments from the show's 50 year history. The highly anticipated set arrives on Tuesday October 1 on DVD and digital download.
From a fan perspective, it's important to approach this 50th anniversary video collection with the right expectations. Consider that while this set includes over five hours of content, it's only a minuscule drop in the bucket of the vast amount of material in Sesame Workshop's archive of over 4500 episodes.
Complicating the fact is the production decision of how to approach this anniversary release for the most influential children's show ever. Should Sesame Workshop primarily focus on the best-of-the-best content no matter how many times it's been released or should Sesame Workshop primarily focus on the best rarely seen material from the past five decades?
It's obvious this is a challenging balancing act as there are some big omissions from the best-of-the-best category ("Rubber Duckie", "Mahna Mahna", "Bein Green'" and "One of These Things" just for starters). A few major episode themes (like the famous trip weeks, Miles' adoption, Slimey in space, the hurricane and Miles'adoption) are nowhere to be found.
In return, we receive some rare segments that are being released on home video for the first time. Fan favorite characters like Sherlock Hemlock, the Amazing Mumford and Don Music are featured while others like Roosevelt Franklin, Sam the Robot and the first two Gordon actors (Matt Robinson and Hall Miller) unfortunately are not.
Regardless of your own expectations for this 50th anniversary DVD release, it's undoubtedly a must buy, especially for the low street price of $15 or less. Here's why.
OVERALL PRESENTATION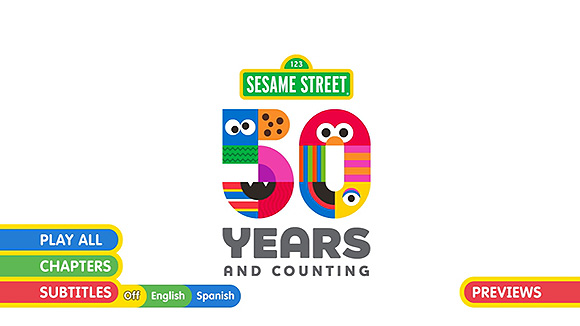 The disc menus are designed around the Sesame Street 50 Years branding with animation, Muppet characters and music. "Play All", "Chapters" and "Subtitles" in English and Spanish are selectable from the left side of the main menu. A "Previews" button is on the right which includes trailers for other Sesame Street Shout Factory releases.
DISC 1 - MAGICAL MOMENTS
The first DVD highlights songs and sketches over Sesame Street's 50 year history with a runtime of 3 hours and 10 minutes. These songs and sketches are separated into six different categories as shown below. The clips are not shown chronologically. Some of the clips segue immediately from one to another while others have wipes and transitions featuring the Sesame Street 50 years branding and animated Muppet characters.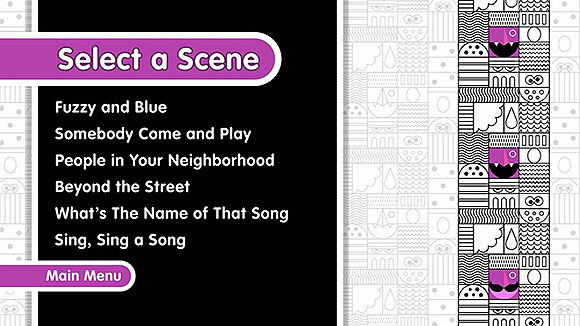 Here is an example screenshot from the opening sequence for the "Fuzzy and Blue" category.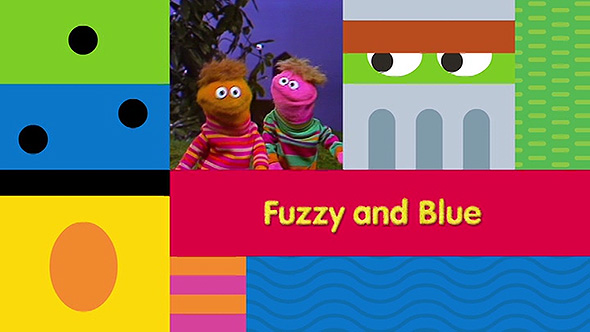 The following Sesame Street songs and sketches are on Disc 1.
Fuzzy and Blue
"Fuzzy and Blue" (1982)

"Pigeons and Cookies and Trash" (2000)

"Furry Happy Monsters" with R.E.M. (1999)

The Cookie Bunny (1978)

Super Grover – Sammy and Frankie [Revised Open] (1974)

"Singing in the Rain" (1992)

"I Can't Help It" (1975)

Grover Teaches About Love (1988)

Monsterpiece Theater – Little House on Prairie [Revised Open] (1994)

Waiter Grover – Remembering (1988)

One Fine Face (1986)

C is for Cookie (1972)
Somebody Come and Play
"Somebody Come and Play" (1970s)

Pinball Number Count 2 (1977)

"Dance Myself to Sleep" (1982)

"1-2-3-4" with Fiest (2008)

Brad Takes a Bath (1978)

The Mystery Box (1987)

"Ladybugs' Picnic" (1972)

"Hey Friend" with Josh Groban (2018)

"Because We're Friends" (2007)

Number 3 Ball Film [Original Version] (1970)

Bert's It (1976)

Sesame Street Pageant – The Four Seasons (1978)
People in Your Neighborhood
"The People in Your Neighborhood" – Garbage Man and Barber (1970)

"Put Down the Duckie" [Original Version] (1987)

"I Remember" with Solange (2019)

"It Feels Good When You Sing a Song" (1978)

"I Love Trash" (1984)

"Three Whipped Cream Pies on the Wall" (1974)

"I Love to Sing in the Shower" (1984)

"Celebrity Lullaby" with Ricky Gervais (2009)

"ABC-DEF-GHI" (1987)

"Sing After Me" with Madeline Kahn (1978)

"You Say Hola and I Say Hola" (1985)

"The Power of Yet" with Janelle Monae (2014)
Beyond the Street
Sesame Street News Flash – Rapunzel [Revised Open, End Audio Cut] (1974)

Upside Downton Abbey (2013)

The King of 8 Film (1970)

"Gimme Five" (1978)

"Born to Add" (1980)

Exercise with Amy Poehler (2010)

Cookie's Crumby Pictures – The Biscotti Kid (2013)

Saxophone Film (1980)

"Imagine That" (1986)

"It Was Magic" with Sara Bareilles (2016)

"Martian Beauty" Animation (1972)

"Cooperation Makes It Happen" (1984)

"The Song of 1" (1970)

"Subway" (1974)
What's the Name of That Muppet?
"What's the Name of That Song?" (1980s)

Mumford's Levitation Act (1971)

"Whistle Whistle Little Bird" (1978)

Here Is Your Life – Tooth (1977)

"Do De Rubber Duck" (1987)

"African Alphabet" with Ladysmith Black Mambazo (1987)

The Martians – Telephone (1972)

Who Are You? (1971)

"Would You Like to Buy an O?" (1972)

"Telephone Rock" (1975)

"Shapes in My Room" (1990)

"Grouch Girls Don't Wanna Have Fun" (1986)
Sing, Sing a Song
"Sing" (1983)

"I Love My Hair" (2010)

"The Alligator King" (1972)

"I Don't Want to Live on the Moon" (1984)

"The Song of the Count" (1973)

"Oh, How I Miss My X" with Patti LaBelle (1986)

"Elmo's Ducks" (2008)

"What I Am" with Will.i.am (2010)

"Bird on Me" Film (1972)

"Number Medley" with Pentatonix (2014)

"Everyone Likes Ice Cream" (1969)

"Hey Food" (1983)

"This Is My Street" with Thomas Rhett (2019)
Here is an overview of songs and sketches from Disc 1 broken down by decade according to their original broadcast dates.
1960s - 1 segment - 1.33%

1970s - 31 segments - 41.33%

1980s - 23 segments - 30.67%

1990s - 4 segments - 5.33%

2000s - 5 segments - 6.67%

2010s - 11 segments - 14.67%
DISC 2 - LIFE ON SESAME STREET
The second disc has a runtime of 2 hours and 40 minutes and includes many of the street scenes of the most beloved moments from the show. Overall, the selection is very good and will appeal to a wide audience. From Mr. Hooper's death to Snuffy's reveal to Maria and Luis' wedding most of the major memorable street scenes are included. Unlike Disc 1, however, there are no opening 50th anniversary graphics or transition for each episode.
The main opening menu is basically the same as the first disc. Here is the chapters menu for selecting the street scenes from a particular episode.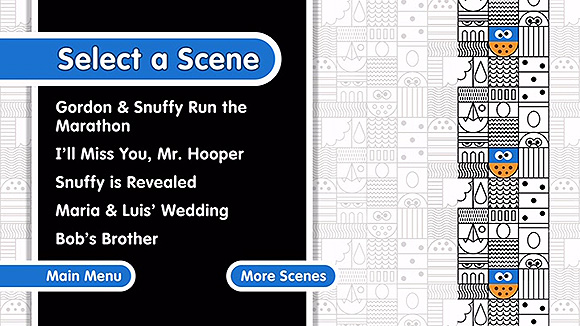 Street scenes from the following nine episodes are featured.
"Gordon and Snuffy Run the Marathon" (Episode 1836, 1983)

"I'll Miss You Mr. Hooper" (Episode 1839, 1983)

- The opening scene with Gordon and Forgetful Jones has been removed.

"Snuffy is Revealed" (Episode 2096, 1985)

"Maria and Luis' Wedding" (Episode 2485, 1988)

- The opening scene with Maria and Linda on the roof has been removed.

"Bob's Brother" (Episode 2687, 1990)

"Around the Corner" (Episode 3136, 1993)

"Abby Moves to Sesame Street" (Episode 4109, 2006)

"The Count Tribute" (Episode 4414, 2013)

"Meet Julia" (Episode 4715, 2017)
| | | |
| --- | --- | --- |
| | | |
| "I'll Miss You Mr. Hooper" | | "Snuffy is Revealed" |
Interesting to note, none of these episodes are from the 1970s. While Mr. Hooper (Will Lee) is the centerpiece of the "I'll Miss You Mr. Hooper" episode when the cast beautifully discusses his death with Big Bird, it would've been nice to have seen a rare episode prominently starring Will Lee as well. It would've added even more poignancy when seen alongside "I'll Miss You Mr. Hooper" especially for fans not extremely familiar with his early material.
Here is an overview of the episodes from Disc 2 broken down by decade according to their original broadcast dates.
1960s - 0 episodes - 0%

1970s - 0 episodes - 0%

1980s - 4 episodes - 44.44%

1990s - 2 episodes - 22.22%

2000s - 1 episode - 11.11%

2010s - 2 episodes - 22.22%
BONUS FEATURES
The main bonus feature is an easter egg of about four minutes. It's accessible from the Disc 1 "Select a Scene" menu. The easter egg is raw archival footage of the falling baker (Alex Stevens) from the "Sing a Song" number films produced by Jim Henson during Sesame Street's first season. While this is a treat to see, you'll likely only watch it once. An on-screen disclaimer states that there's no audio due to this being archival footage.
| | | |
| --- | --- | --- |
| | | |
| Alex Stevens as the falling baker | | Jim Henson and Alex Stevens from 1969 |
I understand that the bonus features are limited due to the fact that there's so much content on each of the two discs, however, it's still possible that more content could've been included as neither dual-layer disc was filled to capacity.
The incredible cast, Muppeteers and all the hard-working people behind-the-scenes deserve some praise on the milestone release. Even including one of the myriad of Sesame Street retrospective specials might have been a nice touch. Our favorite is the hour-long "Sesame Street Unpaved" originally produced to air on TV Land and Noggin in 1999.
A preview of Sesame Street's upcoming 50th season would've been a nice inclusion as well.
CONCLUDING THOUGHTS
We've been waiting a long time for this anticipated DVD set and undoubtedly every fan has their own wish list of material they've been longing to see. Whether you were hoping to see rare footage from classic episodes (like "Bert and Ernie's Sing-Along", "The Count Counts" and Margaret Hamilton as the Wicked Witch) or classic themed weeks (like Sesame Street in New Mexico, Sesame Street in Hawaii, Sesame Street in Puerto Rico and Big Bird Goes to Camp), you may feel let down by this release as much of the content you've seen before is available on other releases or on Sesame Street's own YouTube channel. Regardless, there's still plenty of great material included in this set that make it a must buy for the low price for $15 or less.
I would've also preferred that the first disc either have grouped the segments by decade (1970s, 1980s, 1990s, 2000s and 2010s) or more logical categories (Ernie and Bert, Monsters, On the Street, Guest Stars, Muppets, Animation, Film etc.) to make finding content easier. Ideally, each clip should have also either been accessible from the main menu (instead of just the category) or at the very least, every clip should have had its own chapter marks for easier access.
Even with these minor quibbles, this 50th anniversary collection is an essential DVD that every fan should own in addition to the 40 Years of Sunny Days, Old School Volume (1969-1974), Old School Volume 2 (1974-1979) and Old School Volume 3 (1979-1984) sets.
With more than 100 million adults who've grown up on Sesame Street looking for a taste of nostalgia and now having children of their own, releasing more classic material will no doubt be a home run for Sesame Workshop. We all would love to see more classic Sesame episodes and rare inserts. Sesame Workshop knows how much fans want to see more classic material and we know they are looking into the best ways to make it available. Think of this set as a highlight reel, not a full course meal. Hopefully, Sesame Workshop's vast archive of episodes will be made available to everyone someday.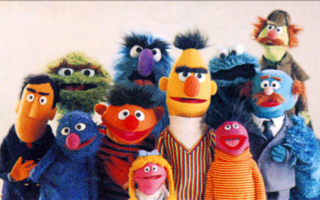 Having classic episodes accessible at the American Archive of Public Broadcasting is just a start. We'd like to see full classic episodes on Sesame Workshop's official YouTube channel (each Throwback Thursday perhaps). Classic episodes also might find an exclusive home on one of the numerous upcoming streaming services. An extended Sesame Street Twitch marathon, like other PBS shows ("Mister Rogers' Neighborhood", Bob Ross' "The Joy of Painting" and Julia Child's "The French Chef") would also be a welcome sight in the months and years to come. Let's be thankful for what we have now and look forward to more sunny days ahead.
You can listen to the music of Sesame Street from the show's 50 year run on Muppet Central Radio.

Discover what you may be missing!
Learn the differences between widescreen and pan-and-scan DVDs.