Sesame Street: A Celebration -
40 Years of Life on the Street

Phillip Chapman (October 23, 2009) - More than two years ago, when we first heard that Sesame Workshop was planning a commemorative collector's edition book for the show's 40th anniversary, anticipation was immediately very high.
For many fans, some of their most treasured collectibles are the Muppet books Of Muppets and Men - The Making of The Muppet Show and Jim Henson: The Works. Fans have wondered if this new release would be able to stand alongside these treasured classics.
This new collector's book is appropriately titled, "Sesame Street: A Celebration - 40 Years of Life on the Street" and spans a total of 304 pages and includes over 1500 photographs many of which have never been published. The book is written by veteran Muppet writer Louise Gikow and contributing editor, Sesame Workshop's Betsy Loredo.
Over the past 40 years, there have literally been thousands of Sesame team members behind-the-scenes that have given their heart and soul for the betterment of educating future generations. Would this book honor their contributions to the show? What about the millions of children who have been impacted by Sesame Street, would this book reach out to them? And what about those adult Sesame Street fans, would the book have enough surprises and behind-the-scenes revelations to make it a worthwhile purchase? The answers are whole heartedly, yes, yes and definitely yes.
"IN MY BOOK"
Immediately when you see the hardback book you'll be awestruck at the sheer size of this release. The book is massive and quite a bargain at its $40 suggested retail price. (You can find the book on-line for $26 with free shipping.) It's thicker than Jim Henson: The Works and even a little bit larger than the sought after, Of Muppets and Men. The book measures 12.5 inches high, 10.9 inches wide and 1.3 inches thick.
Some fans have criticized the front cover as it includes a plethora of "Photoshop cut-out" cast members and Muppets from the past 40 years. However, when seen in person the cover is very striking and looks much better than at first glance on the web. The back cover is a little more traditional (some may even prefer it) with the "Celebration" title inscribed in green letters and Muppets surrounding the text.
"READ ME A STORY"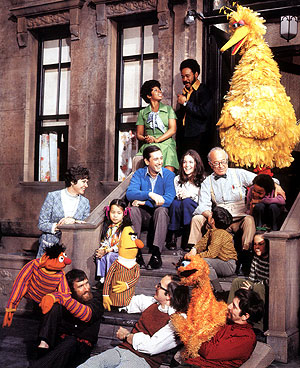 Being nearly identical to Sesame Street in age, I've had the privilege of growing up with the show. In the early 1970's there were no VCR'S, so the easiest way to spend time on Sesame Street was either through a record, a book or a puppet.
When I first held this book in my hands, I flipped through page-by-page, saving an in-depth read for a later time. As I saw photograph after photograph, I felt like a child again visiting my favorite street. There were literally several scenes that I hadn't seen since my childhood. In fact, this isn't a book that you'll just read through once or twice and feel like you've got it covered. Like a fine meal, "A Celebration - 40 Years of Life on the Street" needs to be read in multiple stages in order to truly appreciate the depth and attention to detail.
Each of the 15 chapters are named appropriately enough by a Sesame Street song title or a portion of a lyric. Each chapter also typically begins with behind-the-scenes secrets from the filming of a recent episode. (This placement seemed kind of odd to me. The recent "episode" spreads might have worked better in their own chapter, something along the lines of "Producing a Season".) Interspersed throughout the book are also pages from actual scripts and musical scores.
| | | |
| --- | --- | --- |
| | | |
| The cast taping Bert and Ernie's Sing-Along. | | The Count's Countdown, the hit radio show. |
In particular, the sections devoted to the Muppeteers and cast members were very well done. Most of them included interviews with each individual performer. There are some wonderful screen grabs and behind-the-scenes photos from famous episodes (Goodbye Mr. Hooper, Maria and Luis' wedding and Snuffy's reveal are examples). Also included are photos from some fan-favorite, rarely seen episodes (like Bert and Ernie's Sing-Along and The Count Counts). There are several pages towards the end of the book even devoted to Sesame Street merchandise released over the years.
"THAT'S THE WAY I READ"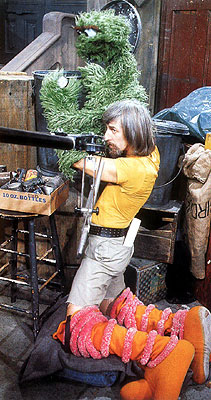 Caroll Spinney performs Oscar
While many of the Sesame Street TV specials are referenced in the book, I would've liked to have seen an official list with summary and airdates for each of the Sesame specials. There are several rarities from the 1970's that haven't been seen since and these descriptions would've made a nice addition to the book.
Likewise, while a brief timeline was included on the merchandise pages, a comprehensive Sesame timeline like the one included in Jim Henson: The Works would have been a great addition. The included timeline seems like it might have been rushed to print. Under 1990, the book says that Sesame Street celebrated it's 25th anniversary, when it should have been listed as the 20th anniversary.
Along the same lines, since an episode guide for more than 4000 shows is impractical (that could be a book all its own), more descriptions and key events for each season could've been presented in a guide format over several pages.
Not to be outdone, there is even a DVD in the front sleeve. The disc features the first episode (slightly edited) as it was released on Sesame Street Old School Volume 1 several years ago. Also included is an updated version of Sesame clips in a series of television sets throughout the years (last seen at the end of the special, "Elmo's World: The Street We Live On"). There are promos for the DVD's Sesame Street Old School Volume 1 and Sesame Street Old School Volume 2.
CONCLUDING THOUGHTS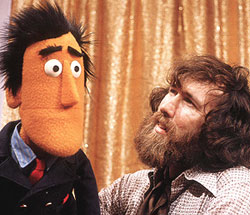 Guy Smiley and Jim Henson
"Sesame Street: A Celebration - 40 Years of Life on the Street" will undoubtedly be a huge success because of the love and care that Louise Gikow and Betsy Loredo gave to every page and interview. This is the pinnacle of Sesame Street books and is the perfect companion to Michael Davis' Street Gang: The Complete History of Sesame Street published last year.
This book is a great addition to every fan's library and worth every penny, especially at the available low price of about $25. Even though there are a few minor missteps and some areas that I would've liked to have seen emphasized more, Louise Gikow takes the reader back in time to what made Sesame Street so special to begin with – the realization that learning truly can be fun.
Thankfully, this is just the beginning of Sesame Street's 40th anniversary. In just a few weeks, the long-awaited DVD set, 40 Years of Sunny Days will be released along with the 40th season premiere of Sesame Street on Tuesday November 10. Sesame Workshop has also launched a 40th anniversary website for fans young and old to celebrate the shows outstanding achievement of being the longest-running and most influential children's program in the history of television.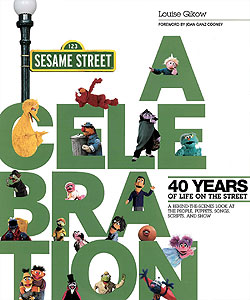 Contents
Acknowledgements
Preface by Big Bird
Preface by Oscar
Foreword by Joan Ganz Cooney, Sesame Street Cofounder
Foreword by Gary Knell, CEO, Sesame Workshop
Chapter 1
How to Get to Sesame Street: The Origins of the Show
- Episode 4141 "On the Set"
- How It All Began
- The Dream Team
- Rolleeolee-oleeyo! (Jon Stone)
- How Sesame Street Got Its Name
Chapter 2
It's Not Easy Bein' Green: Muppets and Puppeteers, The First 10 Years
- Episode 4151 "On the Set"
- Heigh-Ho! Kermit the Frog Here!
- Jim Henson
- Frank Oz
- Dynamic Duo (Ernie and Bert)
- Caroll Spinney
- Muppets in the Making
- Jerry Nelson
- Fran Brill
- Richard Hunt
- The First Ten Years
Chapter 3
The People in your Neighborhood: The Human Cast
- Episode 4156 "On the Set"
- On the Block
- Will Lee
- Bob McGrath
- Dr. Loretta Long
- Matt Robinson
- Roscoe Orman
- Sonia Manzano
- Emilio Delgado
- Here Comes the Bride
- Northern Calloway
- Linda Bove
- Alison Bartlett-O'Reilly
- Alan Muraoka
- Chris Knowings and Nitya Vidyasagar
- Comings and Goings
- Family and Friends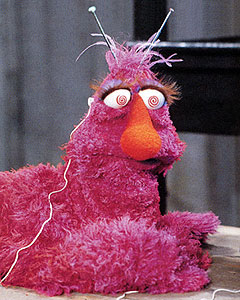 Chapter 4
Somebody Come and Play: Muppets and Puppeteers, The Next Generation
- Episode 4149 "On the Set"
- New Kids on the Block
- Brian Meehl
- Martin P. Robinson
- Kevin Clash
- Evolution of Elmo
- Pam Arciero
- David Rudman
- Colorful Characters
Chapter 5
Stick Out Your Hand and Say Hello: Celebrities and Kids Visit the Street
- Episode 4135 "On the Set"
- May I Have Your Autograph?
- Arts and Letters
- News Makers
- Good Sports
- Play It Again
- See You on the Street
- First Comes Love…
- Star Turns
Chatper 6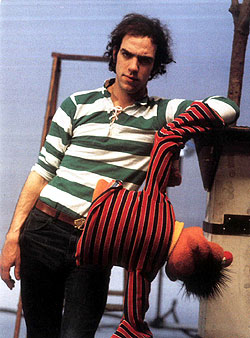 Happy to Meet You: Muppets and Puppeteers, The New Kids
- Episode 4149 "On the Set"
- A New Generation
- Joey Mazzarino
- Carmen Osbahr
- Stephanie D'Abruzzo
- Steve Whitmire
- Right Hand, Left Brain
- Eric Jacobson
- Matt Vogel
- Leslie Carrara-Rudolph
- Girls in the 'Hood
- It's a Good Life
- Goofs and Spoofs
Chapter 7
C is for Cookie (and Curriculum): The Lessons Behind the Laughter
- Word on the Street
- Bean Counting
- What to Teach
- Wild Things
- Breaking New Ground
- Minor Distractions
- New Goals
- Model Behavior
- More Eyes on Screen
- Meet the Need
- New Ways to Teach
- Using Our Noodles
- Making Magic
Chapter 8
Imagine That!: Writers, Directors and Producers
- Episode 4157 "On the Set"
- The Write Stuff
- The Process
- Do The Write Thing
- Good-bye Mr. Hooper
- Take Forty
- Let's Work Together
- Writing for Yuks
- Now I Know My ABCs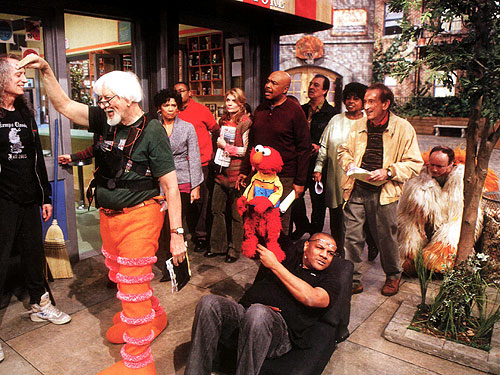 Chapter 9
Over, Under, Around & Through: The Art and Craft of a Puppet Show
- Episode 4161 "On the Set"
- A Side of Silly
- Making Muppets
- Performing Puppets
- Stone's Street
- Yesterday's 'Hood
- Let's Move
- Century 21
- Props and Scenic
- Building on Up
- Reconstruction Era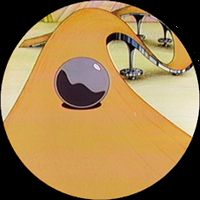 Chapter 10
What's The Name of That Song?: Music, Composers, and Lyrics
- Episode 4143 "On the Set"
- Perfect Timing (Danny Epstein)
- The Giant (Joe Raposo)
- The Street Hits the Road
- The Gentleman (Jeff Moss)
- Show Me the Silly
- Make Noise
- Sing After Me
Chapter 11
I Believe in Little Things: Animation and Live-Action Films
- Episodes – From Ladybugs to Fairies
- Animated Faces
- All That Jazz
- Control Room
- Mini Movies
- Film Makers
Chapter 12
We Are All Earthlings: the Longest Street in the World
-06°09'South 106°49'East
- Street to Strasse
- The New World
- Across the Pond
- Small World
- Global Reach
- The Rim & Beyond
- Pass It On
Chapter 13
Because We're Friends: Thriving as a Non-Profit
- Episode 4141 "On the Set"
- Play Things
- Toy Timeline
- Big Screen, Little Screen
Chapter 14
We'll Do It Together: Community Outreach
- Special Episode "Talk, Listen, Connect"
- Early Outreach
- Road Trip
- Prison Project
- Reach Out
- Just Ask
- Now and Then

Chapter 15
See You Tomorrow: The Next 40 Years

Index
Brought to You By… Our Photographers
Need to Read