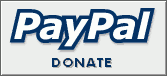 Part 3: The Performance
By Tom Holste
THE PERFORMANCE
After we had already had a lot of great memories from MuppetFest, we were treated on Sunday night to the best part of all: a two-hour stage show that was appropriately billed as "The Muppet Show Live." That's right, two hours of comedy and music featuring most of the main Muppet characters, performed as though it were an all-new episode of The Muppet Show. And for the first time ever, we got to watch it unfold in real time. It seems that the delay in the date of the convention proved most beneficial for the gala: what sounded like a simple Paul Williams concert from the early advertisements turned into a marvelous full-blown Muppet production. Better still, the whole event raised money for Save the Children, a charity that has been working in many impoverished countries, like Afghanistan, since the 1980's. In fact, because of this, there were a number of Hollywood bigwigs in the pricier ground-floor seats, and some in our group saw Tracey Ullman and Damon Wayans among the guests. The charity would have been a worthwhile cause to support even if we hadn't got our money's worth of entertainment—but we got that, too. We're working to get a copy of the script online, but here I'll present a very brief overview of the night's activities.
For those wondering how they handled the fact that the puppeteers could be seen during the performance, it should be noted that the presentation was a beautiful mix of different puppetry and stage techniques. Since there was no possible way to hide the puppeteers at all times, the presence of the puppeteers was simply incorporated into the show. "This is the first time ever the Muppet Show has been performed live," Sal told us at the beginning, "and tonight you're gonna see why." In other words, no retakes, no stopping for special effects or props, etc. Kermit even made mention of it, briefly acknowledging Steve below him and then telling us, "Don't worry about him – he's just a hired hand." Later, when Pepe had to be fitted for a pair of glasses, he actually had to be taken offstage so the props people could fit him with the glasses, which Kermit used as an opportunity to point out what a great job the props people do. This concept of putting the audience in the role of co-conspirator, thus making the illusion easier to accept, was a strategy Jim himself often employed and would have heartily approved of.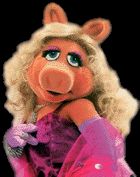 Also, for those who felt that many classic characters have been missing for too long, this show went out of its way to make up for it. A few classic characters made a major return to the stage, aided by Bill Barretta and Brian Henson. Kudos to both of them on their wonderful performances. Other long-MIA Muppets turned up in the background of several songs. Miss Piggy showed up on the video projection screens during the Brooke Shields segment, convincingly "interacting" with an onstage Kermit. Lastly, video clips of classic Muppet Show segments were aired on the video screens throughout the night. These clips served the twofold purpose of allowing the stagehands to make changes to the set, as well as giving characters like Piggy and Fozzie more exposure than they otherwise would have at the gala. Thanks to everyone for making sure all these characters were involved in the proceedings. We've missed them.
Act 1

The show started about 9:15 with Sal coming out from behind the curtain to stand at the podium. "First of all," he told us, "I've seen what you're about to see, and all I can say is, `I'm sorry.'" He then explained that Lionel Richie couldn't be there due to an illness (best wishes for his speedy recovery) and instructed the people in the pricier seats how to throw their props during the Muppet News segments (at which point I said to myself, "They're gonna do Muppet News? Aaaah!"). Sal introduced a second screening of the hilarious 1975 film that Jim used to try to sell The Muppet Show, then said before he left, "Don't come looking to me after the show for refunds."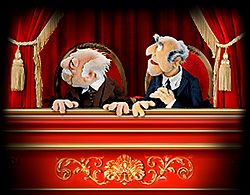 The short film was still funny for many in the upper balcony who had seen it before, and the people downstairs in the pricier seats seemed to be enjoying it as well – it's one of the few times I was ever actually able to hear them laughing. After the film, Statler and Waldorf appeared in a small balcony to the right side of the audience to trade barbs. Waldorf: "Don't worry, it's just for one night only." Statler: "Yeah, that's what they told us 25 years ago!"
Then the curtain rose to reveal the official Muppet Show backdrop (looking just like the one on the show) and Kermit popped out of the O to announce, "It's the Muppet Show, with our very special guest stars, Paul Williams and Brooke Shields and other surprises! Yayyy!" As Kermit cheered, the applause from the audience was nearly deafening. A lot of us never thought we'd see a new episode of The Muppet Show, let alone in person, so this was like a dream come true for us. We showed our appreciation for that throughout the rest of the night as well, particularly when Pepe or Bobo or any of the classic characters showed up for the first time onstage. (At least, that was the case in the upper balcony. I don't know if the people in the lower seats even knew who some of these characters were. But we know 'em and love 'em all!)
After the Muppet Show theme was played on the projection screens (the fifth-season version), we saw the first backstage scene. ("Backstage" was represented by a tall desk for Kermit that helped to hide the puppeteers, stationed behind a thin curtain that would only become visible when a spotlight was put on it.) Kermit was running down a checklist with Rowlf (played by Bill Barretta). "OK, do we have the things we need?" Kermit asked. "Special effects…props…music?" After he'd name each item, Rowlf would say, "Check." "Oh, good," said Kermit. "Then we're ready." "Yep," replied Rowlf. "As soon as you write some checks, we can run out and buy those things!"
A perturbed Kermit then came out on stage to announce the opening number, which surprisingly turned out to be "Mahna Mahna." Bill performed Mahna Mahna here, though the whole song was lip-synched from Jim's recording of it for The Muppet Show. (That fact didn't distract from the performance, though.) During the part where Mahna Mahna really scats out of control, he left the stage, and we saw video footage of him cruising the streets of L.A. in a limo! When Kermit had to bring the phone onstage to the Snowths, he ran with a long phone cord stretched out behind him (assisted by a couple of other puppeteers) as Bill himself performed the last "Mahna Mahna." (His voice was so dead-on, though, that I wouldn't have even known it was him if not for the note in the script.)
At this point, we got our first Muppet News Flash. Stagehands wheeled out a large version of the news studio set as the Newsman "ran" on stage. (Brian Henson played the Newsman; this is the first time he's ever played one of his father's characters.) The Newsman informed us that a nasty storm was sweeping the country, with hailstones as big as golf balls. As the surprised Newsman looked down at his sheet, saying, "Golf balls? But that's impossible…" a neon light above him counted down "3, 2, 1…Throw!" at which point the Newsman was pelted with golf balls from the audience. The frustrated Newsman leaned on his arm and said, "You'd think after 25 years, I would have learned!"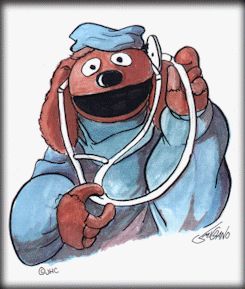 At this point, we saw our first classic video clip, a "Veterinarian's Hospital" bit involving a sick bunny played by Steve Whitmire. After this came another backstage scene with Kermit and Pepe. Kermit's looking for Miss Piggy but can't find her. Pepe admits to Kermit that he's nervous about performing in front of all these people: "I have the stage frights." Kermit suggested Pepe visualize the audience in their underwear; Pepe told Kermit that he's one sick frog. Bunsen and Beaker came along to help Pepe with his problem (though much to Pepe's consternation, Bunsen kept inadvertently referring to the prawn as "Pee-pee"!). Unveiling the latest in BVD technology (not DVD), Bunsen presented Pepe with a pair of glasses that would allow him to see the audience without even their underwear on. Pepe tested the glasses out on the audience and began shamelessly flirting with a woman in the front row. Pepe to Kermit: "I am never taking these off, okay?" Kermit: "All right, fine. Just help me find Miss Piggy." Pepe: "Miss Piggy? … I am taking the glasses off, okay?"
The next video clip was Fozzie's hilarious ventriloquism act from the Edgar Bergen show. Then Gonzo made his first appearance on stage. "Ladies and gentleman, to those of you seated nearby, I'm the Great Gonzo. To those of you seated in the balcony, I'm Antonio Banderas." Gonzo then introduced his singing chorus of chickens, but since one of his singers was ill due to "molting," he had to call in a replacement: Academy Award winner Jon Voight, complete in full chicken costume. Voight, who recently appeared in Henson's "Jack and the Beanstalk," at first seemed a little uncomfortable with being dressed up in full chicken regalia. Yes, that's how he was supposed to act according to the script, but it was hard to tell whether he was just using a very realistic style of acting, or if he was genuinely a little embarrassed at first. By the end, though, Voight was clucking and dancing his heart out, for which the audience amply rewarded him.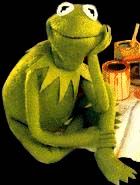 Next came a new, live rendition of "Bein' Green." Steve did a great job on it, and the set design was particularly beautiful on that number. After that came another classic Muppet video moment, this one being "Java" – the bit with the two dancing pipe-cleaner-looking creatures. The big one keeps stepping on the little one till the little one blows him up. Then came another Muppet News segment, where the Newsman reported that a quarterback for the Oakland Raiders threw an astounding 250 touchdown passes. Naturally, as he looked down to verify that outrageous information on his sheet, the audience pummeled him with footballs.
The next presentation was a combination of video clips and live performance. While the video started with Ethel Merman signing the first few lines of "There's No Business like Show Business," the performers (offstage, in character) began signing the song, with modified lyrics to reflect the anniversary of The Muppet Show and all the wonderful guest stars that appeared on it. The song contained such great lines as "Once we were the strangest things on TV/Why they thought us strange, I do not know/Now if you want to see some weirdos/You turn on re-al-ity shows."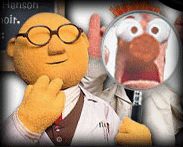 Gonzo then introduced stand-up comic Joe Pasquale, who made his first American appearance at the gala. While his quirky routine was often quite funny, I have to agree with others who said this part felt more like filler than anything else, perhaps because he had no significant interaction with Muppets during his piece. His routine was followed by a "Muppet Labs" clip with Bunsen demonstrating his banana sharpener.
Next, Kermit came out in a scarf, saying he'd like to sing a song in honor of the children being helped through this benefit performance. As images of children throughout the world sponsored by Save the Children appeared on the video screens, Kermit led a group of other Muppets in a wonderful new rendition of "It Feels Like Christmas" from Muppet Christmas Carol. Joining Kermit for the song were Robin, Gonzo, Pepe, Sal, Clifford, Sweetums, and eventually a wide assortment of characters in the background, including Rizzo, Sam the Eagle, and Scooter! (There was a woman playing Scooter, but no one in the balcony could tell who it was.) Fake snow swirled through the auditorium as the number came to its crescendo, and the audience stood up cheering. At that point, Kermit announced an intermission.
I sat back down in my chair in astonishment. This was one of the most entertaining things I'd ever seen…and it was only half-over. Wow.
Act 2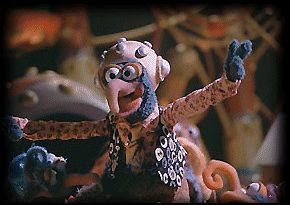 After the intermission, Maria Bello (whose credits include ER and the short-lived Scott Bakula series "Mr. and Mrs. Smith") told the audience a little more about Save the Children, and then Clifford and Rizzo came out to auction away several items (presumably for the charity). Clifford: "By the way, I wasn't on The Muppet Show, so don't be asking yourself, 'Was he that Swedish guy who did all the cooking?'" Rizzo: "Hey, if ya got enough money, you can buy this show!" Sweetums walked among the crowd, trying to encourage bids. Claudia Black came onstage in a stunning evening dress to help auction away the items, which included Fozzie's rubber chicken and, of all things, Gonzo's nose from "Muppets from Space." At one point, someone shouted a wisecrack from the balcony. Kevin/Clifford asked if someone up there was bidding. The reply: "Come on, Clifford, you know we can't afford that stuff. It's not like we're sitting in the pricey seats!" Fortunately, Kevin didn't miss a beat. "Well, fine. We just ain't gonna talk to you then!" Thereafter, any time someone on the main floor placed a bid, Clifford would look up at the top balcony and say, "What you got to say now?" Finally, Bill Kastak was sitting in the upper balcony bid nearly $2000 for one of Piggy's outfits in a shadow box. As the bidding went higher and higher, Rizzo asked "Are you from Muppet Central?", and the balcony went wild. I believe Chris Smigliano was with this guy, and as a result, they got to sit down in the pricier seats for the rest of the evening. Of course, I'm very happy for them, but I think I much preferred sitting in the balcony with the really excited Muppet fans!
The second half of the show really got underway with Statler and Waldorf again. Waldorf commented that the show reminded him of Aspen. "Why?" asked Statler. "Because it's all downhill from here!" replied Waldorf with a guffaw. The next video clip was part of Jim Frawley's famous screen test for The Muppet Movie, which involved Kermit and Fozzie outside talking to real cows.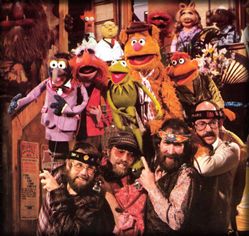 After that, Brian Henson came out sans puppets and began talking about his father and the history of The Muppet Show. He invited Steve, Dave and Jerry onstage to share some of their reminisces with us. As each performer talked, a vintage photo of that puppeteer with Jim would be shown on the video screen. Much of what they had to say was familiar to the Muppet fans, particularly those who just heard some of this information at the Fest. But I got the feeling this part was largely for the people in the front rows who haven't given Jim Henson much thought since 1990. Besides, it's always beautiful to hear the performers reminisce about their experiences with Jim.
Steve talked in part about the painful but amusing trials of his audition process, and how he gradually learned to accept taking the mantle of the most famous frog in popular culture. Dave wistfully recalled the times Jim and the others would crack each other up on the set until it was impossible to get any work done. The technical crew may have thought them unprofessional, but Dave revealed that after the box-office failure of Labyrinth, when Jim was feeling particularly low, he confessed to Dave, "You know what my favorite times have been doing this work? … The times we've laughed." Jerry recalled Jim's "whim of steel"…he'd never outright say something was bad; he'd just kind of say "Hmmm" or "Let's try it again." After the performer had tried everything he could think of, and Jim would tell him to try it one more time, the performer would let go and just do an outrageous off-the-wall take – at which point Jim would say, "Yeah, that's it!" A picture of Jim with all three performers appeared on the screen as Jerry invited us to remember their "fearless leader," as he affectionately dubbed him. Then we saw the Jim Henson video tribute that had been screened for the fans earlier that day.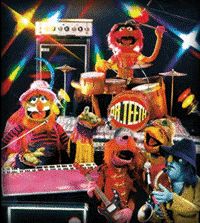 At this point, Floyd and Zoot came onstage, with Floyd wondering aloud where the rest of the band was. Zoot told Floyd they were running late, and Floyd mused, "I must be gettin' old – I'm showin' up on time for my gigs!" The two then did a live performance of "Where You At." I figured their explanation would have to suffice for why we wouldn't see the other characters, but as the song progressed, the rest of the Electric Mayhem slowly made their way onstage! At the end of the song, they launched into "Can You Picture That," the pre-recorded track, taken right from The Muppet Movie. Using this track allowed Dr. Teeth, Janice, and even Animal to sing along with Floyd and Zoot, which was fantastic. Yes, John Kennedy was there to perform Dr. Teeth, but it's highly unlikely we would have heard a peep out of Janice without the tape. For those who are wondering, Steve worked Dr. Teeth's hands. (Steve commented during the Q&A that, being a music lover, he relishes having a job where he can fake playing instruments pretty well and have it come out beautifully!) The other performers listed in the script are Kevin, Bill and Drew, but it doesn't say who was assigned to what character. At any rate, a fantastic psychedelic light show went on during the number, and naturally the audience went wild with applause at the end.
After a video clip of "Pigs in Space" (the one where Piggy's weight throws off the whole center of gravity on the ship), Kermit came out to sing "Never Before and Never Again" with Miss Piggy, only he still hadn't found her. To help out, Gonzo sent Brooke Shields onstage, complete with a blond wig, a pig nose and in some of Piggy's clothes. Kermit tried to keep going in spite of this odd development, but when Brooke began singing, Kermit had to stop her. "Not good enough [to sound like Piggy]?" she said. "No," he replied. "Not bad enough!" Kermit had to coach her through a few more takes before she sufficiently bellowed the song off-key. At that point, Piggy showed up on the video screens and told them to stop ruining her song. Kermit asked Piggy where she'd been all this time, and Piggy explained that she was attending "Piggyfest" in Bayonne. A frustrated Kermit excused himself to Brooke and went offstage to confront Piggy…and promptly showed up on the video screen with her. Kermit asked Piggy why she was being so obstinate, and she replied that Kermit had upset her: "You sell the company and all I get is a T-shirt that says 'Someone in Munich Loves Me.'" Kermit encouraged Piggy to let her feelings out, so Piggy complied with a "Hi-yaaa" that sent Kermit flying offscreen and right back onstage with Brooke. (Clever transition!)
Kermit and Brooke once again tried to proceed with the song, but this time Bobo interrupted them. He informed Kermit and Brooke that Paul Williams was threatening to walk if they didn't stop ruining his song. The two then decided to switch over to "San Francisco Bay Blues," assisted by Bobo and eventually a host of other Muppets. This whole bit was great. I must admit I wasn't expecting much of Brooke Shields, but she surprised me with her comic ability (she hasn't been this good since her "Friends" appearance) as well as her singing voice. Why has no one tapped this talent before?

The next video clip was of the Swedish Chef in the famous bit with the bandito lobsters. The Newsman came out for a final News Flash, informing us that there were reports of a giant boulder rolling through Hollywood. He braced himself for an attack from the audience, and when nothing happened, he said, "Ah, ha! They didn't give you a boulder to throw, did they?" Sweetums came out from behind the set and said, "No, but they gave me one!" After he threw it, the Newsman got back up and shouted, "You missed me." At that point, a cow came barreling over the top of the news stage and clobbered the poor Newsman in the head! (It's worth noting that this part was not in the script.)
The best was saved for last, though, as Paul Williams came out at the end to sing a medley of songs from The Muppet Movie and other productions Williams has worked on with the Muppets. Kermit sat on top of the piano that Paul Williams was playing as they sang together on "Movin' Right Along." Gonzo joined them onstage for "I'm Going to Go Back There Someday." Robin came out to sing "Bless Us All" from Christmas Carol with them. Sal got Rowlf to join him and Paul for "I Hope that Something Better Comes Along." Robin and Paul began singing "Where the River Meets the Sea" from Emmett Otter, but Elmo came onstage midway through the song to help them finish the number.
Finally, every available Muppet that they had with them that night came back onstage for "The Rainbow Connection." Even the two 50-foot Bossmen were there! Again, it didn't distract to see the puppeteers under these giant creatures; in fact, it made their efforts all the more impressive. The lyrics were superimposed on the background behind the performers so the whole audience could sing along. Finally, Kermit thanked all the special guest stars, who came back onstage, and thanked the audience for coming before leading everyone in "Magic Store" (the "Rainbow Connection" reprise from the end of The Muppet Movie). Confetti flooded the arena as the Muppets and performers sang the final notes, and the audience stood up to give a thundering standing ovation.
All in all, The Muppet Show Live was one of the absolute best things the company has ever done, period. I can't remember when I've ever had more fun than watching that show surrounded by fellow Muppet fans. The performers gave their all, and it was a hilarious show filled with great music. Hats off to everyone involved.
On our way out the door, audience members were handed special bags of merchandise, including a very tasteful watch, a 25th anniversary shirt, and a stuffed poseable Kermit doll. All of this came in a great little bag that featured the old lunchbox design on it. (Some also have said that they received more information on Save the Children, but I didn't have anything like that in my bag.) What a fantastic way to end the Fest!
Read
more