Did Mickey Miss Out on the Muppets?
As the marathon-length sale of the Jim Henson Company reportedly draws to a close, Jim Hill asks: Are the Mighty Morphin Power Rangers really going to snatch Kermit & Co. away from the Mouse?
By Jim Hill
October 9, 2002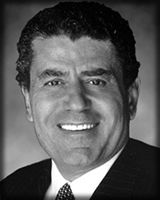 On Tuesday October 8th, Haim Saban's intent to purchase Henson became public.
By now, some of you have undoubtedly already heard about this story: Billionaire Haim Saban – the media mogul who made millions off of the Mighty Morphin Power Rangers – is reportedly negotiating to buy the Jim Henson Company. (For additional info on this story, please follow this link).
Soooo … Is this story true? According to my sources at Henson: Yes, Saban IS in talks with EM.TV (the German entertainment conglomerate that currently owns the Jim Henson Company). And those negotiations ARE reportedly so far enough along that both sides are now said to be haggling over a possible purchase price for the Muppets.
So what price IS Saban supposedly currently offering EM.TV to take the whole K(erm)it and kaboodle off their hands? An astounding low $100 million.
Okay. I'll admit that -- to most of us, anyway – that $100 million sounds like an awful large amount of money. But let's keep in mind that – back in February 2000 -- EM.TV & Merchandising AG paid $680 million to acquire the Jim Henson Company. And – back in January of this year – it was reported that the Germans were looking to unload the Muppets for a mere $250 million. Just over a third of what they'd originally paid for JHC.
So now the asking price for the Jim Henson Company has reportedly dropped to $100 million. Why for?
To answer that question, you have to understand that Haim is also in negotiations to buy another asset EM.TV currently has up for sale: KirchMedia, the defunct German media group. The scuttlebutt is that this new ridiculously low price for the Jim Henson Company comes as a condition of the hardball negotiation tactics that Saban has been using on the EM.TV execs. As in: "I'll agree to pay so many billion for KirchMedia if you agree to throw in the Muppets for an additional $100 million."
It's hard to believe that Kermit & Co. have come to this. Not to be seen as a crown jewel anymore. But – rather – just as an extra chip that's being thrown in the pot as an attempt to sweeten a deal.
It's harder still to imagine that the Jim Henson Company could be snatched up for just $100 million. Which is $50 million less than the Walt Disney Company offered to pay Jim Henson for his entire company back in 1989.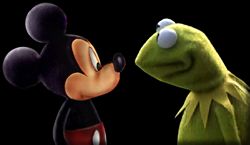 Speaking of Disney … What is Mickey (The company that's long been rumored to be quite eager to get its hands on Henson) doing while Saban is reportedly quickly closing in Kermit? To be honest, nothing. Disney execs know that – because their company isn't interested in acquiring KirchMedia – that Mickey wouldn't be offered the new $100 million price for JHC. Which means that EM.TV would still insist that the Mouse pay out something along the lines of $200 - $250 million to acquire the Muppets.
Which – given that Disney's board of directors has recently begun leaning heavily on CEO Michael Eisner to contain costs at all costs – is why the Walt Disney Company will ultimately probably be forced to take a pass on the Jim Henson Company.
Which is sad. Why? Because the Imagineers – who had (right up until today) been operating under the misconception that Disney would finally be acquiring the Jim Henson Company sometime next month – had quietly begun making plans to add some new Muppet based attractions to the corporation's theme parks.
In fact, just yesterday, Disney officials revealed plans to open an attraction that will prominently feature Jim Henson Co. created characters at the company's troubled California Adventure theme park. A West Coast version of Disney-MGM's popular "Playhouse Disney – Live on Stage!" show (which stars Bear from the hit Disney Channel series, "Bear in the Big Blue House") will begin entertaining Disney California Adventure visitors inside the now-defunct "Soap Opera Bistro" building starting next April.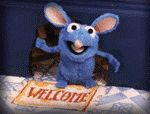 Mind you, "Playhouse Disney – Live on Stage!" was supposed to have been just Step One in WDI's plans to Muppet-ize Disney California Adventure's "Hollywood Pictures Backlot" area. What else was reportedly in the works? Well, how about "Miss Piggy's Superstar Limo"? Featuring the very same ride system, only with a decidedly different take on Tinsel Town this time around.
Or how about that outdoor theater that's located right across from "Superstar" 's entrance (the one that's currently presenting "Goofy's Beach Party Bash"). That was allegedly supposed to become the home of an all-new version of that old Disney-MGM street show, "Muppets on Location: Days of Swine & Roses." Which would have allowed the Muppet walk-around characters to do several meet-n-greet sessions with the public every day.
There was even reportedly some talk about doing a Muppet themed overlay of Disney California Adventure's "Hollywood & Dine." Maybe even using this rethemed restaurant as a place where Disney California Adventure guests could go to have a character breakfast with the "Bear in the Big Blue House" gang.
Mind you, Disney California Adventure wouldn't have been the only Disney theme park to have benefited if the Mouse had landed the Muppets. Back when he was just in charge of the Disneyland Paris resort, new Walt Disney Parks and Resorts worldwide president Jay Rasulo told staffers there that he was looking forward to adding "Kermit the Frog presents Muppetvision 4D" to Disney Studios Paris. Jay also reportedly had plans for other Henson-related shows for Disney Studios Paris.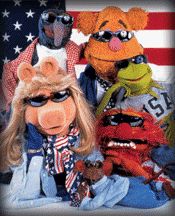 So now all these plans will have to be put on hold. All because Haim Saban supposedly now has the inside track toward acquiring the Jim Henson Company.
What happens next? Well, personally, I think it might be kind of fun to have a billionaire with seemingly unlimited funds bankrolling the Jim Henson organization. I mean, here's a guy who could conceivably fund seasons five, six and seven of "Farscape" out of the change that he keeps in that jar on top of his dresser.
But then I think back to all those cheesy shows that Saban Entertainment produced over the years. And I wonder … is the world really ready for the "Mighty Morphin Muppet Rangers"?
Actually, perhaps a more pressing question might be: Who leaked the news about the pending Jim Henson Company sale? The folks at Saban (Who just couldn't contain themselves. Acquiring the Jim Henson Company for just over $100 million? What a coup!)? Or the folks at Henson and/or EM.TV (Who were honestly hoping that someone else might ride to the rescue of Kermit & Co.)?
Either way, we've all got an interesting story to follow for the next couple of days. So stay tuned.
If it's any consolation to all your disconsolate Muppet fans out there (who are now heartbroken at the very thought of all those new Henson-based attractions that you WON'T be getting to experience at Disney California Adventure and/or Disney Studios Paris), remind me sometime to tell you about "Muppet Motor Mania." The Muppet based attraction that the Imagineers had dreamed up for the "American Waterfront" area of Tokyo Disney Seas that ALSO never made it off the drawing board.

Learn more about Jim Hill at JimHillMedia.com.