Bright Lights, Big City, One Green Frog
Kermit the Frog takes New York City by storm in rare, personal appearances at two Barnes & Noble stores
By Michael Bellino
November 21, 2003
Folks, remember this colossal day… November 14, 2003. Kermit the Frog along with his "friend" Steve Whitmire made two rare public appearances. Some Muppet fans on the East Coast might even consider this their own MuppetFest.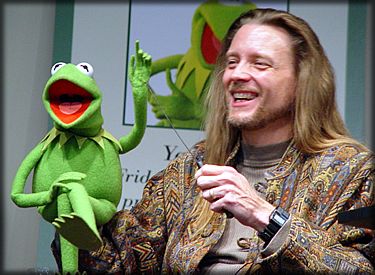 Photo by Daniel Dunnam


Kermit visited two local Barnes and Noble stores in the New York City area to promote their Muppet Holiday displays. The first stop was at Lincoln Center where Kermit and Steve partook in a Sing-Along as well as a short question and answer session. The second stop was at Union Square where Kermit and Steve gave a more in-depth question and answer session with fans.

Before I begin my recap, I would like to take this opportunity to thank Mr. Steve Whitmire and all the folks at The Jim Henson Company who were associated with these two appearances. They were a huge success and I look forward to other events like these in the near future.

Barnes & Noble at Lincoln Center
Around 5:15, Barnes and Noble employees led us into a room filled with Muppet merchandise including the Sababa plush dolls, Muppet Monopoly, the collector's puzzle, the chess set and various Muppet DVD's. Flipper prints were on the ground to guide you to your seat.
Steve Whitmire entered a little before 5:30. I was sitting behind Jesse, another Muppet Central member. He is a huge Muppet fan and brought along with him a home-made Rizzo puppet as well as a drawing of Steve's characters. With his Rizzo puppet, Jesse got Steve's attention and started talking with him. Another forum member, ChellisPal brought up Steve's letter to Muppet Central from a few weeks ago, and Steve told us the story behind writing it from Sesame Street. He accommodated all the fans who asked for a photograph or autograph as well as taking the time to chat. Some of the people in the room didn't realize who Steve was until the presentation began.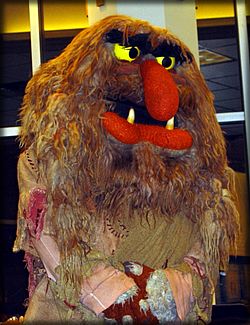 Photo by Mike Lopez

To the enjoyment of the audience, Sweetums (performed by Muppeteer Victor Yerrid) then came out from the back and started walking around greeting visitors. He posed for photos with anyone who asked and tried to welcome each guest. Sweetums was the opening act for both ceremonies.

The Lincoln Center appearance started off with Sweetums singing Mahna Mahna. The crowd was into his performance, especially the accapella vocals. At one point, he stopped off right next to forum member, ChellisPal and proceeded to maul him (in a "friendly way" of course).

Kermit was then introduced as "The World's Most Famous Frog" and came out with his "good buddy" Steve. Kermit thanked everyone for coming and first acknowledged the children in the first row. He said that Muppets can't usually remember their lines so Steve would be there to read the lines for him. Kermit joked with Steve that he is just a hired hand. Kermit then asked how people heard about the appearance and many members of the crowd mentioned Muppet Central.

The first song of the Sing-Along was "Bein' Green" sung naturally by the famous frog. At one point during the song, Kermit turned and looked at Steve and said "Your voice is horse." Kermit said he could sing the song a million times, and in fact he might have.

Next on the agenda, Kermit read a Muppety version of "T'was the Night Before Christmas". Gonzo, Camilla, Miss Piggy, Animal, Fozzie, Pepe, Scooter, Sweetums, Lew, Rowlf, Zoot, Janice and Dr. Teeth were included in the story.

Kermit then remarked how many people where there and how special it was that they came to see him. Kermit said if this was a TV show and there were special effects, his cheeks would have been all red from blushing. Kermit said how he loves being in Barnes and Noble because it makes him feel smart when he walks in the door. He jested that he could never read all those books in the store and that Barnes and Nobel came up with the best idea, "The Library of the 21st Century - Coffee and Books."

Kermit then opened it up for questions from the audience.

"How many movies have you made?"
The audience began counting along with Kermit. Someone mentioned "Follow that Bird" and Kermit said he wasn't in it (even though he appeared briefly) and that he was behind-the-scenes. According to Kermit, he was in seven Muppet movies and several others where he played other people with the aid of prosthetic makeup. "It's tough being an actor in Hollywood as it's hard to find a short green stuntman."
"How come Bein Green was sung in C as opposed to the original?"
It's a day by day thing and sometimes they do it in F and G, and tonight he felt like a nice bouncy C. It all depends on where his throat is.
A little boy asked, "How is Elmo?"
The crowd burst into laughter and applause. Steve was smiling and trying to hold back laughter as he voiced Kermit's response. Elmo is doing great and he would be so happy that the boy asked about him. Elmo's still small and red, kind of like a little furry red fire hydrant cover.
Another child asked, "If Elmo is still drinking baby milk?"
According to Kermit, Elmo has stopped drinking baby milk and has moved on to the hard stuff due to being on Sesame Street for a long time.
Hillary commented, "Kermit, I hear you do quite an impression of Rizzo the Rat."
Kermit has been known to do an impression of Rizzo. "Let me get into character and seeing Jesse's Rizzo the Rat will help." Steve then did Rizzo's voice through Kermit and cracked a smile. This garnered both laughter and applause from the audience. Kermit then made a face and said, "Boy, its tough to shake that off."
Jesse asked, "What is your most favorite moment with the Muppets?"
Kermit said it's a tough choice since he's been doing this for so long, but that his favorite moment was from the first Muppet movie when he did Rainbow Connection. Kermit and composer Paul Williams wear the same size clothing so they can swap out when necessary. Paul is sort of an official Muppet.
"Do you and Miss Piggy have wedding plans in the near future?"
Kermit joked and said, "I don't even think I will repeat that one." There are no wedding plans for Kermit and Piggy, at least not to each other. To the delight of the crowd, Kermit declared that he thinks of them as the Muppet version of Ben & J'Lo. Piggy loves to plant things in the tabloids about them and he loves to try and dig them up. The truth is that Kermit doesn't know where he and Piggy stand and that he's having an executive meeting next week to try and figure it out.
"Where is Miss Piggy now and what is she doing?"
Kermit said she couldn't be here and they had a little thing happen in the hotel where he and her went their own ways and will meet up later.
"How do you like being in the Smithsonian?"
Kermit feels like a fossil. The one there at the Smithsonian is a weird version of him and not the real Kermit. At this point Kermit turns his head towards Steve and says, "It has something to do with these people though."
"When will we see the Jim Henson Hour on DVD?"
Kermit replied, "That's an interesting question." He pointed towards the Jim Henson Company representatives in the back corner. Kermit said it's not happening yet, but may happen one of these days. There is a lot of their stuff that's not out there. He mentioned that John Denver Rocky Mountain Holiday and the Ed Sullivan DVD's are out now. "You can see me back when I didn't have real feet." Kermit's feet were like little clubs and his tail had not completely fallen off.
Next was another Elmo question from another child. "Where does Elmo Live?"
The crowd started laughing as Kermit replied, "This kid really likes Elmo… too bad he's not here." Kermit asked the child, "Where do you think he lives?" and the kid answered "Sesame Street" and Kermit said, "I think you got the answer right." Kermit then went on to reveal how old he was when asked his age. Kermit said he is in his 40's and was brought into the world back in the 50's and he's aging very well. His aging well is due to good clean swamp living which requires him to stay very moist and he would recommend it to all.
Now for the biggest question of the evening, "Will you ever host another Muppet Show?"
Kermit said, "I think I might." This got a thunderous applause from the audience. According to Kermit, he would not be surprised if in the next year or so, something like this happens although he's supposed to say things like, "We got it in the works." That's Hollywood talk for "I can't talk about it that much." Kermit mentioned that they got the Henson family back and he thinks that the Muppets are heading in the direction of eventually producing a new series. There was another round of applause from the audience.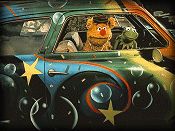 The next question was asked by another cute kid. "How is Fozzie as a bear?"
Kermit said Fozzie is pretty good as a bear and this is the time of the year where he is in hibernation. Kermit then started talking to another kid in front when the child said hello to him. Kermit responded to the audience that he was having a little "one on one" with the child.
"Do you go to school?"
Kermit said he went to frog school and it's a great place in the swamp where he learned life lessons like how not to get eaten by an alligator.
Jesse then asked a Muppets Tonight question about performing with Gilbert Gotfried.
Kermit said Gilbert is a great guy and got to see him as a normal guy and it was fun working with him. He said its fun to work with big stars.

Kermit then talked with the kids in the first row. Kermit said "hi" to them and they replied "hi" back. A girl named Jessica told Kermit she had a crush on him since she was two years old. She asked to give him a kiss. Since Kermit's only allowed one kiss per Barnes and Noble appearance, he said it's been known that a frog can somehow change into a prince when kissed. Kermit declared that this could end up being the best part of his night. Kermit covered his eyes and looked away saying that he might change. Jessica decided that he was a prince already.
Next question was in regards to Kermit's Palisades figure.
Kermit said it was terrific and was thrilled with it. He said it was weird to see himself as a plush doll though.
Kermit took one last question. This was a question he thought he would actually get out of here without having to answer. The question was about Snoop Dog.
Steve smiles widely as he voiced Kermit's response. Kermit said it was an interesting thing. Snoop was in "It's a Very Merry Muppet Christmas" and that he was slashed because of a couple of reasons. They found out he did an inappropriate movie that wasn't for children and they filmed an hour extra that they needed to cut. Kermit said he has talked to Snoop after the cut. Kermit's still one of his "dogs" and "part of his posse" and that they are ok with one another.

Kermit didn't want to start the holidays too early, but thought they should sing a generic song like Jingle Bells to conclude the evening. Kermit looked down to the children in the first row and joyfully sang along with them. As Kermit sang, he asked if anyone knew the second verse. Everyone said no, but Kermit said he had to do it anyway. He then asked what "upsut" means. No one knew.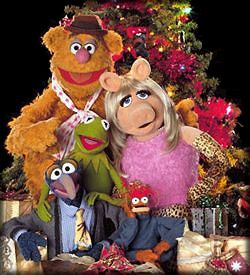 Kermit thanked everyone for being there and said he was sorry he couldn't stick around as he had to head to another Barnes and Noble. He invited everyone to attend and said that there was more space and that he'd probably get asked the same questions again over and over.
Even though Steve was there visibly the whole night, I barely noticed him. My eyes were glued on Kermit. Steve did a great job with his facial expressions, hand gestures and his interaction with the little children. If anyone ever has the opportunity to see Kermit live in person, don't pass up that opportunity. You will never forget the magical moment of being in the same room with Kermit.