The future of the Jim Henson Company
By Phillip Chapman
March 11, 2001
Last week, I wrote an EM.TV article that summarized a lot of the current happenings and what it might mean to the Muppets as Disney, Viacom, and other suitors are putting in bids to buy the franchise. That led to several people asking for my opinions on the whole situation. In order to better explain my perspective, let's journey back to 1989.
When I first heard about Disney wanting to buy the Muppets in 1989, I was surprised, but saw some potential with the pairing. I remember a particular TV interview with Jim Henson about the partnership and this eased a lot of my initial concern. One of the things he was most excited about was having the Muppets in the theme parks. His exact words were even ironically "having the Muppets live on in the parks." I loved this idea myself as Disney has the best theme parks worldwide and great merchandise everywhere else.
Even though the merger didn't go through and lawsuits resulted, Disney worked with the independent Jim Henson Company on several films, and had distributions rights for videos and CD's through the middle nineties.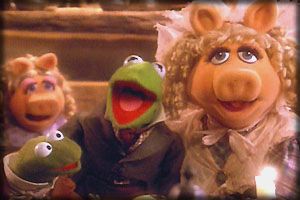 When Henson and Disney produced Muppet Christmas Carol in December 1992, I was ecstatic. I really wondered if we'd ever see another Muppet film released. I thought the movie was great from start to finish. My opinion is everybody put everything they had into this to show the world that the Muppets would continue to live in honor of Jim's legacy. More people have come to appreciate this film over time even though it's quite different than every other Muppet film to date.
Disney owned the video rights, and around 1994 the productions were beginning to appear very watered down. This is really evident in Disney's line of Sing-Along videos when they were transformed to the Muppet world. Disney's stamp is also all over the 1994 Muppet Classic Theater as Disney wanted a new children's video produced. It was still the Muppets, but it didn't seem to work real well when transformed to Disney's other strategies. I still thought it was great to see Muppet products on the shelves so I persevered and hoped for the best.
Then came Muppet Treasure Island in February 1996. Disney's stamp was once again all over this film, and it did fairly well at the box office might I add. While the movie did have more Muppet chaos and a large orchestrated score, it had some of the Disney staples that are in all of their family films. Not that these trends are bad, everything just didn't fit the Muppet style in my opinion. The Disney music and need for a child star (Kevin Bishop) are evidence of this. Putting Gonzo and Rizzo in the forefront wasn't new anymore since it had been done brilliantly in Muppet Christmas Carol. It was more of the idea, "Let's do what works verses being creative and pushing the envelope with something new". Jim was always about creating new boundaries that no one dreamed of, verses fulfilling the ones that already existed.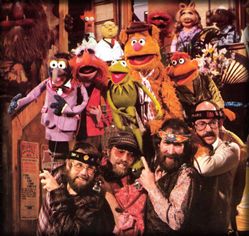 After this time, I started Muppet Central and got to know some Henson performers and employees on a semi-personal basis. Often, the Disney situation comes up in discussions and I couldn't believe how much Henson wanted to get away from the Disney agreement all together. Just as an example, I heard of countless changes to scenes and strong demands that things had to be done the way Disney wanted. Almost no one at Henson liked the way things were handled with Disney's aggressive "hands-on" approach from start to finish in all aspects of the company. While lots of fans didn't like many of the things Disney was doing, it really opened my eyes to hear first-hand how some of the people who knew Jim the best, despised the arrangement. It may have been a good deal when Jim was alive, but it was no where close after his passing.
Fast forward to March 2001. EM.TV owns Henson, but Disney and Viacom are rumored to be the front-runners to buy the company. Will EM.TV sell and how soon? EM.TV will survive all this, it's just whether or not they'll have the Muppets when it is all said and done. It could hurt the company to go through two different sales in only 14 months as most EM.TV projects would be shelved with the plans of the new company. This is especially true if EM.TV makes an emotional decision to get quick cash, without highly considering what is best for the future of the Jim Henson Company.
With their jointly owned company Igel, EM.TV has produced some of the best Muppet merchandise ever, not to mention the fantastic PlayStation games, numerous guest appearances, and plans to produce a New Muppet Show. As their value improves, EM.TV may even get more for the company a little later than right now. As mentioned last week, EM.TV turned down an initial offer of 300 million from Disney, so at least we know they aren't going to sell at the first chance they get. Hopefully, EM.TV will do what's beneficial for them and the Muppets.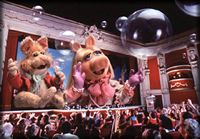 In an ideal world, I think the Muppets should promote and sell what they've done best before they produce a new series or movie. The Time-Life Muppet Show videos are a great example of this. These videos are selling like hot cakes. It's just a shame that it took 20 years for uncut episodes of the Muppet Show to be released. Releasing the best shows that people want must is a no-miss area. There has been lots of discussion of how a new series or new movie could get the Muppets back in the public eye, but for me it really begins with making the best things the Jim Henson Company ever produced more easily accessible to the public, then build off that foundation once that "nostalgia" base has been reestablished.

Concerning who should buy the Muppets when EM.TV decides to sell, Disney would be good for the Muppets in the theme parks, merchandise, promotion and financial backing. Those are all givens by almost anyone. Few could do it better. However, Disney's big weakness in my opinion would be with new Muppet productions. I think creative quality control would suffer more over time than we can imagine. As an example, some fans have brought up the drastic changes to Winnie the Pooh since Disney bought the rights years ago.
To me, Viacom is a mix in between Henson and Disney. As a company their style isn't as "hands-on" as Disney but it's still very goal-focused which is what Henson needs right now. Whether it's Disney, Viacom, AOL Time Warner, or someone else, JHC needs to get the best business strategists in the world to work with them to set up the right plan to rejuvenate the franchise. Disney would have an aggressive strategy, but I think the Muppets might get lost in their character shuffle, especially over time if the Henson division wasn't terribly profitable.
Viacom isn't perfect, but they are looking for more visible "character icons" to associate with the company and the Muppets would be at the top of their promotional interests. With Nickelodeon, CBS and others, Viacom would put the Muppets back at the television forefront. There wouldn't be an issue of Mickey and Kermit coexisting for time,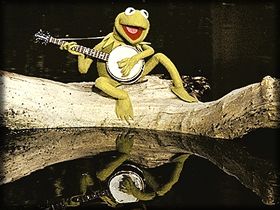 Kermit and the Muppets would be their character focus. They do lack the merchandising prowess of Disney, but again once there is a demand for merchandise it's much easier to sell.
No matter what happens, let's not lose sight of the fact that even with the struggles, the Muppets have continued to touch many lives for more than 10 years after Jim's passing. As long as people like you and me love them and share them with our families, the Muppets will always live on. Just like Jim taught us, our Rainbow Connection will only take us as far as our dreams.