Party Supplies
Muppet Collectibles

Hallmark (1978)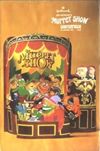 Muppet Show Centerpiece
Muppet Show theatre 3-D centerpiece stands 12.5 inches tall with the Muppet Show gang, and in front is the orchestra pit with Dr. Teeth and the Electric Mayhem Band. On one side is the balcony with everybody's favorite hecklers, Statler and Waldorf. The back of this centerpiece has a 3-D assembly with Miss Piggy, Sam the Eagle, and Scooter on the staircase and balcony while Kermit and Fozzie are at Kermit's desk below.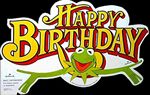 Muppet Show Wall Hanging
A matching wall hanging was also available. The same image of Kermit hanging onto the words "Happy Birthday" was used.
Muppet Show Table Cover
A coordinating table cover featuring Kermit hanging onto the words "Happy Birthday". This is the same as the wall hanging. There's a nice red and gold border trim on the edges that is reminiscent of "The Muppet Show".

Hallmark (1979)
An Arabian Princess
Miss Piggy poses as an arabian princess as she is pampered by frogs. The text reads "Awaiting the pleasure of your company..." on the invitation.
The set includes eight invitations.

Hallmark (1981)
Muppet Valentine Party Centerpiece
This paper centerpiece has Fozzie and Miss Piggy looking at a "cupid" Kermit as he hangs from the center of a heart. This was sold in a flat envelope in which you could easily put the centerpiece together. Once assembled, the centerpiece stands 13 and 1/2 inches tall.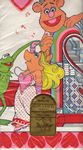 Muppet Valentine Plates, Cups, and Tablecloth
Coordinating party items were released in this set. The plates feature Kermit and Piggy in the middle of a heart with Piggy kissing her favorite frog. The tablecloth is particularly neat for fans because it includes rare characters like the Snowths and some of the creatures from Koozebane.
Muppet Valentine Placemats

One of the best parts of this line, is the Muppet Valentine placement. Kermit is in the middle inside of a heart saying "Hi there!". While the following characters surround him: Scooter, Doglion, a blue whatnot, Fozzie, Gonzo Animal, Two Snowths, and two creatures from Koozebane.
Muppet Valentine Press-Out Decorations

This booklet includes four press-out decorations of your favorite Muppets. Included are: Kermit as cupid inside a heart, Animal holding a heart that reads "Gimme Love!", Miss Piggy lounging saying "I'm looking for someone to steal my heart away!" (this is the same as the larger wall decoration), and Miss Piggy saying to Kermit, "Kissy Kissy!" and he replies "Yucky Yucky!"

Hallmark (1981)
Miss Piggy Glamour Party
Miss Piggy party invitations, table cloth, and coordinating plates. Miss Piggy poses in various outfits and makes comments about aging gracefully. Matching dessert plates depict a celebrating Piggy with the words "Enjoy! Live, love, laugh, and be stunning!"

C.A Reed (no year)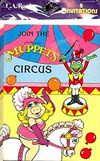 Jim Henson's Muppets Circus
This line featured Kermit as a ring-master in red tux and tails with Miss Piggy riding a trick pony. Fozzie is the circus clown on these illustrated paper hats.
The line included party hats (in sets of six), invitations (set of 8), blow-out party favors, and gift bags.

C.A. Reed (no year)
Kermit Visor Party Hats
These unique party hats are visor style with a pop up image of Kermit sporting a party hat in the center. When worn it appears that Kermit's head is on the wearer's forehead with his pointy collar on the brim of the hat.

Paper Art (1988)
Kermit Birthday Party Centerpiece
This centerpiece is approximately 11 inches tall, with Kermit playing a guitar in a rock n roll outfit.

Duncan Hines (1991)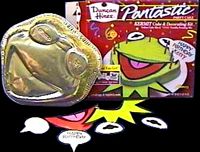 Duncan Hines produced this great Muppet cakes as part of their Pantastic Party Cake kits.
Kermit Cake Baking Kit
Foil cake pan of Kermit's head included decorations for Kermit's eyes, mouth and collar. Also included cardboard dialogue "bubbles" that allowed you to personalize the cake.

Miss Piggy Cake Baking Kit

Miss Piggy always likes to have her cake and eat it too, well now you can as well! This decorating kit features yellow cake mix and vanilla frosting.
Included is a single use pantastic baking pan in the shape of Piggy's head, the necessary ingredients and some really cool punch-out decoration including one that allows you to put your name on the cake.

American Greetings (1992)
Muppet Party Set

Featuring Kermit (with red bowtie), Fozzie, Piggy, Gonzo, and Animal. They have party hats and are holding party horns against a red background. Plates, cups, hats, blow out party favors, and loot bags are a part of this line.
A white gift bag was also likely included in this set. It had illustration of Miss Piggy in a ballerina outfit, with the words "Happy Birthday" above her.
Happy Birthday Set

American Greetings produced this line of "Happy Birthday" Muppet party items. They featured Kermit, Miss Piggy, Fozzie, Gonzo and Animal. They are all dressed with party favors.
The line included birthday dessert plates (7 inches in diameter), larger plates, matching cups, and table cloths. Wrapping paper featuring the same theme was also produced.

DecoPak Applause (1992)
Cake Toppers
In the early-to-mid 90's, Applause made two birthday-related PVC statuettes, under its birthday line, DecoPak.
Statler and Waldorf high-fiving with motto: "Give me five, we're still alive!"

Miss Piggy and Kermit
with birthday-party hats

Quilting with the Muppets Giftwrap (2000)
To correspond with the book of the same name
Go back to Muppet Collectibles.

Section compiled by
Cindy Chapman and Phillip Chapman