Watches and Clocks
Fraggle Collectibles

Gobo Fraggle Figural Clock (1985)
Manufacturer Unknown - Fill out our help form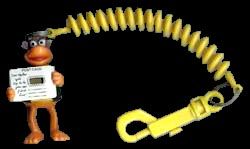 One of the nicer versions of a three dimensional Gobo Fraggle. This clock measures about 3 inches tall and is connected to a telephone cord type chain with a plastic hook latch to wear on one's belt or around the wrist, though probably not intended to be worn as a necklace.
The giant postcard Gobo is holding has a digital clock imbedded into it. The message reads: "Dear Nephew Gobo, Say hi to your new friend, love!" The new friend is probably in reference to the clock's owner.
This was purchased out of the package but the package's front was of a Fraggle hole with the clock in front of it to look as if Gobo was standing in the hole's entrance. The other 4 Fraggles may have been watching him.
The back was a poorly rendered illustration of how to set the clock's functions. The stripes on the Gobo's shirt were painted on after purchase and were not on the original. The back of the post card says made in Hong Kong and has the Henson copyright information and is dated 1985.
The company that made this also made an actual watch of a Doozer's head that either flipped open to reveal the time or the digital clock was imbedded into it's helmet.
Go back to Fraggle Rock Collectibles.

Section compiled by
Nick Bondra, Cindy Chapman and Phillip Chapman