View-Masters
Fraggle Collectibles

Boober's Dream (1984)
Jim Henson's Muppets present "Boober's Dream". A Fraggle Rock Adventure in 21 3D pictures on this View-Master treasure.
This is probably the only piece of Fraggle merchandise featuring Boober Fraggle's alter ego, Sidebottom other than the talking regular View-Master reel for the same episode. Sidebottom is the "fun side" of Boober that appears in Boober's dreams.

Boober's Dream Talking View-Master Reels (1984)

View-Master also made 3D picture reels with sound, so not only could one view the story in three dimensions but could listen to the characters act out the story. This is another adaptation of the live action series episode "Boober's Dream".
The only possible downfall to this form of View-Master is the fact that you needed to buy a different View-Master viewer specially made for the "talking" cartridges, which of course was more expensive than the normal viewer.

Fraggle Rock Animated Series View-Master (1988)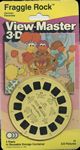 The animated Fraggle Rock series also got to see light in the form of View Master 3-D reels. Like most View-Master reels, this set came with three discs for use in the View-Master viewer. The artwork for this set was based on the Fraggle designs for the cartoon yet were drawn more accurately except for the fact that Sprocket and the Fraggles are out of scale in some scenes.
The story for this set is very similar to the live action episode "Ring Around the Rock " except instead of Ma Gorg's wedding ring being tossed around the Fraggles' word it is Sprocket's dog collar. The story is told through 21 three dimensional pictures.
Go back to Fraggle Rock Collectibles.

Section compiled by
Nick Bondra and Phillip Chapman