Party Supplies
Fraggle Collectibles

Birthday Party Centerpiece (1983)
Probably the crowning piece to Hallmark's Fraggle Rock birthday party supplies is the Fraggle Rock party centerpiece.
The centerpiece consists of an 11 inch tall, three dimensional cardboard Doozer construction with several cardboard cutout Doozers to position around it. Notice the details on the characters and the Doozers' vehicles. Also, included is a large cutout of Gobo Fraggle in a party hat.
It originally sold for $3 but can get as much as $40 on eBay.

Birthday Party Drink Cups (1983)

On these party cups from Hallmark, Gobo and Mokey watch a Doozer carrying birthday gifts. Although the artwork is somewhat stylized, you can tell that the artist enjoyed painting this images.
The 9 oz cups were sold in packages of eight as part of the wide selection of Hallmark's Fraggle Rock birthday party favors.

Birthday Party Plates (1983)

Another nicely rendered piece in the Fraggle Rock birthday party set would be the paper plate. Lot's of nice color and speckling technique used in the execution of the illustration on these plates.
Sold in sets of eight, each plate measures 7 inches in diameter. There is also a slightly larger set of paper plates that has the same graphics on them.

Birthday Party Invitations (1983)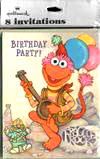 As with the rest of the Fraggle Rock birthday party favors and supplies from Hallmark, the artist took great care in the illustration and the party invitations are no exception. A Doozer stands next to Gobo and is just as inviting others to join the party.
The invitations were sold in packs of 8 along with envelopes. The inside of the card reads: "Come on everyone -- Let's have a lot of fun!" The cards measure about 3 x 5 inches.

Birthday Party Napkins (1983)

Hallmark's Fraggle Rock party napkins show Gobo with his party hat playing his trusty gourd guitar. He is surrounded by Doozers with balloons and birthday cake. The picture of Gobo looks very much like the one from the tablecloth and the large cutout from the centerpiece.
The napkins measure at 6 by 6 inches and are sold in packs of 16.

Fraggle Rock Birthday Party Tablecloth (1983)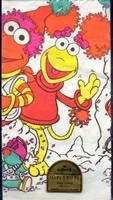 Hallmark's Fraggle Rock tablecloth is made of tissue paper like most disposable and measures 60 x 102 inches. The illustrations of Gobo Fraggle and the Doozers are very similar to those on the party napkins and the cardboard centerpiece with the exception that Red Fraggle is also featured.
The design repeats itself several times around the table cloth. This one has never been removed from the plastic so it's hard to say for certain if any of the other Fraggle characters are featured.
Go back to Fraggle Rock Collectibles.

Section compiled by
Nick Bondra, Cindy Chapman and Phillip Chapman