The Fraggle Kitchen
Fraggle Collectibles

Fraggle Rock HBO Mug (1982)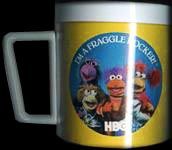 This mug produced by Eagle appears to be a promotional item from HBO. It's dated 1982 which could mean that these were released before the show went on the air. It's not certain if these were given strictly to HBO staff members or as a gift to customers.
It does depict the current version of Gobo (after episode 12), so perhaps it was only copyrighted in 1982. The cup reads "I'm A Fraggle Rocker " and the images is repeated on the opposite side of the mug.

Fraggle Rock Ceramic Mugs (1983)
A series of Fraggle Rock ceramic coffee mugs were produced by Kiln Craft in England. They are your average sized coffee mugs, almost 4 inches tall. There seem to have been two different assortments each with the same design treatment. One set shows two different posed full body images of the Fraggle character with the logo in the middle of them. Only the Fraggle Character and the logo are in color. These cups have a cavern background with a few Doozers working around the Fraggle's name under the logo.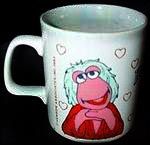 This series most likely includes the five main Fraggles and there is a Traveling Matt mug as well.
The other series by Kiln Craft once again has two images of the Fraggle Character on the mug but these images are from the torso up. These mugs are a little more bland in the design because of the absence of the cave backdrop. This set probably has the five Fraggle as well. Mokey and Wembley Fraggle are among those in this line for sure.

Fraggle Rock Plastic Drinking Cup (1983, UK)
This child's drinking cup was produced by Bluebird Toys Ltd. in Swindon England. It is uncertain if this plastic Fraggle Rock cup was sold separately of part of a set. Usually this sort of thing is part of a box set.

There is a bowl with the same art style decorating it so it is possible that at least a plastic Fraggle Rock plate exists as well.
Great care went into the artwork for this cup. Nice vibrant colors were used. Red Fraggle turned out especially well although she appears to be attacking the Doozers as the Doozers near her seem to be in a slight state of worry. The over analyzer may notice that there seems to be a problem with the arm Gobo is using to reach for his Doozer stick but it's easily ignored. All in all, the cup is pleasing to the eye and a nice piece.

Fraggle Rock Bowl (1983)
This Fraggle Rock bowl most likely was sold as part of a set, possibly
with the drinking cup and a plate. This one in particular was made in
England by Bluebird Toys Ltd. and was probably sold only in that region.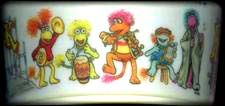 It features two group illustrations of the five Fraggles. Each picture has them playing a different instrument. Gobo seems to be getting funky with the fiddle in one of the shots. The logo is also shown twice, each one shows a different grouping of Doozers. The bowl is made of plastic and is almost 2 1/2 inches tall and 6 inches in diameter. The artwork appears to be by the same artist that did the plastic drinking cup.

Fraggle Rock Ceramic Cups (1985, UK)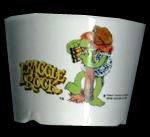 This ceramic cups by Edelman measure approximately 2 1/2 inches tall. All five Fraggles were probably produced in this set but we've only seen Gobo and Boober. Extremely little is known about these pots. The copyright information next to the printed character images reads: Product Exclusive for Edelman. Henson Associates Inc. 1985.
They have indentations along the base of the pot that look similar to that of a flower pot yet, there are no holes in them to allow excess water out. These were acquire from England and may be exclusive to that region.
Go back to Fraggle Rock Collectibles.

Section compiled by
Nick Bondra, Cindy Chapman and Phillip Chapman