Games and Software
Fraggle Collectibles

The Fraggle Trap Game (1983, UK)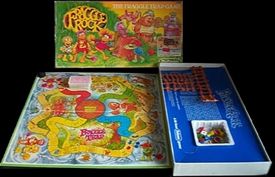 Falcon Games Ltd. released this game for ages 3 and up. This Fraggle Rock board game was produced for the English market.
The object of the game is the stay out of the Fraggle Trap and collect as many radishes as you can. It comes with a very nicely illustrated game board, 8 colored game pieces, cardboard radishes, a dice and dice cup, a set of game cards with some funny looking Fraggles on them and a plastic Fraggle Trap. The illustrations on the box, board and cards are more fun than the game itself.

Fraggle Rock Board Game (1984)
This game by Milton Bradley Co. is designed by ages 6-12. The box bills this as "a fun-filled game with the happy-go-lucky Fraggles!" so it MUST be true.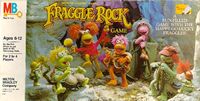 The object of this game is to pick up a postcard in Doc's Workshop and visit the Trash Heap (in any order) then jump in the Swimming Hole. To win this game you must be the first player to those three "tasks". This game comes with a game board, 5 pawns, 5 pawn bases, 28 cards, 5 postcards and 1 spinner with plastic spinner arrow. This game just seems to have been the brainchild of some corporate merchandising group to cash in on the Fraggle merchandise. It could have been much more creative like the Fraggle Rock board games made by Falcon in the UK. It also would have been nice to see some figural Fraggle game pieces as opposed to cardboard, but it is still a nice addition to any Fraggle Rock collection.

Fraggle Rock Doozer Construction Game (1984, UK)
Falcon Games Ltd. produced this game for ages 3 and up.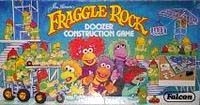 The object of this English Fraggle Rock game is to be the first player or team to complete their construction by reaching the solid yellow square between the red arrows. It's uncertain as to why they don't call the yellow square the "finish" line or square as that is how it's labeled on the board. The game consists of a 15 by 15 inch game board, 170 Doozer Building Cards, 1 dice and dice cup and 21 directions cards. The illustrations on the box, board and directions cards are very nice and are done by an artist that did other Fraggle items such as the UK Fraggle Rock annuals.

Fraggle Rock HBO Playing Cards (1992)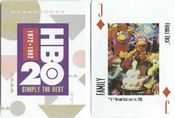 In 1992 when Fraggle Rock's original home HBO had it's 20th anniversary, a special deck of playing cards were issued to employees and those somehow affiliated with HBO. Each card in this series was different. They featured a picture of HBO's many forms of entertainment within it's firth twenty years such their prime-time series, original movies or it's family oriented series such as Fraggle Rock. So, the Jack of Diamonds card received the honor of representing the years Fraggle Rock aired on HBO.
On another Muppet/HBO related note, Emmet Otter's Jug-band Christmas" was on the Jack of Spades. It is rather comical to see a Fraggle Rock card mixed in with a card from HBO's series Real Sex but, this set has just that. Who said Fraggle Rock was just for kids anyway?
Go back to Fraggle Rock Collectibles.

Section compiled by
Nick Bondra, Cindy Chapman and Phillip Chapman