Christmas Ornaments and Decorations
Fraggle Collectibles

Fraggle Rock Holiday Ornament (1985)
One of the more exciting Fraggle Rock pieces of memorabilia is the glass ornament Hallmark Christmas tree bulb. The bulb is decorated with a wraparound decal of the five Fraggles getting ready for the holidays.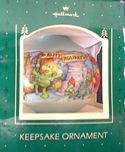 Even though Fraggles don't know of the Silly Creature holiday traditions, they appear to be celebrating Christmas. They have a decorated Doozer construction tree and wrapped presents all about the place. An oversized Sprocket watches the festivities through the Fraggle hole in Doc's workshop. Doozer help in the fun as well making ice sculptures and snowballs. Red carries a banner that reads: "Happy Holidays '85". She must have learned about the year from Traveling Matt. If only Fraggle Rock were as popular today as it was in the 80's, we may have some spectacular sculpted Fraggle Rock ornaments for our trees as opposed to a simple (yet nice) glass bulb.
Go back to Fraggle Rock Collectibles.

Section compiled by
Nick Bondra, Cindy Chapman and Phillip Chapman