The Fraggle Bathroom
Fraggle Collectibles

Fraggle Rock Bath Collection (1984, UK)
Richards & Appleby Ltd. England produced this very interesting piece of
Fraggle Rock memorabilia. There are two known versions of
this set.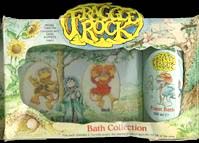 Both sets come with transfer soaps (soap with an image printed on them), one with Gobo Fraggle and the other with Red Fraggle. One set comes with a bottle of foam bath with a picture of Boober Fraggle blowing soap bubbles on it's label. The other set comes with a cardboard tube of body talc with the same bubble blowing Boober on the front. However, the fun surprise with the body talc is that when you look at it's backside, you get a picture of Gobo reaching at Boober's soap bubbles. An especially fun surprise for the Gobo fans out there!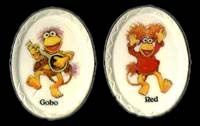 This collection is not just about hygiene though. It also has total play value for the box the soaps are packaged in becomes a puppet show stage and, included inside are 3 cardboard cutout puppets of Gobo, Red and Wembley (you'll need a grown up to help cut these out though ). The Gobo and Red puppets are identical to the images on the two bars of soap. The top and bottom of the stage/box give instructions on how to set up the puppet stage.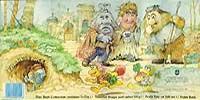 If all of that was not enough, the graphics on the item as a whole are just breathtaking as far as Fraggle Rock artwork is concerned. All around the packaging you get pictures of Fraggles and other creatures hiding in trees or picking flowers. Mokey Fraggle can be scene standing in between the two soap bars. The back side continues to please as it shows a large illustration of Gobo and Wembley racing to the Fraggle hole carrying radishes as the Gorgs are too slow to do anything about it. Boober cautiously awaits his two friends in the hole's entrance. Gobo has nicely wily hair as well. The Fraggle Rock logo on the front folds back and forth to further the dynamic appearance of this wonderful item.
The packaging implies that this set was only produced in England. Fortunately for the diehard Fraggle collector, many kids refrained from
bathing so some of these soap sets could become collector's items!

Fraggle Rock Beach Towel (1984)
This white Fraggle Rock beach towel by Franco features Gobo with his guitar, Red with maracas and two Doozers getting down to the music along with the Fraggle Rock logo. The towel measures around 30 by 52 inches. It was printed in the USA.
Go back to Fraggle Rock Collectibles.

Section compiled by
Nick Bondra, Cindy Chapman and Phillip Chapman