Lynne Thigpen: You lit up all of our lives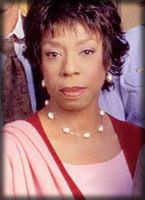 Lynne Thigpen whose acting and voice over career was one of the most versatile in cinema and theatre, died suddenly at the age of 54 on March 13, 2003. She will certainly be missed.
In the Henson world, we know her as Luna from Bear in the Big Blue House. A soft gentle voice that came from the sky who always took the time to sing the "Goodbye Song" and discuss the latest events of the newest day with Bear.
Since the early 70's, Thigpen has consistently been in the acting world. From "Godspell" to "The Night That Made America Famous" her stage career flourished. However it wasn't until "An American Daughter" that she won her first Tony and really began her Hollywood career.
Although her name may not be familiar, her voice and face certainly were. In the early 1990's, Thigpen was known to most kids for her role as "Chief" in 'Where in the World is Carmen Sandiego?', a kids educational game show that ran on PBS until 1996. Other notable TV appearances include All My Children, LA Law, The District, and of course her voice in Bear in the Big Blue House.
Thigpen's voice may be her most famous asset. You could hear her charming voice reading books on tape to performing skits on the radio program "A Prairie Home Companion" with Garrison Keillor.
Thigpen was no stranger to the cinematic world either. Most recently she could be seen in "Novocaine" with Steve Martin, and in "Anger Management" starring Jack Nicholson and Adam Sandler.
It is unknown at this time when and if the voice of Luna will be replaced. To Bear fans, it would seem an impossible task to replace the gentle, soothing voice of Lynne Thigpen. Luna has become such a popular character with adults and children alike.
What is a sky if there is no moon? A very gloomy place indeed.
- Cindy Chapman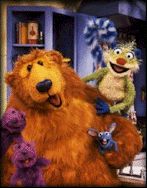 On Monday April 14, the New York theatre and television communtiy celebrated the life and career of Lynne Thigpen at the Minetta Lane Theatre in Manhattan. It was a lovely tribute with clips from Lynne's career, some acting and some showcasing her singing.
The evening has been video taped and will be given to the Lincoln Center Library of the Performing Arts for their archives. I cannot overstate the tremendous talent this woman had and how she much she will be missed.
The last clip shown was from the last epsisode of this past season of "Bear in the Big Blue House" and I introduced it.
Here is what I said:
I had the best conversations with Lynne.

My name is Noel MacNeal and I worked with Lynne on the Disney Channel series, Bear in the Big Blue House. The show, as the title suggests, is about a bear. That would be me. Bear invites you, the viewer, into his house to spend the day with him and his other animal friends. Bear and his friends are also Muppets so that explains why they can all talk and often dance the Bear Cha Cha Cha. At the end of the day, Bear always invites you upstairs to the attic where, on his balcony, he talks to one more special friend ––– Luna the Moon.

Mitchell Kriegman, the creator of the show, knew that this part of the show was the most poignant. It's this moment when Luna gives Bear the "big picture". And being the moon, you'd always have the "big picture".

When it came time to cast the role of Luna, I remembered Lynne from a show we had worked on together, a PBS series called The Puzzle Place. On one episode, my character, an African-American puppet named Leon, wants to be a detective and solve a mystery all by himself. But of course that didn't work. So, he decides to call an expert for some advice: The Chief of the Acme Detective Agency, who knows excactly what to tell him.

When Lynne read the part of Luna with me, that was it. She was perfect, all the warmth and comfort and nurturing you'd expect from the moon. She and I would pre-record the conversations and then on set I would lip-sync my part and Peter Linz, one of the show's principal puppeteers would manipulate Luna and lip-sync her part. This was my favorite time. I always looked forward to seeing Lynne and talking with her in between takes. She'd tell me of a part she'd read for or another stint on Law and Order or that night-club across the street from her and Larry's loft in Chelsea that would blare music all night or flying out to LA, going straight to make-up, doing a scene for a movie and flying right back home.

When she got her role on The District, Bear and Luna's conversations were still pre-recorded but now she and I were in separate booths on separate coasts, three time zones away and over the phone. But we still had the intimacy and camaraderie needed, and I say it's due to Lynne. She never saw this as just another job. She loved playing Luna and knew how so many children and adults loved Luna. Once on the set of The District, a crew guy found out Lynne was Luna and asked if she'd mind talking to his kid. And of course she didn't. He handed her the phone and I can only imagine the kid's expression knowing that Daddy was on location with the moon.

And she was always down to earth, so to speak. She told me that when The District got picked up that everyone went out and got new cars. But she was still happy with her little beat up rental. One day while driving in, a new guard was at the studio gate and seeing the beat-up rental asked Lynne if he could help her. Lynne said no she was just going to her trailer and then make-up. The new guy then took out the clipboard to check this lady's name. That's when the regular guard showed up, saw Lynne, and immediately told the new guy to knock it off, "it's Lynne!" Later that day, the new guard made a point of finding Lynne to apologize yet again. And Lynne knew why; he didn't want to get fired which Lynne wouldn't have even thought of doing.

This last clip seems perfect for the end of this celebration of this amazing woman's life. It's from this past season of Bear where everyone thinks Bear is leaving the Big Blue House for good. As it turns out, he's leaving on vacation which he's won and can take his friends on. At the end of the day, in the posh hotel room Bear notices it just happens to have a balcony and wonders if Luna could be there too. She is...and they talk and they sing the song they always sing at the end of their talks, since they first became friends. It's a song that shines because of Lynne's talent. She wasn't just Luna's voice, she was Luna's soul and I am so glad I got a chance to know this extraordinary lady.

Thank you Lynne. We had some great conversations.
- Noel MacNeil, puppeteer of Bear on "Bear In The Big Blue House"

Memories from Peter Linz
I remember Lynne Thigpen as being totally down to earth and at ease on the set.
Quick to laugh, she was the type of person you felt instantly comfortable around - like you knew her for ages. Lynne's visits to the set of Bear in the Big Blue House were rare but happily anticipated.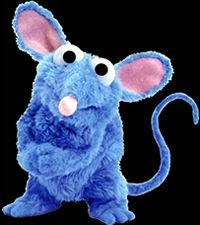 Most of the time I would puppeteer Luna to Lynne's pre-recorded voice (which I had listened to over and over to catch as many nuances as possible). The dozen or so times we did Luna "live", Lynne would sit at a mic across the stage from me and I would puppeteer Luna lip-syncing to Lynne's voice real-time. This was challenging as well as great fun because Lynne as Luna would joke around with Bear between takes and occationally stray from the written script.
One of my favorite examples (which made the out-take reel that year) was when Bear asked, "Luna, would you sing the goodbye song with me?" to which Luna answered quite sweetly, "No."
I wish I had a greater gift with words to describe Lynne - or better yet, had more opportunities to work with her. I feel remarkably blessed to have been given the time that I had.
- Peter Linz, puppeteer of Tutter and Pip on "Bear In The Big Blue House"

Goodbye Song
Hey this was really fun,
We hope you liked it too
Seems like we've just begun
When suddenly we're through
Goodbye, goodbye, good friends, goodbye
'Cause now it's time to go
But, hey, I say, well, that's OK
'Cause we'll see you very soon, I know
(Very soon, I know)
- Bear and Luna
Music and Lyrics by Peter Lurye, BMI