Jeff Moss - September 25, 1998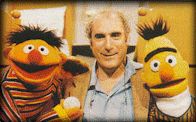 Of all the possible achievements in life, what could be greater than creating Cookie Monster? Writer Jeffrey Moss, who died of cancer at 56, helped make Sesame Street a success and is remembered here by fellow show writer Christopher Cerf.
"Jeff Moss was one of several members of the Captain Kangaroo team recruited by Joan Ganz Cooney when she founded Sesame Street in 1969. Before long, he assumed the role of head writer , creating "flesh and blood" personae for the fabulous creatures Jim Henson and his colleagues built.
He was also a major contributing songwriter, working with the [the late] musical director Joe Raposo to provide such classics as Oscar the Grouch's "I Love Trash" and Ernie's "Rubber Duckie."
Jeff's friend and literary agent, Esther Newberg, described him as a "world-class perfectionist," and indeed he was, never compromising his sense of the way a character should act or feel or talk just for the sake of a convenient rhyme. And right to the end, he always found time to share his insights and his flawless editor's touch with his colleagues."
Moss, who served as founding headwriter and composer-lyricist on the show, had won 15 Emmys for his work, and wrote the songs for four Grammy Award-winning records. His music and lyrics for "The Muppets Take Manhattan'' earned him an Academy Award nomination.
"From the beginning, Jeff played a critical role in creating the educational and creative standards of 'Sesame Street,' which lead to the instant success of the show,'' said Joan Ganz Cooney, chairman, executive committee and co-founder of Children's Television Workshop, the producer of "Sesame Street.''
"A music visionary, Jeff's talent helped us reach and teach millions and millions of children lifelong lessons with memorable songs like 'Rubber Duckie' and 'The People in Your Neighborhood.' His wonderful lyrics and music reflected the mood and style of the show -- fun, energetic, sometimes sentimental and always entertaining. Jeff will be sorely missed by his friends at 'Sesame Street.' "
Moss also wrote "Sesame Street'' hit songs "I Love Trash,'' "Skin'' and "I Don't Want to Live on the Moon.'' Johny Cash, Julie Andrews, The Boston Pops and many other top musical stars have performed Moss' songs. His first single, "Rubber Duckie,'' sold more than a million copies. Another Moss hit, "Nasty Dan," was recorded by Johny Cash and Claude Francois in France, where it became No. 1 on the pop charts.
Moss penned more than a dozen best-selling books under the "Sesame Street'' name, including "The 'Sesame Street' Book of Poetry.'' He is the author of three children's poetry collections, "The Butterfly Jar," "The Other Side of the Door" and "Bone Poems," as well as "Bob and Jack: A Boy and His Yak'' and "Hieronymus White," stories in verse.