The road to Sesame Street always went through Mister Rogers' Neighborhood
We'll never forget you Fred and how you touched all of our lives.
Quotes from Fred Rogers, host of Mister Rogers' Neighborhood, from Associated Press interviews.
"People say to my wife, 'What's he like?' What you see is what you get. It's just who I happen to be."
"I feel the greatest gift we can give to anybody is the gift of our honest self."
"Of course, I get angry. Of course, I get sad. I have a full range of emotions. I also have a whole smorgasbord of ways of dealing with my feelings. That is what we should give children. Give them ... ways to express their rage without hurting themselves or somebody else. That's what the world needs."
"I have really never considered myself a TV star. I always thought I was a neighbor who just came in for a visit."
"You know, you don't have to look like everybody else to be acceptable and to feel acceptable."
"I have a very modulated way of dealing with my anger. I have always tried to understand the other person and invariably I've discovered that somebody who rubs you the wrong way has been rubbed the wrong way many times."
"We live in a world in which we need to share responsibility. It's easy to say, 'It's not my child, not my community, not my world, not my problem.' Then there are those who see the need and respond. I consider those people my heroes."
"There's a generous current in the American spirit. And if we can simply give voice to that once in a while, I think it's a good message."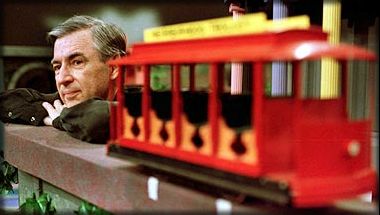 As we woke up on the morning of Thursday, February 27, we heard the sad news that our favorite friend and neighbor, Fred Rogers, had passed away at age 74 due to stomach cancer.
While Sesame Street taught children the educational, Mister Rogers focused on the psychological and developmental virtues of childhood. For so many of us who grew up in the late 60's and 70's, the success and teachings of both Sesame Street and Mister Rogers' Neighborhood went hand-in-hand and cannot be separated from one another.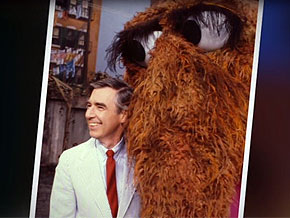 Few people have had such a profound impact on so many lives as Fred Rogers. He was extremely successful because he was so focused. He was not distracted by the world, the media or the latest trend. His focus was clearly for one thing – the betterment of young children. Fred Rogers had a way of encouraging children while still respecting them. Fred knew what was most important in life, and now we realize how important he was to all of us.
Fred was an only child. Through playing and pretending, he would play with puppets to deal with his own feelings and struggles. His grandfather, Mr. McFeely had a huge impact on his life. He told little Freddy that he liked him exactly the way he was. And Fred has spent more than thirty years, telling all of us how special we are.
In the 1950's, after finishing college with a music degree, Fred's career in television began. Because no one else wanted to work with children at the local PBS station, Fred Rogers teamed with Josie Carey in 1954 to begin a new program, "The Children's Corner". Fred would play the music on an organ and produce the show. One day a film broke on live television, and Fred had to improvise. He poked a tiger puppet through the paper set and began talking to Josie. Fred Rogers career in television puppetry was underway.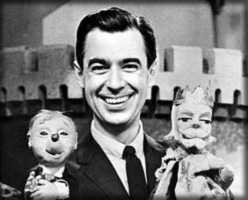 His landmark program, Mister Rogers' Neighborhood began in 1968. It was originally black-and-white and was the first children's educational program on PBS. Mister Rogers (along with Sesame Street a year later), would pave the way and set the standard for children's television. Even though the last episode aired in August 2001, the impact is still as true as ever. Whether you are 4 or 44, if you watched Mister Rogers you will never forget the honesty, the security, and the unconditional love that he gave all of us.
As a child, I adored the Neighborhood of Make Believe. I remember watching the original black-and-white episodes. Back then the Frog Family lived in the Neighborhood of Make-Believe before the Platypus Family moved in. Several years later, Joe Negri built each of the toy models used on the show. From the sometimes pompous King Friday XIII, to the wild schemes of Lady Elaine Fairchilde (with her Boomerang Toomerang Soomerang), to the timid nature of Daniel Striped Tiger, I could not get enough. How I wanted Mr. McFeely (David Newell) to stop by my house and leave a speedy delivery.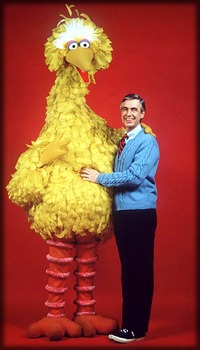 Now as an adult, what is most profound is that Mister Rogers and his team were real. He knew that he did not have to act like a child to impact a child's life. He taught about serious subjects: fear, divorce, anger, death, love, and family. While most in children's television took an opposite approach, his influence will never be forgotten.
It saddens me that someday my children will live in a world without Fred Rogers. But inevitably it is up to all of us to take what Fred taught and continue to teach those values to our children and people we see each day.
As an ordained minister, Fred Rogers knew the promise of Matthew 18:5. When Jesus said "…whoever welcomes a little child in my name, welcomes me." Fred Rogers lived that promise in his life every day. If you have ever watched his program, you realize how profound his timeless teachings truly are. No matter what your age, we all need to hear that… "It's you I like. It's not the things you wear. It's not the way you do your hair, but it's you I like. The way you are right now."
Fred, we will miss you more than we ever imagined. It's you we like. We will see you again soon in the most wonderful Neighborhood of all.
- Phillip Chapman, Muppet Central Webmaster

A Hero for the Children of the World
My wife Melissa woke me up with the news that Fred Rogers had passed away. She didn't want me to hear it from a newscaster, but wanted me to be able to hear it from someone I loved.
Mister Rogers wasn't as flashy, loud, and crazy as the Muppets. He was a very gentle man, and this is what I think I'll miss most: his gentleness. This is something missing in most of children's television today. When he took off the suit jacket and put on the sweater, you knew this was your time with him, and he would be focusing all of his attention on you. How many of us as children longed for half an hour with our parents? Mister Rogers always made time for the children.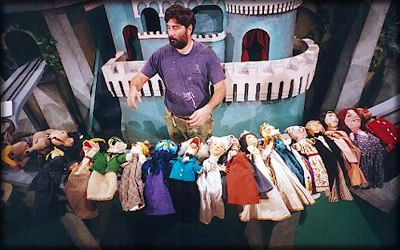 Mister Rogers was also greatly entertaining, and he had the coolest stuff: a traffic light, the fish, Picture Picture, a trolley line through the house, and a table-sandbox on the back porch with running water. Fred Rogers and his friends took us on Trolley to the Land of Make-Believe, where real world problems could be solved. Unforgettable characters, like King Friday XIII, Daniel Striped Tiger, Henrietta Pussycat, X the Owl, and Lady Elaine Fairchilde were just a few of the residents of this colorful land. Even though it was contained in a soundstage, it was big enough to encompass us all. Throw in his wonderfully infectious songs, and you have got an environment where you will want to spend some time every day.
I will never forget Mister Rogers and the lessons he taught me. I am hoping his syndicated programs will remain on the air long enough for my children to enjoy. Goodness knows I have my share of heroes, but Mister Rogers is, and has always been, a hero for the children. I am glad I got to know him in MY neighborhood.
Quinn Rollins
Salt Lake City, Utah

Red Sweater Days
As I sit here, words are hard to come by. Besides my parents, teachers and so on, there are few people that greatly impacted my childhood. Jim Henson comes to mind. His wonderful creations entertained me for hours. Dr. Seuss' stories opened my eyes to the world of creativity and imagination. Then there was Mister Rogers. He was there. Unlike Jim Henson or Dr. Seuss, he was not just a name. He was there, in my television, talking to me. He was my friend, my neighbor; maybe not in real life, but in my heart.
Sesame Street educated and entertained me. It got me signing and dancing. On the other hand,"Mister Rogers' Neighborhood had a calming effect on me. I was very hyperactive, so getting me to calm down was not an easy task. My day would not be complete without a trip to his neighborhood, if for nothing else to see what color sweater he would wear.
I'm glad that I got to know my neighbor, Mister Rogers. He never knew me, but he was good and kind and meant it. That's all anyone could ever ask for.
Emmy Miklasevich
Dayton, Ohio

A Note of Thanks to Mister Rogers
When I heard of Mister Rogers' passing this morning, it both saddened and made me happy at the same time. This world will be at a loss without him, but the fact that the Lord took away his pain and called him home is a very happy thing.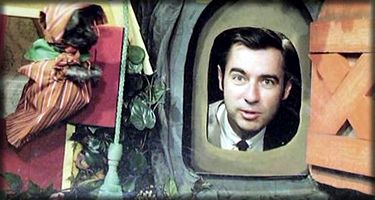 Thank you, Fred Rogers for the years of comfort you gave me. You were the father I never had. Your words of common sense wisdom and genuine concern for children touched my heart deeply. Whenever I was lonely, sad or felt unwanted, your gentle words gave me strength, happiness and a new reason to move on. You let me know that I was not alone or unloved.
Our loss is heaven's gain. Goodbye dear friend, you will be in our hearts and minds for many years to come.
Elinor Fadgen
Everett, Washington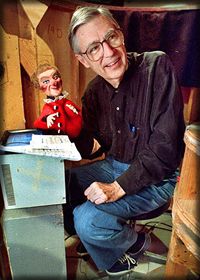 Farewell to a Friend
Your trolley was our ticket to a warm, comforting realm,
a world of wonder where we could return
when we felt as shy as Daniel. You stood by at the helm,
embracing us and helping us to learn.
Such very simple lessons: Be Sure to Feed your Pet,
Put on your Sweater One Sleeve at a Time,
Cherish and Develop your Imaginations. Yet
the footholds you provided as we climbed
the ladder of our childhood were essential, and your words
of caring and compassion touch us still.
You told us we were special, and something in us stirred.
We love you, and I know we always will.
Erin McCarty
Pennsylvania

The Art of Neighborliness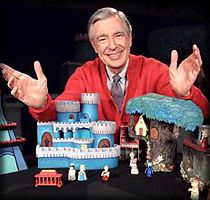 Mister Rogers' Neighborhood debuted the year I was born. I have never known a world without him. I was always mesmerized by his kind voice and the wonderful jazz music that ran underneath his shows. The Land of Make-Believe is the first puppet show I remember.
Interestingly, though, it's not the puppets that make me want to watch as an adult; it is Mister Roger's take on the real world. Each day he found his way to another "neighbor," exalting the common man by showing breathtaking factories bringing us the simplest everyday things. He introduced us to doctors, steelworkers, body builders, and artists alike - showing how each of us depends on the others. He showed a hardworking, honest person in every corner of our world, and then turned around to show how we, too, play a part, and still have a greater part to play. Best of all, we don't have to miss him. He's still there, every day.
Michele Hays
Evanston, Illinois

Memories of Mister Rogers' Neighborhood
As a very young child, there were only three television shows that I could fully wrap my four year-old mind around: Pinwheel, Sesame Street and Mister Rogers' Neighborhood. I watched other shows, cartoons and such, but those three were the only shows whose plots didn't go over my head.
Of all the characters I can remember, my favorite has to be little Daniel Striped Tiger, who lived in the clock. At first he just appealed to me because I thought he was cute, and because living in a clock must be cool. But looking back, I realize that we are a little bit alike. We both have a tendency to be shy and reluctant to try new things. Although it may sound silly, knowing this just makes me like him even more. And I still think Daniel is as cute as the dickens.
Kim Gyorkos
Byron, Illinois

As a tribute to Fred Rogers, you can hear his music on Muppet Central Radio. Visit Family Communications Web site for Mister Rogers' on-line Neighborhood, their product catalog, television schedule, and helpful family resources. Children can visit Mister Rogers' PBS Site.