Merlin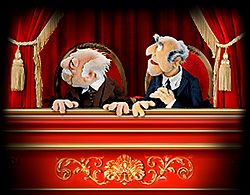 Brian Knatchbull (5-1-98) - Well there's been nothing but positive reactions to the recent airing of "Merlin". Newspapers and TV have all had there own stories on the success and how much people really enjoyed this miniseries. TV has not had a successful event like this in years. Audience reception to "Merlin" was very high. Positive reviews dominated the internet. People loved the special effects by FrameStore and Jim Henson's Creature Shop which going in was a big attraction to the audience. They knew they were going to be treated by two of the best.
It was great to see so many adults tuning in to watch "Merlin". They tuned in to see "The Odyssey" which is not a children's story and they also tuned in to watch "Gulliver's Travels" which was for children. The story of "Merlin" and King Arthur is much darker and violent as portrayed in the miniseries and it was nice to see so many adults recognizing that this was not going to be a children's story even before seeing any of the miniseries. It is good to know that children and adults are still interested in well constructed fantasy stories brought to the screen be it little or big.
That has me wondering if with all the good reviews and PR Jim Henson's Creature Shop received with "Merlin", if The Jim Henson Company should consider doing another series of "Jim Henson's The Storyteller" episodes with the same fantasy themes or even develop something under Jim Henson Pictures. There is obviously an audience out there interested in this. When you bring veteran people who have worked with The Jim Henson Company and great effects from them people know they are going to see something of quality. When "Jim Henson's The Storyteller" first premiered to excellent reviews and ratings it was a sign that people wanted this type of TV. After the success of the pilot episode, NBC knew they had a winner on their hands and quickly ordered more episodes. However, Jim did not want it to air as a regular series as he thought that the quality of the show would suffer. With it once again getting great reviews when it re-aired on HBO last Fall I am just wondering if there are fans out there that would like to see this series brought back to life in one form or another. It is still the #1 requested series by adults and children to be put out on video by The Jim Henson Company.
Anyone else have a vote for new episodes or a film based on "Jim Henson's Storyteller" where they could use their wonderful special effects they used in "Merlin" plus animatronics and bring together Steve Barron, Roger Hall, Anne Hollowood all who worked on the original series as they did on "Merlin". Why not bring back Academy-Award Winning Composer Rachael Portman also if Trevor Jones in unable to work on it. Anthony Minghella is working on something for them so why not get him involved again if available. There isn't anyone who can tell fantasy stories like Henson.

Melissa V. Yowhan (5-3-98) - I thought Merlin was great, from a production standpoint though I honestly expected to see more effects done by the Creature Shop, but maybe that's because I'm such a fan of what they do.
I especially enjoyed the talking mountain, but also I enjoyed the figures in the candle wax, which I thought was brilliant. I have to say that I liked Gulliver's Travels a bit better only because I found it easier to follow. Merlin had so many different characters but I thought all the actors did a great job, since I'm really not a fan of Sam Neil, or Martin Short, etc. but I thought they were all great, and it did have a great story. I also loved the dragon!