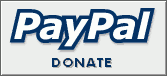 CinderElmo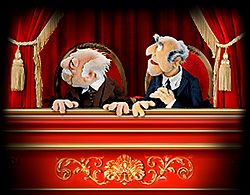 Quinn Rollins (12-10-99) - Well, I just finished watching "CinderElmo", and I must say, I really liked it a lot. Despite the title, the one-hour special had nearly every major Sesame Street Muppet in it, and Elmo was a balanced player with the other characters. I kept a list of pros and cons, and ended up needing more paper for the pros.
My number one "pro" was the surprising bounty of Frank Oz's classic characters: Grover was a major player, playing the Royal Town Crier, the Royal Footman, the Prime Monster, and the Royal Foot Finder. There may have been a few others. There were a few great Grover/Fat Blue moments as well, and Grover was just great being Grover. Cookie Monster and Bert both popped up several times. There was probably more new Frank Oz material here than in an entire season of Sesame Street, and it was all good stuff.

The other classic Sesame characters were also well-represented, including Ernie, Kermit, Big Bird, and The Count. I would have liked to have seen more of The Count, but his midnight counting was in character, and nicely played. Instead of figurative head-counting, I actually did count heads this time, and caught all of these characters: Herry, Mumford, Snuffy, Prairie, and Rosita. This is in addition to the main characters of Elmo, Zoe, Baby Bear, and Telly. In fact, the ONLY Sesame Street major player I didn't see at all was Oscar.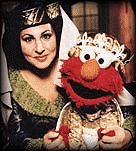 The human performances were good, I enjoyed Keri Russell as the Princess (possibly simply because she was good-looking, but she also played the Princess very understatedly, not going over the top as many people do when working with the Muppets). She was very sweet and compassionate. I enjoyed Oliver Platt as the Fairy Godperson. He had some good lines and was pretty styling with that magic wand. French Stewart was enjoyably silly as the dog who gets turned into a Prince. I didn't especially like Kathy Najimy as the Stepmother. I know that the show is made for children, so you can't have a wicked, evil, awful Stepmother, but then again every child knows that Cinderella's Stepmother is wicked, evil, and awful. They softened the role quite a bit, and that combined with her overacting distressed me greatly. I would have liked to have seen Maria, Luis, Susan, Gordon, Gina, or any of the Sesame regulars thrown in the ball scenes or background, but I won't cry myself to sleep over it.
The sets and costumes were great--The Kingdom of Sesame translated well, with Sesame Square and Ye Olde Fix-It Shoppe. The costumes were wonderful--the ball was a smorgasbord of Sesame extravagance. My favorites were actually Mumford with a stylized wizard's cap and The Count's Transylvanian attire. Very nice--I'd buy a PVC set that had the cast at the Ball.
All in all, I'd say this special is 100 times better than Elmopalooza, and a very entertaining show for Muppet fans and non-fans alike. If you missed it, you can order the video and DVD from Muppet Central's Store.