Animal Farm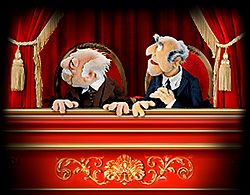 Jena Peterson (10-7-99) - This film was INCREDIBLE! I was getting chills all the way through it. I had high hopes and a lot of reservations when I first heard that the story "Animal Farm" was being made into a movie. The end product lived up to my expectations, and then some.
The thing that worried me most was that the story would be diluted from its original version. Orwell's novel was very dark, and quite brutal in places, and I was a little worried that a movie version would mix in a lot of sunshine and lollipops so it would appeal to kids. Because hey, it's got talking animals so it must be a kidsí film, right? (Did anyone see the Disney version of "The Hunchback of Notre Dame"? Enough said.) And once I found out it was going to TV in the US instead of a theatrical release like some countries, I got really worried.
I wanted to see an adaptation that had the same impact as Orwell's original work. This version delivered. I was not disappointed in the least. As I watched "Animal Farm" tonight, I'm happy to say that Napoleon was scaring me half to death. He was positively evil! Patrick Stewart was perfect to voice him. And the scenes where the animals rose up against the humans were very chilling, and beautifully done. They did tack on a different ending, but I don't feel it detracted from the overall quality of the film. As a matter of fact, I liked the message of "There are always survivors".
In writing "Animal Farm" Orwell illustrated the gradual enslaving of a society by a tyrannical leader. History tells us that he had it exactly right, because it's happened over and over and over just as he portrayed it. However, we have also seen that governments that are built on the backs of their citizens will ultimately fall, and those who crawl out of the rubble will start over. Sometimes they succeed where those before them failed, if they remember their history. The ending was true to the natural order of things, and I think Orwell would have approved. His novel was written in a time where hope wasn't as evident as it is today. The new ending was appropriate to the hindsight of this time.
And now the good stuff, the animals. The people at the Creature Shop outdid themselves on this one. I was shocked at how much Old Major looked like a real pig. The way his face moved, the moisture on his snout, the folds of his skin, even the way the light shined through the flaps of his ears-every detail was correct. But there was so much personality in him also. He reminded me of Winston Churchill-I don't know if that was intended or not but the effect was brilliant. The horses amazed me. They looked like a real horse would look if it were talking. It was completely natural. Every animal was perfect, right down to the mice. And the scenes where Napoleon and Squealer are gradually becoming more human were incredible. I would think that would be a difficult illusion to maintain. They were totally believable. The emotion and expression that the puppeteers were able to bring forth was impressive. These things looked like real animals, I can't stress that enough. Head movements, eye blinks, everything was perfect. This movie couldn't have been better. Seeing it made my night.
To sum up, I thought it was brilliant. I LOVED, LOVED, LOVED "Animal Farm". Boy am I going to think twice before I bite into another pork chop...