Sesame Street Live: Elmo Makes Music

Cindy Chapman (March 3, 2007) - It is always a treat when we visit Sesame Street Live. The shows are full of singing and dancing and lots of activity for the little ones to enjoy. In the case of "Elmo Makes Music", the VEE Corporation has combined the best of several programs (most notably "Everyone Makes Music" from 2003) to put together one great show. Don't let the name fool you, it is not all about Elmo. While the under five crowd may scream for Elmo, the folks at Sesame Street Live know that parents like to see the classic characters and there are plenty of them.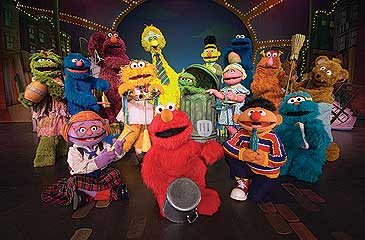 TM/© 2006 Sesame Workshop. All Rights Reserved.
Photographs courtesy of VEE Corporation.

In "Elmo Makes Music", Jenny the music teacher has just moved to Sesame Street and the truck with all of her instruments has yet to arrive. Big Bird and all of his friends come up with the idea of making their own instruments and surprising Jenny. With the help of Bert's empty bottles, Ernie's rubber duckie and Cookie's cookie jar, the entire Sesame Street gang come up with their own unique way to make music. Even an on-stage Mr. Noodle and Dorothy the goldfish get in on the act. Jenny's surprise homemade band teaches children that just about anything can make music.

Sesame Street Live has something for just about everyone. Children are encouraged throughout the show to use their voices to sing along or their hands and feet to keep the rhythm. Of course the alphabet makes a special appearance. And for the grown-ups, there is a video flashback to the Pointer Sister's Pinball Number Count.

Not only were our ears entertained with all the music, but our eyes got a treat as well. With the use of black lights and neon high-tops, a special choreographed feet-stomping dance pleased the entire audience. The show concluded in usual VEE fashion, with a confetti shower of brightly colored strings of paper.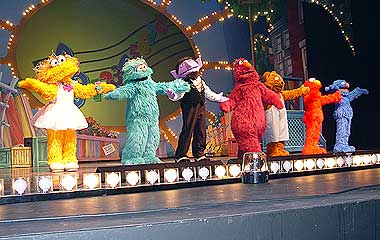 This is the second time our two year-old son, Preston has seen a Sesame Street Live performance. Since Ernie, Bert, Big Bird and the gang are all his friends, we had a hard time convincing him that he couldn't just go up on stage and be with them. He loved all the singing and dancing and had a hard time staying in his seat in order to keep up with his friends on stage. Each "skit" is only two or three minutes long so it helps to keep the little one's attention. Preston especially enjoyed the alphabet song and pointing out his favorite letter, the letter "O". It's wonderful to watch the magic through a child's eyes.
Of course Sesame Street Live is not all about singing and dancing, it is also about money. There are plenty of ways to entertain your child with all the Sesame Street products available for purchase. Some of the more popular items are the Zoe tutu, Sesame Street Live pennants, and Elmo spinners and lights. During intermission large Elmo mylar balloons are wildly popular, however not for those sitting behind one. Fortunately Big Bird reminds the audience that the Elmo balloon is to remain under your seat during the show.
Three different Sesame Street Live shows are currently on-tour: "Elmo Makes Music", "Super Grover Ready for Action" and "Elmo's Coloring Book". Visit the Sesame Street Live web site for more information and upcoming tour dates in your local area. Whether young or old, it's always a great time to visit the happiest street in the world. Sesame Street Live has been on tour since 1980.

Elmo Makes Music
ACT 1
Sunny Day
The People in Your Neighborhood
What Makes Music
Singing Up the Scale
Cookie Crumba-Rumba
Alphabet Dance
Fuzzy and Blue
Elmo's World
ACT II
Together We'll Make Music
Bert and Ernie's Disco
Triangle Cheer
Rockin' Robin
Number Eight
Honk, Bang, Whistle and Crash
Thank You for the Music
Jenny's Sesame Street Band