Sesame Street Live: Sunny Day Camp Out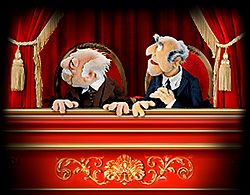 Jessica Jeffries (4-18-01) - Today was the day! We went to see Sesame Street Live: Big Bird's Sunny Day Camp Out at the First Union Spectrum in Philadelphia. Even though I was excited to see it, the actual show far surpassed my expectations. Overall, I was very impressed and I highly recommend that all Sesame fans try to catch one of these shows when they come to your area.
Big Bird's Sunny Day Camp Out featuring Elmo's World stars Big Bird, Snuffleupagus, Elmo, Zoe, Cookie Monster, Bert, Ernie, Rosita, the Count, Grover, Telly, Oscar the Grouch, and the Honkers, and welcomes Dorothy the Goldfish and Mr. Noodle.
Big Bird has invited Snuffy to go on a pretend camping trip. The only trouble is where shall they hold it? That is the question our lovable friends try to answer throughout the show (which was about an hour and a half long), and everyone has a lot of fun along the way. From the first song (Hello, Sesame Street) to the finale (Tomorrow! Together!), there was not a dull moment. Each set was impressive (especially the Count's castle), and the special effects and lighting added plenty of pizzazz to every scene. And what energy those Muppet dancers displayed! Each one was spectacular… I have no complaints with the portrayal of the characters.
After the opening number in Act One, the gang helps pack Snuffy's big suitcase for the trip. (Although the title of the show points out Big Bird and Elmo, there really was not one star of this program. Most of the characters "star" in their own musical number, and all of them have plenty of time on stage. As a result, there were always lots to look (which is important, especially since the average age of the audience looked to be about four).
In the next scene, Zoe falls asleep in Big Bird's nest and dreams that she is a flying with tropical birds (Sweet Dreams, Zoe). The black light effect, impressive dancers, and special "flying Zoe" in this sequence were pretty exciting. The crowd noticeably gasped when the lights went down.
Much ado is made about waking Zoe up, and from there the cast goes on a hunt to find the best place to hold their camp-out. They try Big Bird's nest (too small), Bert & Ernie's apartment (too many sheep), Rosita's roof (it rains), Snuffy's cave (Snuffy snores), Elmo's place (Dorothy wants to camp underwater), and the Count's castle (too many bats).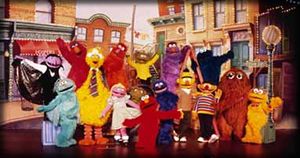 Of course at each location, a few songs are performed and terrific dancing accompanies each one. Most notable were Bert (sitting in an elaborate tub) & Ernie singing Rubber Duckie (complete with real bubbles blown into the audience), Rosita's rooftop fiesta (the dancing with the umbrellas was great), Snuffleupagus' cave interior (the Snuffy costume was quite impressive), and the Count's songs at his castle (The Batty Bat, and The Zig Zag Dance) which boasted a slew of bats, another impressive black light show, amazing stars splayed across the every seat in the house, and plenty of thunder and lightening!
Although he had a relatively small part in the show (he only sang one short song), Elmo did provide the goose bumps of the morning for this viewer. Every voice in the room was joined in harmony during Elmo's Song! Plus the terrific set which included Dorothy, and a window for all three Mr. Noodles to dance out of, made the Elmo's World portion a real highlight. It was something about hearing all those sweet kid voices singing happily… now that is what Sesame Street is all about.
There were only a few minor disappointments. First, although she is listed in the program (but not pictured), Prairie Dawn was completely missing from the show. And Oscar had a relatively small part. He did sing his own song (The Ants in Your Pants Dance), but was not on stage too much other than that. (I guess the trashcan costume is pretty hard to maneuver).
Finally, the audio was simply not loud enough. Normally I am not a fan of high volume in such situations, but in this case, it was necessary. I missed a lot of the dialogue (and jokes) because it was just too hard to hear over the enthusiastic child behind me screaming, "Where's Elmo? and "Hi, Bird Bird!" over and over again.
I think that I am not the only one who had trouble hearing. I noticed that some of the lines when the characters talk to the audience were not received as well as they should have been. For instance, there were many times that we were supposed to count together and try to wake up sleeping Zoe. The story went on, of course, but there was a noticeable lack of participation, making the segment fall a little flat in places. My one word of advice for the Sesame Street Live show is to turn up the volume and go on with the show.