Zoe's Dance Moves - DVD and VHS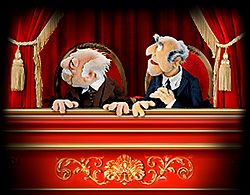 Annika Abel (3-5-2003) - Everyone's favorite Sesame Street ballerina is ready for her very first dance class, except she can't tell time. Zoe is an hour late and missed the class. Dance teacher Paula Abdul takes pity on the furry orange monster and invites Zoe to help her choreograph a new dance.
Their 'everything' dance allows Abdul to introduce a variety of dance styles. They begin with a ballet warm-up, move on to African dance and then Asian. Zoe introduces Abdul to her own unique dance style; the Silly Willy Nilly. Abdul adds some tap and caps things off with hip-hop. In addition to showcasing different styles of dance, Abdul gives a little history on each dance.

Zoe and Abdul are joined by four (human) dance students and Zoe's best pal Elmo for the finale. After Zoe and Abdul demonstrate, everyone dances the everything dance.
Zoe's Dance Moves is Zoe's first starring role in a Sesame Street video and proves Zoe can carry a show on her own. Zoe's spunk and self-confidence are evident as she happily jumps into choreographing and learning five different dance styles on her first day of class. This is a great example for little girls. Zoe is also quick to ask for help when she struggles with a step or rhythm, another important lesson for kids in the 'I'll do it myself' stage.
The dance studio segments are accented by dance-related clips from Sesame Street, often with voice over commentary from Zoe. Perhaps the best moment in the video comes when Big Bird, dancing with three classical ballerinas from Dance Theatre of Harlem, is joined by Snuffy in a tutu and headpiece. This segment, which originally aired in season 26, is a must see for any Muppet fan.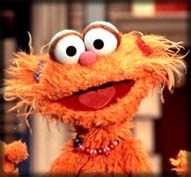 Dance is generally considered a pretty 'girlie' activity and while there are bits that will appeal to boys, the video is going to be far more popular with the female portion of the Sesame audience. It opens with ballet, which is a serious stumbling block when it comes to enticing the average male viewer. The tap, hip-hop, and African sections offer the widest appeal.
Zoe's Dance Moves is part of Sesame Workshop's efforts to move Zoe into a more prominent role and get closer to parity for the female Muppets, and thus the girls watching at home. To that end it is a great success. This video will absolutely enthrall preschool and toddler girls.
For the adult fan it isn't quite as good. Abdul can definitely grate on one's nerves. Unlike the adults in the regular Sesame Street cast, Abdul's interactions with the Muppets, kids, and camera (when she speaks directly to kids watching the video) are forced. This is a common problem with celebrities and experts not used to this style of work. Abdul wears lowrise pants and a slightly cropped top in the video, which strikes me as rather inappropriate in a video for three year olds. Not only have I never seen a dance teacher dressed like Abdul, my dance teachers would not have allowed students to even take class had they shown up with a bare midriff— but perhaps Abdul's bellybutton will encourage fathers to watch with their daughters.
In short, the video is a must for parents of little girls. It is already my daughter's favorite and captured her attention like no other Sesame Street video from her very first viewing. Adult Muppet fans will love some of the old segments and get a kick out of Zoe. Personally, I could have done without Abdul, but these videos need a celebrity to boost sales and the dance world is kind of low on recognizable big-wigs.
DVD Special Features:
Chapter Selection
Interview with Paula Abdul
Preview of other Sesame Street DVDs
CD Sampler: Hot! Hot! Hot! Dance Songs (side 2)

Discover what you may be missing!
Learn the differences between widescreen and pan-and-scan DVDs.