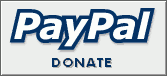 John Denver and the Muppets:
Rocky Mountain Holiday (DVD)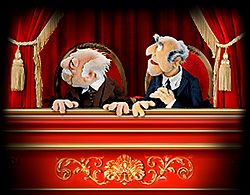 Byron Summers (August 29, 2003) - After 20 years, Jim Henson's "John Denver & The Muppets: Rocky Mountain Holiday" is at last seeing daylight. This is a kind of "closure" for some Muppet fans...
As a little boy in the mid-'80s, one of my favorite records was "Rocky Mountain Holiday". As fate would have it in a house with two kids, one day the record disappeared; not the sleeve, just the record. So for years, I had to be content with torturously gazing at the pictures and Muppet voice credits on the sleeve, with no way to hear this marvelous experience. Now that wound has finally healed.
CASE
First of all, as a traditional hard-core Muppet fan, it's an astounding thing to see characters such as Floyd and Janice on a DVD cover. The only bad thing about the cover is the modern Kermit head replacement, which looks awful compared with the Kermit that was actually used. Along with Floyd, Janice, and "Poser Kermit" on the front are Fozzie, John Denver, and a perfect Gonzo. Instead of Gonzo smiling at you, he is perplexedly looking at his own camera. The back cover features most of the cast at a moonlit bonfire, with separate inserts of John and Miss Piggy, a description of the special, and the DVD specifications.
DISC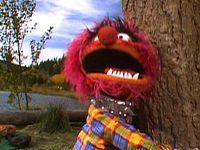 Now the DVD itself doesn't have a lot to crow about, but because this is such a terrific special and unique moment in Muppet history, it is definitely worth having in your collection. There are 16 songs featured in the special (filmed in 1982), and the song titles serve as the DVD chapters. The special is 47 minutes. Unfortunately, the only "extras" here are a few trailers for other Muppet productions. The DVD does have scene selections, though (and subtitles for those interested).
The premise is as follows: John has wanted to get his Muppet friends out in the Colorado mountain wilderness for some time, and on this particular day he finally pulls it off. This is perhaps the least-populated Muppet special (at least, of specials featuring the "Muppet Show" Muppets), but that is not a bad thing. On the contrary, it makes the experience a more intimate one for the viewer. The visual and audio clarities of the disc are superb. Everything is crisp and clear, as is expected on a DVD.
CUTS
We almost had the entire special served to us, but not quite. There is a brief segment, where John takes Rowlf for an airplane ride to cure his hiccups, which has been cut out. Some Muppet fans speculate this may have been done in delicacy concerning the way John Denver passed away, which is understandable.
COMMENTS
The story of the Muppets on their first camping expedition is charming, and the wide range of songs merely adds to the "camping in the wild" feel. Bright, upbeat numbers like "She'll Be Comin' 'Round the Mountain" and "Grandma's Feather Bed" are good ol' pickin' fun, while ballads such as "Oh How Lovely" and "It's In Every One of Us" are perfect accompaniment for a quiet, crackling campfire under the stars.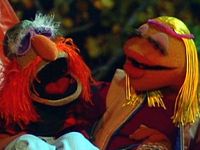 Interestingly, while oinker diva Miss Piggy appears in two flashback songs, she is not on the expedition itself. This means that "Rocky Mountain Holiday" is the only "Muppet Show" character production in which Janice is the lead female presence. Piggy fans may scoff at the lack of Piggy among her Muppet family, but the writers did such a wonderful job with the story and dialogue that it actually doesn't hurt the plot. Fozzie fans are definitely in for a treat. He is delightfully funny in the first half of the special, thanks in large part to a certain running gag (something the Muppets have always done well).
Even though there are only a few Muppets on the outing, there are cameos along the way from Statler, Waldorf, and Zoot for a few fresh twists. Various Muppet characters pitch their tents and get the campsite ready. There is one moment in particular which I noticed at the end of "Durango Mountain Caballero", as John finishes the ballad he looks to his right, where Floyd is sitting with his arm around Janice. As the last guitar notes float away Janice looks up into Floyd's eyes, tenderly nods, and lovingly snuggles her head into Floyd's lap. It's just a little background detail at the end of a song, but one that Muppeteer Richard Hunt makes utterly memorable for those who notice.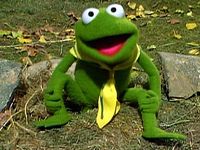 Hard-core Muppet fans will undoubtedly love this back-to-nature camping excursion. If you like the Muppets and enjoy the great outdoors, then you're sure to love it also. It's a perfect feel for those "one with the nature" moods. Basically, give "John Denver and the Muppets: Rocky Mountain Holiday" a home in your DVD collection. This is an archival piece of Muppet history whose fate had been previously questionable concerning home viewing. Now thanks to Columbia Tri-Star, you, a Muppet fan, finally have that pleasure.


Erin McCarty (September 10, 2003) - It may not be Christmas, but "Rocky Mountain Holiday" is truly a gift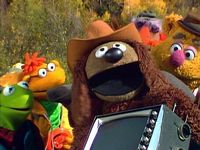 Although I am a huge John Denver fan, I purchased "Rocky Mountain Holiday" on DVD without ever having seen the program before. In fact, not only had I never seen this Emmy-nominated program, I had it in my head that this was a Christmas special like "John Denver and the Muppets: A Christmas Together". I was surprised to discover that this particular holiday was a summertime camping trip. Being a nature girl myself, I love camping and could appreciate the fun and beauty of this excursion.
Anyone unfamiliar with the frequent participation of John Denver and the Muppets would quickly pick up on the affection among John and his felt companions. He comes across as a revered friend inviting his pals to share in the wonder of his beloved Rocky Mountains, which provide an awe-inspiring backdrop in several scenes. While the Muppets may be use to the comforts of city life (especially refrigerators and televisions), for the most part the plaid-wearing compadres seem right at home amidst the forests and streams of the Colorado wilderness. Ironically, it is Fozzie, who claims the closest link with the land because of his "ursine persuasion", who seems most out of his league. After failing to communicate with a fellow bear, his ineptitude becomes the special's biggest running gag.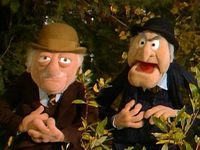 There are 16 musical sequences, leaving time for only brief dialogue between songs. But what dialogue is in place is right on target, and there are plenty of one-line zingers that kept me chuckling. For instance, Statler and Waldorf wander the forest throughout the special, separate from the rest of the gang. They periodically add their curmudgeonly take on the scene or song we have just witnessed. "Show me a home where the buffalo roam, and I'll show you a dirty house!"

The songs are a mix of campfire favorites, Denver songs, and tunes written for the special. Notably absent from the assembly is Miss Piggy, who nonetheless shows up in two flashback numbers: the ensemble "She'll Be Comin' Round the Mountain", during which various Muppets recall the extravagant entourage escorting Miss Piggy to the mountains over the winter, and "Tumbling Tumbleweeds / Happy Trails", a horseback duet between John and Miss Piggy that makes normally level-headed Kermit just a wee bit jealous. Floyd gets a chance to shine in "Gone Fishin'", a duet with John Denver accompanied by a mean saxophone, and Kermit takes the lead on the rollicking "Grandma's Feather Bed". In a flashback, Rowlf is unceremoniously toppled from his inner tube in the river, and in the present day he suffers from hiccups. Gonzo, meanwhile, keeps up his oddball ways, complaining that John foiled his plans of breaking the record for "Standing on the Bottom of a Lake with a Dog on your Head" and getting all "duded up" to woo the legendary Man-Eating Chicken that haunts the mountains. The evening closes with a sing-along, and the Muppets provide lovely harmonies. "It's in Every One of Us", caps off the evening with a reinforcement of their togetherness.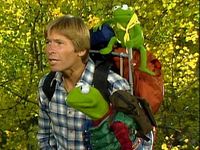 To this day, I can't help but feel rather melancholy after listening to John Denver. Add Jim Henson to the equation and it ought to make for a double-whammy of regret that the world has lost two such brilliant and compassionate talents. But instead, after watching this special, I am struck by the legacy that both left the world, a legacy that overlapped time and time again. Amidst great music and laugh-aloud gags is a deep-seated message of altruism and respect, making for a trip that I intend to take many more times in the future.

Discover what you may be missing!
Learn the differences between widescreen and pan-and-scan DVDs.