Authentic Animal Muppet Photo Puppet Replica

James Carroll (January 12, 2008) - It took nearly a year after Master Replicas' release of the Kermit Replica for Animal to hit the market. As you may know, the Gonzo Replica was the intended release for this second slot, but his delay due to the difficulty in reproducing his nose moved Animal up as the next release. Gonzo has reportedly been gussied-up, retooled and scheduled to hit the water later this year. Muppet Central will keep you updated on the progress. It's Animal's time now.
Fans know a Muppet poser well and can usually spot one at a glance. These posers are mocked-up copies of the beloved characters created and used for photo ops. The full-size dolls can be posed from head to toe, but lack much of the expressiveness created by the Muppet's performer. The very shape of the character is often derived from the Muppeteer's hand. That is most evident in sock-type puppets like Kermit. Animal's primary challenge lies in the multiple layers of material, much of which have been slightly altered for longevity.
MUPPET MODE OF TRAVEL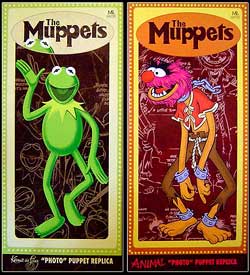 Animal arrives in a big glossy box much like Kermit's. A large color cartoon representation of the famous drummer is printed over an official brown blueprint sketch outlining the correct Animal design. Inside, Animal is tied down and wrapped in a plastic bag. He's curled up in the fetal position. I can imagine him willingly traveling in a similar method, sans the plastic bag of course.
The packaging includes certification and a stand almost identical to the one that accompanies Kermit. The connecting point of the included plastic stand appears to be backwards, yet the post snaps securely into its predestined slot. It works nicely even though it could be a few inches taller to accommodate the product's height. This musician must derive warmth elsewhere because he arrived without the nice silky blanket that wrapped Kermit. Unlike the frog, Animal comes in a smaller marked edition of 1500 rather than 2500. Kermit has sold out from Master Replicas and is still available from a few on-line retailers. Don't wait to order your Animal before this limited edition Muppet is also retired.
FUZZY AND FUCHSIA AND ORANGE AND RED
When Animal emerged from his sealed plastic bag I was met with a pair of intense bulgy eyes beneath an unruly magenta-colored mop. Upon inspection the hair groupings are finely punched and sewed into the scalp (not unlike a doll). Animal's hair is actually ostrich feathers skillfully dyed a subtle variety of shades from pink to red to orange. They initially plunge outward from his head causing him to resemble a crazed Technicolor dandelion. This can be tamed and shaped by wetting your fingertips and gently kneading through the hair working outward from innermost layer. You do not need to spray or submerge the head no matter how much Animal wants his "Muppets From Space" toilet bowl bath.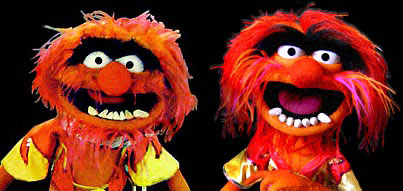 The real Muppet poser Animal (left) in comparison with Master Replica's Animal (right). The materials are durable but notably different than a real Muppet.
A different, thicker mohair-like material comprises Animal's brows. There is an obvious seam where the white plastic brow shell is covered with the black fur. This can be carefully tugged down to conceal much of the seam; however I just grabbed a black permanent marker and tentatively inked the area before pulling down the softly glued fabric. This is when the first glimmer of life began to show in my replica.
The brow is separated into two scoops rather than one continuous arc. I don't know if this is technically correct, but with some fluffing and twisting of the strands one can hardly notice. There is no inner device to specifically adjust his eyebrows up or down, but with some tweaking his orange foam eyelids can be gently pushed into an aesthetically pleasing position. Alternate positions require pinning with other materials. His lids do not contain enough fabric to allow his eyes to completely close. This is one of a few disappointing features on an otherwise stunning replica.
His eye focus appears to be fine and only slightly farther apart than I prefer. Pupil focus is an important part of the Muppet look. Some would say it is the primary feature. Nonetheless, I don't see the need to customize this. The sectioned brow line causes a little more distance between the eyes than I am familiar with.
I have seen a variety of different eye ratio examples for this character in Muppet Shows and films and he doesn't always look exactly as I remember. Even though there is a measured formula, every Muppet is an individual art piece, an instrument for the performer. The puppets receive a great deal of use and abuse resulting in a perpetual state of rebuilding and decay. Bringing one of these characters to life in any form is a challenge. Making a perfectly accurate Muppet is impossible.
Underneath the eyes are the musician's orange bags denoting many late nights chasing groupies or some pretty "WO-MAN…WO-MAN!" Unlike the lids, the bags are made of fleece as is the nose. The use of fleece on posers has become more prevalent with the Muppets these days. This does alter the texture and likeness of the character, but allows for great durability that cannot be achieved with foam.

The nose appears to be smaller than it should. That could be caused by a thinner portion of hair around the "moustache" mouth region. Again, the puppet has appeared with many different proportional nuances. The nose is darker and redder than in other Animal products. This is the color I always felt it was supposed to be instead of the commonly used orange color.
The mouth won't close. There's a hinge inside and the jaw can be maneuvered a small amount, but this obvious manufacturing defect on all of the replicas is very unfortunate. This product is touted as a poser and still has a mouth that can't really be positioned. The size, location, thickness and ratio of the tongue could be the cause of obstructing jaw plate movement. Some fans have been removing the tongue and doing all sorts of voodoo to the poor guy. While some of it looks good, I have decided to let him be for now.
The tongue is molded from a firm rubbery material. I have been afraid that the color was going to be pink, but it's a dark red like it's supposed to be. It is placed in rather tight proximity to the teeth, almost touching them. The teeth are white painted foam and look rich with foamy Muppety texture. The bottom lip is fleece, of course, but it does remind me of what the actual puppet material should resemble. I sure hope the teeth don't rot away over time.
Animal is a tall fellow, over three feet. His arms, legs fingers head, torso and neck can be posed. He is supposed to be styled in a bended-leg, crouched position and this can nearly be achieved except the head and neck are built slightly too erect. The length of the bare neck naturally begs for an accessory.
GROOVY THREADS
Animal's jagged-cut, rope-tied classic brown pleather pants are perfect. There was some early debate about the material, but I am glad Master Replicas decided to go this way. His sequin-spangled red and yellow shiny top is expertly sewn and looks just as I remember. It even ties up the front. The clothes appear to be removable. I personally wouldn't want to see the crazy dude in his birthday suit. His visible belly button is enough to quench my curiosity of Muppet anatomy.
Upon his escape from Master Replicas' warehouse Animal must have somehow shed his spiked collar, chain and anklets. I am disappointed. This is a very expensive item and the initial product description led me to believe that he would come fully stocked with this gear. Unlike drumsticks that could be easily purchased, it's going to take some time and creativity to accessorize him with these items. I found some alternatives online that will thankfully save me a trip to one of San Francisco's colorful shops.
CLOSING THEMES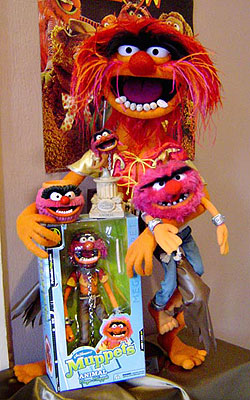 Every Muppet fan has an idea of how a character should look. Even Animal has gone through an evolution. This representation is not perfect. His likeness is around 97% for my taste. Much of that is due to how he is handled, styled and posed by his owner. Muppet Central Forum members have many suggestions on the topic of styling, modeling and even altering this replica to suit the individual consumer.
This is a collector's item, but who in the world would keep him sealed in a box? If it takes some alterations to get him just right then so be it. I would encourage waiting for the fur and fleece to settle for a couple days before making any major changes.
At the suggested retail price of $399, Animal's mouth should be fully posable. The brow seam should be hidden and malleable and at the very least a spiked collar should have been included. For this, Master Replicas' Animal loses at least half a star. Their Kermit poser receives a perfect score in my eyes because any micro-issues are overwhelmed by the amazing quality and attention to detail in aspects where Animal falls a little short.
Don't be disillusioned by the terrible product photos of Animal on the web. I am convinced they were taken by some maniacal Muppet monkey bent on the demise of this beautiful art form. The likeness is not entirely spot-on, yet it is the closest any Animal item can and will ever be. There have been many Animal products to hit the marketplace. Palisades' skillfully crafted action figures of varying sizes, Sideshow/Weta's gorgeous bust, figural mugs, plush toys and of course the fan favorite seventies' Fisher Price puppet with movable eyebrows. These all pale in comparison to the masterful prototype work by Muppeteer and puppet builder Terry Angus and Master Replicas' translation of Animal into limited production.
If you are a fan of Animal and the Muppets and always wanted the real deal in your collection, this is worth saving your pennies. Animal takes a bit of styling, but what musician isn't high maintenance? Buy this wild man before he escapes.
Recap: Packaging - 5 Stars / Likeness - 4.5 Stars / Articulation - 3.5 Stars / Accessories - 2 Stars / Fun – 5 Stars / Value - 4 Stars / Overall 4.5 Stars