Puppet Mania!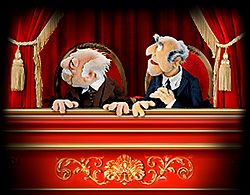 Cindy Chapman (May 21, 2004) - John Kennedy, a Muppeteer for the Jim Henson Company for more than twelve years, has just published Puppet Mania! The World's Most Incredible Puppet Making Book Ever! utilizing his many talents and years of experience.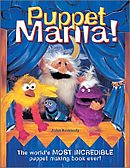 The book is extremely versatile as it appeals to all ages. The reader learns almost as much about John Kennedy has he will about puppets. From making puppets to performing puppets, Kennedy takes the reader from start to finish. Sharing basic skills as well as advanced tips, puppeteers at any skill level can benefit from this book. Since Kennedy's interest in puppets started at an early age he hasn't forgotten to include fun and whimsy that can draw in every child. You'll be surprised at just how complex yet simple his puppets are to make. Puppets are unique tools that speak to anyone. Kennedy takes the art of puppetry and makes it everyday for you and me.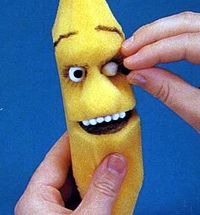 Throughout the book you'll find a myriad of puppets. From arm/rod puppets to sock puppets you'll find them and much more. Prior to the instructions for making each puppet, Kennedy includes a short history of how the puppet came into existence. Each story reveals just a little about Kennedy and his puppet that gives this book its personal touch which unfortunately is often missing from other puppet making books. For example, the Banana Buddy puppet tells us a little about Kennedy's college days as a strolling puppeteer. Each puppet has special meaning, which in turn adds life to the puppet. It's evident that Kennedy has a great deal of respect for puppetry and that it's just not a bunch of felt and ping pong balls.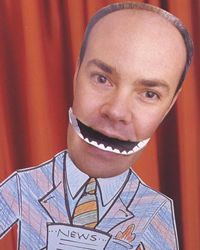 Also included with each puppet instruction is a list of materials. A lot of the puppets featured in the book are made with items that you can readily find in the home. Paper plates, spoons, poster board, and plastic bottles are just a few of the items you'll see turn into fabulous puppets. Large color photographs also aid in showing you the step-by-step process that is outlined by Kennedy. In some instances a pattern is included to produce one of a kind creations. Kennedy also provides useful tips and tricks for not only making the puppet but for performing the puppet. He encourages the reader to give the puppet a personality and to use their own creativity to make the puppet more their own. Although the difficulty level is not outlined specifically, the book's easier puppets are shown first, so that by the time you get to the end of the book, you're practically a puppet master. The nice aspect of the puppets in this book is that they can really be as simple or as complex as you want. Kennedy provides you with the basic skills and how far you take it is up to you.
Also included is a brief lesson in puppetry. What good is a puppet if you don't know the proper way to operate it? Kennedy teaches the reader the correct way to hold a puppet and the various expressions that can be accomplished just by a slight hand movement. He also shows the reader (again with large color photos) how to manipulate arm and body rod puppets. Kennedy gives us a brief look at some of the techniques that will be used to make the puppets. From hot glue safety to sewing techniques, Kennedy has covered all the bases. He also defines the various materials used and explains them in detail so that there is no confusion.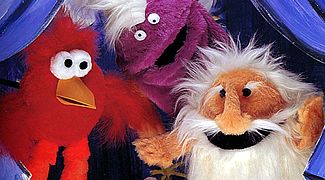 This book with its big and colorful photographs makes it a pleasure to look at. Kennedy's own personal touches such as the "Picture Puppet" in which he uses his own picture make it entertaining as well. Some of the puppets even have a little hint of Muppet quality, which would encourage any Muppet fan. This book is excellent for beginners or intermediates who are looking for new ideas. This would also be excellent as a teaching guide for arts and crafts teachers. For all you Muppet fans don't miss the words of encouragement on the back of the book from other beloved Muppeteers.
For more information on John Kennedy and Puppet Mania, visit www.puppetkit.org. John Kennedy will even autograph a copy of Puppet Mania! for you.