Mother Goose Stories DVDs
Humpty Dumpty and Jack and Jill

Greg James (February 1, 2005) - It was a little over nine months ago that HIT Entertainment got licensing and distribution rights for many of the great shows in the Henson Family Showcase. HIT has been releasing DVDs of the popular Henson series Fraggle Rock. This caused many to wonder if HIT will be take advantage of any of the other Henson properties as well. Amazingly, HIT has begun to tackle more of the Henson Family Showcase within their first year of licensing. The second Henson property to get the DVD treatment from HIT is the beloved television show of Jim Henson's Mother Goose Stories.

If you have never seen Jim Henson's Mother Goose Stories you may be wondering what the show is even about. Jim Henson's Mother Goose Stories first premiered on television almost 15 years ago (September 1990). The series took classic nursery rhymes and created fun little 8-minute stories about the various 5-6 line poems. The series was directed by up-and-coming director Brian Henson. Brian even won an Emmy Award for "Outstanding Directing in a Children's Program" for directing this show. Each episode of the television show was comprised of 3 independent eight-minute stories that told the stories behind classic nursery rhymes. There were 39 stories made throughout the course of the series (comprised in 13 broadcast episodes).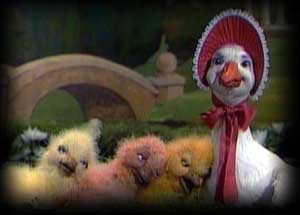 The series features a "Muppet-like" Mother Goose, who is a literal goose, which shares the stories of the nursery rhymes with her three impatient, fluffy, and cute goslings. The show combined the live-action talents of young children with the extraordinary puppets to bring to life these excellent stories. From Humpty Dumpty, to Hey Diddle Diddle, to Little Miss Muffet; the show covered all the classic rhymes children grow up hearing, and explained in a fun way what happens in each little poem and why.
HIT released two separate DVDs of stories from the show entitled "Jim Henson's Mother Goose Stories: Humpty Dumpty" and "Jim Henson's Mother Goose Stories: Jack and Jill." These two DVDs each features an hour of the show; a total of 8 stories each. HIT selected 8 independent stories for each disk placing them together in these collections; they did not follow air-dates, production order, or broadcast episode groupings.
Considering the source material is 15 years old, the video quality is quite good. The audio is crisp and clear, and HIT did include closed-captioning for the hearing impaired on these discs as well.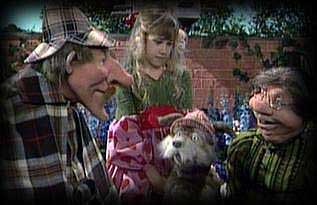 The disks offer no real bonus features. The story count for the DVD releases are 2 higher than their VHS versions, therefore HIT is considering the DVDs to have 2-bonus stories per disk. Although there is no behind the scenes material or any other related extras, the show itself is such a treat to own that the absence of extras is not disappointing. Although, having Brian Henson sit down for a short interview would have been nice, the nature of these DVDs is more "kid-oriented" and that is not a priority for HIT on such products.
More good news is that HIT says if the sales of these DVDs are good that they will release more DVDs with other stories from the show in the future. There are still 23 stories from the show that are not be found on these two releases. So be sure to pick up both of these awesome DVDs; not only to experience the magical world of Mother Goose Stories, but also to support the franchise. Two more Mother Goose DVD's are planned for release on June 28, 2005: Mother Goose Twinkle Twinkle Dumpty and Mother Goose Eensy Weensy.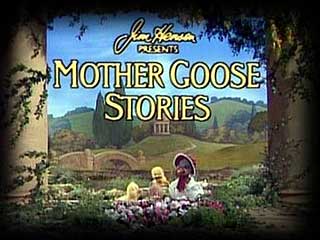 These two DVDs are both region-1 DVDs, meaning they are only playable in DVD players in the United States and Canada. But don't you fret if you are outside this region, HIT is planning a separate Region-2 release (playable in Europe, including the UK, France, Greece, Turkey, Egypt, Arabia, Japan and South Africa) called "Jim Henson's Mother Goose Stories: Hickory Dickery Dock and other stories." This will be a new collection of stories from Mother Goose Stories on DVD, and is due out on March 15, 2005.
If you enjoy these DVDs and really want to see more in the series feel free to contact HIT and let them know you want to see more releases in the Jim Henson's Mother Goose Stories series.
The HIT customer service number is 1-866-405-7625. You can write them a letter at:
HIT Entertainment
Attn: Consumer Relations (Jim Henson's Mother Goose Stories)
PO Box 9000
Allen TX, 75013

Humpty Dumpty, Mother Hubard, and many more!
This DVD runs just a little over an hour, and features the following stories from the show:
Humpty Dumpty
Mother Hubbard
Little Boy Blue
It's Raining, It's Pouring
Dicky Bird
Little Girl with a Curl
Duke of York
Tommy Tucker
Jack & Jill, Old King Cole, and many more!
This DVD runs just a little under an hour, and features the following stories from the show:
Jack & Jill
Pat-A-Cake
Old King Cole
PussyCat, PussyCat
Man in the Moon
Little Miss Muffet
Willie Winkle
A Song of Sixpence

Discover what you may be missing!
Learn the differences between widescreen and pan-and-scan DVDs.