Muppets From Space Special Edition DVD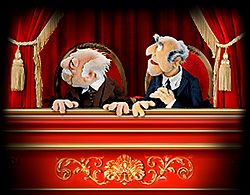 Ian Westhoff (11-23-99) - When one hears the name Muppets, they usually think of song and dance, laughter, zany hijinks and wholesome family entertainment. In a nutshell, you get what you expect. This can be said about the new "Muppets From Space Special Edition DVD".
To have a Muppet film on DVD is wonderful, but for the disc to be packed with extra features is a dream come true. The DVD offers the option of watching the film in either "Standard Format" or "Widescreen Format", presenting the film in its original theatrical aspect ratio of 1.85:1.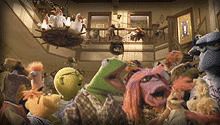 The special features menu includes an "Outtake Reel", housing seven hilarious moments from the film where the Muppet's forget their lines or ad-lib the scene to keep it going. It has an "Audio Commentary", presented in a "Mystery Science Three Thousand" format where we see Kermit, Gonzo, Rizzo, and director Tim Hall sitting in front of the screen cracking jokes. There is also a "Music Video" of "Shining Star" performed by The Dust Brothers featuring Jeymes which highlights clips from the film. It also has the "Original Theatrical Trailer" and "Teaser Trailer" as well as trailers for both "The Dark Crystal", "Labyrinth", and "Jim Hensonís Storyteller". The disc also has a "Talent Files" option where you can read about Tim Hall, Frank Oz, Dave Goelz, and Steve Whitmire, which gives a list of the films they were in as well as which Muppets they perform.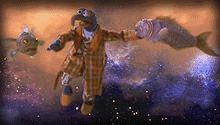 The only complaint one could have about this disc is that there are no deleted scenes from the film. But beggars cannot be choosers and the features that were included on this DVD make it one of the better Special Editions out there. Whether or not The Jim Henson Company plans on putting out any more Muppet movies on DVD is undecided at this moment. But, if they do, I only ask that they follow the formula of "Muppets From Space" and add tons of extras.

Discover what you may be missing!
Learn the differences between widescreen and pan-and-scan DVDs.