The Muppet Christmas Carol DVD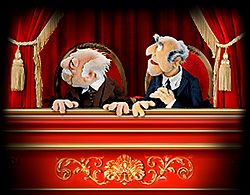 Eric T. Wickwire (10-11-2002) - What do you get when you take one of the most beloved books in literature, and cross it with one of the most beloved performing companies in entertainment history? You get "The Muppet Christmas Carol". The original book by Charles Dickens has always been a favorite of mine, and to add the Muppets to a film version, they created what became one of my favorite films.
All doubts that I might have had about the movie were put to rest during the first opening musical number. While Ebenezer Scrooge is walking the streets of Victorian London and the Muppets are singing about how mean and cold he is, you see that the spark is still left in the Muppet franchise. They still know how to carry a tune and make you laugh at the same time.
As it has been mentioned before, "The Muppet Christmas Carol" is the first movie the Muppets are playing characters other than themselves. I think Rizzo is the only one that played himself. They don't miss a beat. Even though they have different names, they still have their own personalities that we remember and love so much. Kermit is still Kermit, and Miss Piggy is….well, still Miss Piggy.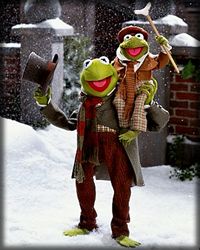 No review of "The Muppet Christmas Carol" would be complete without mentioning the wonderful job that Steve Whitmire is now doing with Kermit. I never thought that anybody could get so close to the original voice but also make the voice and Kermit performance his own. Kermit does sound younger than he was in my opinion but that's ok. Bravo Steve!!
The greatness of "The Muppet Christmas Carol" DVD can be seen as soon as you put in the disc and the menus come up and Kermit greets you. This one little feature makes the DVD worth buying. I don't want to spoil it for you before you rush out and buy the disc yourself, I repeat, before you RUSH out and BUY the disc yourself, but this intro by Kermit had me in stitches.
The movie itself, as many of you have heard is only in a full frame version, no widescreen version is available. What upsets me about this is that Columbia was doing such a great job with putting both versions on the Muppet movies discs, but some ill-informed Disney executive decided that our kids are not smart enough to choose which version they would like to see and to select the right button in the menu. When did the expectations of our kids become so low?
The video quality seems to be a little dark and aged, but that might be just because of the age of the film now. The film looks exactly like it did on the VHS version although with better resolution. I hope when they do put out a widescreen version, they will be able to clean up the negative as well. Movies this funny and special need to be preserved! The audio quality in the 5.1 surround mix is understated but enjoyable. You don't have to keep your finger on the volume control like many discs and turn it up for the dialogue and turn it down for the effects.
The extras on this disc really make the disc shine. My favorite thing is the "On the Set" feature, which is the gag-reel. Here you get to see many of the flubs and mistakes made during any filming but what is great about the Muppet performers is that when something does go wrong, they stay in character and deliver some really funny lines. Also in this feature you get to see some of the puppeteers in action. They make performing the Muppets look so easy but we all know that comes with years of practice.
There is also a "making of" featurette with Brian Henson, Gonzo, and Rizzo called "Frogs, Pigs and Humbug: Unwrapping a Holiday Classic". Unlike many of these types of featurettes, they actually talk about how they made the movie. It is not just a fluff piece of promo material. They describe how they made the ghost of Christmas past float, and you get to see interviews with Muppet performers! I won't tell you which ones, you have to go buy the disc. We also have a Directors commentary with Brian Henson that is great and a "Christmas Around the World" clip. I have never seen Santa on a surfboard before!
"The Muppet Christmas Carol" is truly a new classic in holiday movies. I watch it every year along with "It's a Wonderful Life" and "Miracle on 34th Street". It is great that we now have a DVD we can watch over and over and over again and it will look as good as the day it was bought. Now, we just need to convince Disney to release a widescreen version.


James V. Carroll (10-13-2002) - Disney DVD has once again decided against including a widescreen version in their second Muppet offering, "The Muppet Christmas Carol". Many of us thought the Disney brass had changed their minds since the many fan complaints about the full-frame release of "Muppet Treasure Island" a few months ago. That unfortunately didn't happen.
It is a shame that so much of the production's beautiful scenery is chopped out of the frame along with key characters. The opening titles are horribly squished to fit the credits in the frame. Brian Henson's meticulous cinema photography is butchered and we are left with a feeling that something is missing.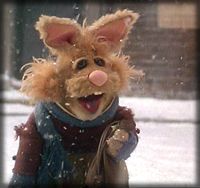 The clipping of these films seems strange because Buena Vista Home Video's most lucrative DVD releases usually contain the widescreen option. This popular format will eventually become the standard of all video media and Disney will undoubtedly release a new version of this film at that time. I hope they will offer a collector's edition a bit sooner. I decided to buy this disc for the extra features and to show my support for Muppet product. I believe the Mouse's bean counters will likely come to the conclusion that Muppet films are bad business if no one buys this current version. They don't give audiences enough credit.
Now that issue is out of the way I can talk about what the DVD does contain. There is a wonderful audio commentary by director, Brian Henson. I gained a great deal of respect for him after listening to the "Muppet Treasure Island" commentary a few months ago. These productions are much more complicated than I ever imagined. "Muppet Christmas Carol" is not my favorite film but the behind the scenes elements add so much to the piece.
The interactive menus aren't spectacular. "Muppet Treasure Island" utilized this feature a little better, but Kermit has some entertaining shtick. Over-produced menus can sometimes overwhelm the rest of film. For that reason, I feel this treatment was just right for this particular project. It's a gentle piece after all, not a swashbuckling adventure movie.
One of my favorite parts is the "On the Set" blooper reel. Sometimes such clips are not as amusing to the audience, but these are a collection of gems. It makes me wonder what didn't make the cut. I won't spoil them for you.
The twenty-minute making-of featurette, "Frogs, Pigs and Humbug", is a very entertaining look at the production. We are treated to some old and new behind the scenes footage. In cutaways, Brian Henson tries to hold his own with Gonzo and Rizzo and fails miserably as he laughs throughout the piece. It's always good to watch a guy who really enjoys his work and that of his peers. Jerry Juhl, Dave Goelz and Steve Whitmire also give brief interviews. Frank Oz doesn't appear in person, but Gonzo lovingly comments about his absence providing a good laugh. Piggy also makes an appearance. You just can't get the spotlight off that pig.
The DVD offers a benign "Christmas Around the World" segment containing drawings of what the season means internationally. Gonzo and Rizzo narrate this brief portion with much wit. It is kind of interesting, but definitely for the kids and it doesn't bother me.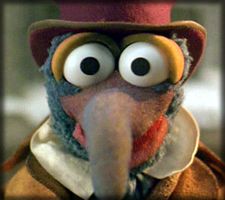 The film itself is rather dark. I have always felt that this was the least "Muppety" of all the Muppet pictures. There is talk in the commentary about the abandoned notion that main cast members were to play the ghosts - even Scooter! Eventually Brian Henson decided on making this a more classy production that happened to include the Muppets rather than a more traditional Muppet film. That sums up my main problem with the picture; Kermit, Piggy and Fozzie are pushed aside in order to maintain the story's integrity. I honestly don't know how the issue could have been handled any better without making it cheesy. Henson offers a different sort of Muppet movie that is enjoyable when not compared to the earlier films.
The story plots along as expected. To be fair, every version of the Dickens classic has a rather slow pace. The continuous witty dialog and pseudo-Dickensian verses from Rizzo and Gonzo helps to break the monotony of a story we already know. This is where the rat and the weirdo were first established as the successful comedic duo we have seen in all Muppet projects since.
Michael Caine, one of my favorite actors, does a stellar job in his role as Scrooge. He even sings! There was not a better actor for this part. I was excited that an actor of his status agreed to be featured so heavily in this film. Caine always seems to be doing something different. He treats this role with the same passion as would with any other part.
Paul Williams' songs are kind of thick and syrupy but they are rather catchy too. They are certainly not the caliber of his early work in The Muppet Movie, but it's hard to recapture that sort of magic. The music works with the film, but rarely shines. "It Feels Like Christmas" along with "Kermit and Robin's Christmas Scat" are the best and most Muppet-like songs in the movie.
I believe that "Muppet Christmas Carol" would have played better as a television special than a feature film, but this was a significant project by the Henson Company that needed a theatrical release. It was an important time to show the public the Muppets had not passed on with Jim Henson and Richard Hunt. Fans were craving the release of a Muppet movie in 1992 and this one delivered.
This is a significant film in the Muppet movie series and is a must-have for any fan. It gives us a different look at the characters, set against some rich scenery. No one expected a piece like this from the Muppets and that is its strongest selling point. Now my collection is complete. Well, kind of.


Ryan Dillon (11-10-2002) - After a long wait, "The Muppet Christmas Carol" is now on DVD. This holiday favorite is one of the many retellings of Charles Dickens' classic book. This was the very first production filmed after Jim Henson and Richard Hunt's death, as well as Brian Henson's directorial debut. Playing the penny pinching Ebenezer Scrooge is Michael Caine. He plays the part exceptionally well, acting as a bully to the loveable Muppets.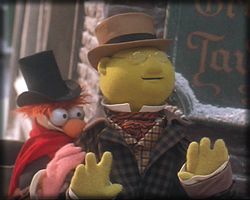 This may be one of the best Muppet DVD's out there. One reason why it stands out is, because like the "Muppet Treasure Island" DVD, it has great menus. Kermit is the host of the disc. You'll want to wait to choose a selection when the menu begins.
I had a hard time giving the disc 4 and a half Kermit's, but I did it for a few minor flaws. The most important of the flaws is the aspect ratio which is full screen 1:33:1. You really can't capture the essence of the film with this cropped viewing. It seems as if Disney thinks the Muppets are just children's entertainment. Apparently, they believe that kids don't like "those black lines". But indeed those "lines" give much better perspective and a good idea of what is going on around you. It also is that that they released other films such as Monsters Inc. in widescreen, but they have seemed to forget our furry chums.
Even without widescreen, the features are excellent. "Frogs, Pigs, and Humbug: Unwrapping a Holiday Classic" gives you a behind the scenes look at the making of the movie. Included are comments from Steve Whitmire, as well as Dave Goelz. Gonzo and Rizzo host and interview Brian Henson about the film. One tiny flaw is the way they filmed the interview portion with Brian. Whenever a close-up comes in, the camera becomes really out of focus, which can be a bit of a distraction. But that's pretty much the only thing wrong with this documentary. There is one great scene in which Brian directs a few puppeteers (including Dave Goelz, Steve Whitmire and Louise Gold) when they completely mess up their parts ("Boy, did you guys get that wrong!").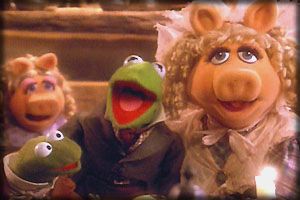 Another great feature is the Bloopers reel, which, for some reason, is called "On the Set". There are about 11 or 12 gags, one which is probably the most hilarious part of the whole DVD. It's the scene where the Cratchit family is sitting at the dinner table after Tiny Tim passes. "I am sure we will never forget Tiny Tim, or this first parting of us." says Kermit. Belinda then asks, "May I have his dinner?" This is just some of the fun in store for you.
The audio commentary is also terrific, with Brian Henson. It focuses a lot on puppet trickery, which I am sure many fans will enjoy. "Christmas Around the World" is, at the best, okay. It is basically voiceovers of Gonzo and Rizzo teaching kids about other countries and their Christmases.
Overall, however, I really enjoyed this DVD. It will still be a classic for generations.

Discover what you may be missing!
Learn the differences between widescreen and pan-and-scan DVDs.