Muppet Machine Embroidery Cards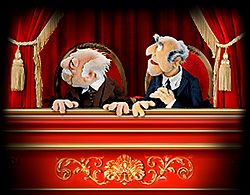 Annika Abel (1-15-2002) - This is a rather esoteric collectible, as its usefulness is based on access to an embroidery machine. However, it is a pretty nifty little toy and one can have lots of fun embroidering clothing, towels, hats, blankets and so forth.
Unless you frequent sewing stores, you probably aren't familiar with machine embroidery. Briefly, machine embroidery uses a special sort of sewing machine to stitch preset designs onto textiles. Machine embroidery cards are collections of embroidery designs. The machines are simple to operate-- much easier than traditional sewing machines. Most embroidery designs are small, a couple of inches, and are great for decorating pockets, lapels, or other small spaces.
Sesame Street Muppet designs have been available for use with home embroidery machines for a few years now. Classic Muppet designs were released late in 2001. Embroidery cards are available from a number of sources online and at sewing machine stores, most fabric stores do not stock them.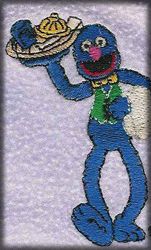 Amazing Designs currently offers five Sesame Street collections; Ernie and Bert (SS1), Big Bird (SS2), Elmo (SS3), Elmo in Grouchland (SS4), and Sesame Street Christmas (SS5). Each collection, or card as they are generally called, contains 15 - 20 individual embroidery designs of a variety of Sesame Street Muppets and the Sesame Street street sign. Each card sells for $80 -$150. The best price I found online is $89.95 from Sewforless.
I have the Big Bird collection. I chose this collection because I could not get them all-- for obvious reasons-- and it has a nice variety of Muppets including one design that contains Big Bird, Ernie, Bert, Cookie Monster, and Elmo all together. The Elmo collection is almost exclusively Elmos and while the Ernie and Bert collection has a number of different Muppets, Zoe and Snuffy only show up on the Big Bird collection. The Christmas collection was not available when I made my purchase.
The Sesame collections are a lot of fun. Some of the designs work perfectly if one wants Muppets poking their heads out of pockets. There are a lot of classic Sesame images (waiter Grover) as well as more recent additions such as Zoe and Elmo. Noticeably missing are The Count, Prairie Dawn, and Rosita.
The classic Muppet collection, made by Viking, is a different format. The Sesame Street collections are 'memory' cards, which means that the card is formatted to work on a specific brand of embroidery machine. Each collection is available in a number of formats (think: Beta and VHS). The Muppet collection is a CD-ROM. It requires the use of special embroidery machine software that allows one to download the desired designs onto a card formatted for their embroidery machine.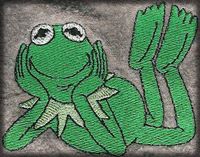 The Muppet collection contains Kermit in a number of poses, both full bodied and head only. It also features Piggy, Gonzo (one great image of Gonzo surrounded by chickens is a definite highlight), Fozzie, Animal, and one Rizzo. Some of the Miss Piggy designs are a little alluring-- a bit more the way Piggy sees herself than how she really is. Hopefully there will be a Muppets II which will contain a more realistic Piggy as well as some of the other Muppets (Rowlf and the Electric Mayhem are high on my wish list).
Another oddity in this collection shows up in a couple of the Kermit designs. The patterns call for outlining Kermit in dark green thread. This is a valid choice, given Kermit's coloring, though it differentiates from the black traditionally used to outline machine embroidery designs. The problem is that Kermit's pupils are filled in as part of the final outlining-- causing Kermit to have green pupils. This is easily remedied by substituting black thread for the green.
Interestingly, each Sesame Street design includes a Henson copyright yet no such credit is on the Muppet designs. The Henson copyright is included on the packaging for Muppet collection. I do not know if this is an oversight or a difference in the licensing agreements with Viking and Amazing Designs.
The quality of the actual embroidery is top notch. The Muppet collection is by far the best embroidery collection I've seen, it surpasses the Sesame Street collections.
As the Muppet collection is new, it is not yet readily available online. I found it in the Viking shop at a JoAnn ETC store for about $85. While these are certainly not cheap, they are competitively priced compared with other embroidery collections. In fact, they are on the less expensive end of the embroidery card spectrum.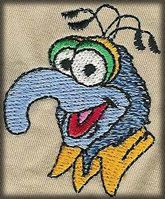 Embroidery machines are fairly popular in the sewing world at present. If you would like some of the Muppet designs but are not inclined to purchase a machine yourself (they are definitely a big investment) ask anyone you know who sews. You may find a friend or relative who already owns a machine and will do some embroidery for you. If you take this route, I recommend buying at least some of the thread yourself-- machine embroidery uses a great deal of thread and is generally done with rayon thread (it is shiny and looks better than regular sewing thread). Each individual spool of thread is not expensive, but it can add up.
To sum up, I highly recommend these for anyone who can make good use of them. For a one-time project they are not cost-effective. If, however, you desire a completely Muppetized wardrobe or want a Muppet or two on every towel in your home, then embroidery cards are a great way to go.