The World of the Dark Crystal: The Collector's Edition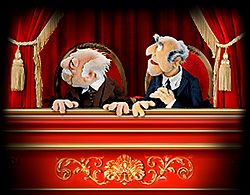 Ian Bond (May 8, 2003) - The World of the Dark Crystal is a rather rare and expensive book, being as it went out of print soon after it was released.
Now, as the movie is celebrating it's 20th anniversary, the book has come back into production. It is the exact same release that Knopf printed in 1982 except for a few additions including: new cover art, a page and a half introduction by Brian Froud, and a small booklet in the back cover.
Let's start with the little booklet. According to Brian Froud, it is the same booklet that Jim Henson originally used to secure financial backing for the film. It features early concept work by Brian Froud and some of the original ideas that never made it into the movie. For example, the miners under the castle eventually led to the hit series, Fraggle Rock.
The new introduction by the film's conceptual artist, Brian Froud, takes the reader back into Froud's past and his initial meeting with Jim Henson. He goes through all the "fun" of working on such a remarkable project as The Dark Crystal and communicating ideas to all the different design and production teams. If you have seen the book, The Making of the Dark Crystal, then this will definitely deepen your understanding from Froud's perspective. The introduction also contains a stunning photograph.
Lastly, the dust jacket features a different, rather than new, piece of cover art. It is merely the last picture of Kira and Jen, where Kira holds the shard and Jen is playing his pipe.
All in all, this book is a great addition for any fan of the film. There is nothing missing from the original. Put that hard bound first edition on a display case where it belongs, but after reading this new edition a few dozen times, you better make some room on that display case for it, too.

Catherine Drougas (May 10, 2003) - This is an incredible book. People have been waiting decades for this book to come out again, and it is well worth the wait.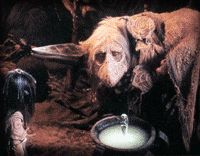 The artwork is breathtaking. Even the clerk at Waldenbooks who sold it to me said, I can't believe a beautiful hardcover book like this is only being sold for thirty dollars! Never a truer word was said. Although I have only glimpsed at the original book in the library, I believe this one is almost exactly like it.
If you are interested in the concept drawings of Brian Froud and the creation of the The Dark Crystal, this is a must have. An extra bonus is that there is a little booklet inside of concept drawings and early development that is a must-read.