The Muppet Show Comic Book:
Kermit's Story

James Carroll (March 25, 2009) - Roger Langridge of Fred the Clown fame has been attempting to bring his comic representation of the Muppets to print for quite some time. He originally planned a series of strips to grace the pages of "Disney Adventures" until the entire magazine got the axe. Now Langridge has been given carte-blanche to create a Muppet Show comic that has its own distribution through BOOM! Comics and will be available at newsstands everywhere.
Even better than the original plan of including the comics in the Disney magazine, the Muppets are now center stage rather than a footnote. Many fans have wondered how the scope of an entire Muppet Show will be able to translate to the glossy pages of a comic book and how these vaudeville veterans will look. Let's get things started and find out.
PLOT
In this first issue based on "Kermit's Story", Kermit becomes homesick for the swamp he left in order to helm the Muppet Show. The plot is basically just a loose framework for Langridge to keep one cohesive story element to ground all the craziness.
TONE
Langridge's comic is like a jam-packed episode of the Muppet Show with the same look and feel of the classic program as if it never stopped. The retro colors and slick composition highlight the comic's vaudevillian quality as seen in Langridge's own Mugwhump the Great and Fred the Clown comics. I can imagine my sneakers smacking along the sticky floor of the Muppet Theater.
WRITING
This comic book should be required reading for every writer who's worked for the Muppets over the past decade or so. These pages contain the "something missing" that could easily be storyboarded into a new television program. It's all there, the Newsman, Gonzo's amazing feats, backstage antics, avant-garde "musical" numbers, exploding Muppets, pseudo-guest stars, Koozebane, Pigs in Space and much more.
Without giving too much away, the ending is a little sugar-coated in contrast with the rest of the zaniness, but it's still Muppety. The voice of the characters is always present in the dialoge. This is classic Muppet Show writing and a great return to the show's heyday.
ART
I became a rather tough critic after catching a glimpse of Roger Langridge's Muppet Show preview comic last year. Many characters appeared to be unnecessarily skewed beyond what had come before. Kermit, Scooter and Gonzo have even been given teeth. The preview was intended to be experimental and I mistook it for self-indulgence. (Muppet fans are notoriously opinionated and protective.) It appears that Langridge graciously responded to the fan reaction in Kermit's Story.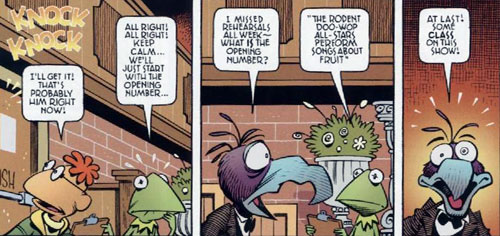 Roger Langridge's Muppet Show preview comic from 2008.
My main issue before was with Gonzo. He is particularly difficult to capture in any medium. Not only is he my favorite character, but I have worked on his likeness for other official product. I am well versed in the design of Gonzo in particular and can easily sketch an authentic drawing of him, but it lacks the elasticity and expressive nature of Langridge's interpretation. There's intensity to his Gonzo that has been lacking in comic form. It is also much improved from the sharp beaked buzzard from the preview last year.
In this first issue, the characters still have teeth and there are a few likenesses that some fans might not favor. Langridge prefers to work off-model and let his own inspiration guide him in translating the furry, foam and felt icons. His drawings are fluid, gestural Muppet renderings instead of exact reproductions of their puppet counterparts. This usually works as the characters have evolved nicely and will reportedly continue to do so.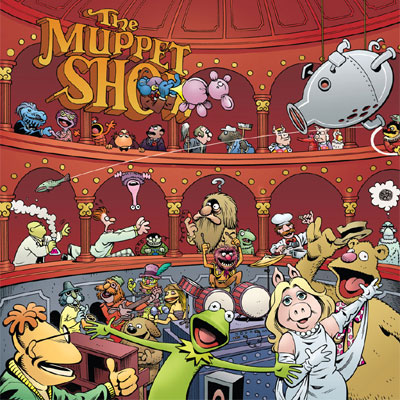 There is a touch of inconsistency with how the characters are drawn throughout this first issue. Miss Piggy's design fluctuates some as does Kermit's design. Fozzie's eyebrows disappear sometimes and it appears that Sweetums grows ears in one panel. It is notable, yet not distracting. I see them as the subtle growing pains of something good with the potential to be great. The rest of this pilot comic book is Muppetational enough to overlook the sparse quirks and rough edges.
JUXTAPOSITION
Other artists have tried their hand at Muppet comics through the years. Graham Thompson and Jenny Craven released their authentic, zany take on the Muppet Show back in 1979. Guy and Brad Gilchrist penned some sly, beautiful strips that epitomized the stylish 80's Muppet-look. Marvel even got into the act with some rather garish looking Muppet-themed comics… Purple Rowlf is just not okay.
There's also no shortage of Muppet inspired art on the internet from fans and industry professionals alike. Artist Dave Alvarez reportedly landed an alternative comic book cover for this issue after submitting his Chuck Jones-like stylizations of the Muppet characters. Alvarez particularly captures Kermit's expressions spot-on. I, along with many fans, favor Michael Frith's conceptual drawings that were transformed into the Muppet characters, but if the Muppets have taught us anything it is the value of variety. The art contained in Kermit's Story provides that in a distinct and professional format. It might be off-model, but it clearly maintains the integrity of the classic Muppet Show.

The comic strip from Guy and Brad Gilchrist is the Muppets most notable achievement in comic form. Their Muppets comic was printed daily from 1981 to 1986 in over 660 newspapers worldwide.
CONCLUSION
I give Roger Langridge's Muppet Show Comic Book my enthusiastic approval. It hits the ground running in a way that doesn't feel like an introductory comic launch. It is mostly stunning in style and content. Sure, there's room for a little improvement just like the first season of The Muppet Show, yet it is a remarkably handsome comic book. I have purposely left out any real spoilers here because many have already made it through the internet community. If you want to know more about this comic buy the Muppet Show Comic: Kermit's Story. You are sure to be one happy Muppet fan.
The second issue is due at the end of April and highlights Fozzie Bear and Gonzo teaming up for a comedy act. The Muppet Show series is slated to include four issues with a four-part Muppet Robin Hood comic scheduled for release in May.
CAST
Featured in issue one are the following Muppets: Kermit, Fozzie, Gonzo, Scooter, Sam, Robin, Sweetums, Statler, Waldorf, Swedish Chef, Strangepork, Link, Miss Piggy, Bunsen, Beaker, Animal, Dr. Teeth, Floyd, Zoot, Janice, Lew, Snowths, Crazy Harry, Rizzo, Rowlf, Camilla, Newsman, Uncle Deadly, Mildred, Koozbanians, Nigel, J.P. Grosse, George, Beauregard, Frackles, Happy Hugga Wugga, Gypsy Woman and Pops along with spare frogs and the like.