Christmas Eve on Sesame Street DVD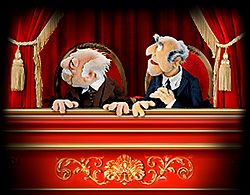 Scott McGuire (11-12-2002) - The classic TV special, "Christmas Eve on Sesame Street," is one of my favorite Christmas specials (right up there with "A Charlie Brown Christmas" and "A Muppet Family Christmas"), so it was great news to hear that Sony Wonder released it on DVD as part of their Sesame Street line.
First broadcast in 1978, "Christmas Eve on Sesame Street" features what most would call the "classic" Sesame Street cast - it's from the pre-Elmo, Mr. Hooper days. The special opens with all the characters ice-skating (including Oscar the Grouch!), and then develops into three interwoven plot threads, focusing on the Muppet characters with the humans playing supporting roles.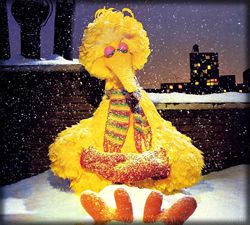 First, Oscar the Grouch challenges Big Bird to figure out how Santa Claus gets down chimneys when they're so skinny and Santa's so fat... and warns Big Bird that if he can't figure it out, Santa won't come! So Big Bird investigates and imagines hard with the help of his kid friends and Kermit as the Christmas Eve deadline approaches. Meanwhile, Cookie Monster tries to write a letter to Santa, but every time he gets so excited thinking of the cookies he'll ask for that his writing instruments are mysteriously reduced to crumbs. Finally, Bert and Ernie try to pick out the perfect gift for their best chum - and what sacrifices they'll have to make to get it.
All these stories have happy and heartwarming endings, of course (well, "heartburn" may be a better way to describe Cookie's story ending). The entire special is told with the wacky humor and gentle life lessons that one expects from Sesame Street, although the alphabet has been given the holiday off. Seasonal songs performed by the characters are interspersed throughout the special - some traditional ("Have Yourself a Merry Little Christmas") and some new ("I Hate Christmas").
Thankfully, the special is delivered complete and unedited on the DVD, unlike some other Muppet holiday specials, and since it was originally broadcast on PBS it runs for almost exactly an hour. The DVD presents the special in full-frame, which is the correct aspect ratio, as the special was originally broadcast on television. The video quality is only fair - acceptable, but fair. On the plus side, the colors are bright, the contrast is good, and the picture is reasonably sharp most of the time. However, it's clearly been sourced from a slightly deteriorated video master: in some scenes, the colors are too bright, and thus bleed and are over saturated, and there are occasional video dropouts. It's quite possible that this was the best master available, though: it appears very similar to the master used when I taped the show off of PBS some years ago. But it's a reasonable picture and far better than my decaying videotape, which I was happy to replace with this new DVD.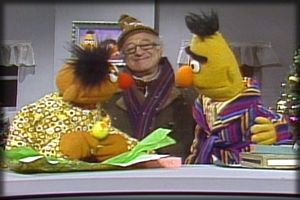 The sound is strong and clear, although only monaural (but what do you want for a 1978 special). There are no real extras on the disc, unless you count the plethora of trailers for other Sony Wonder Sesame Street DVDs. I thought it was a little odd that on a children's DVD the chapter selection menu has no pictures and instead consists of three pages of text only. But most kids probably just want to watch the whole thing from the beginning and the rest of us know how to read!
Overall, the "Christmas Eve on Sesame Street" DVD is definitely a good value for the price (retail price $12.98, available for around $10 from most on-line stores), and I recommend as an excellent addition to anyone's Christmas, Muppet, or Sesame Street DVD collection.

Discover what you may be missing!
Learn the differences between widescreen and pan-and-scan DVDs.