Where Did I Go Right? - Bernie Brillstein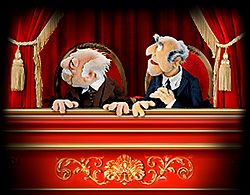 Luke Robbins (3-11-01) - The name Bernie Brillstein will probably be familiar to most Muppet fans but they may not realize his connection to Jim Henson. As Henson's personal manager Brillstein played an important role in the success of the Henson company shows and movies for over thirty years. His success wasn't just limited to Muppets either, Bernie managed many of Hollywood's top stars becoming a legend in the entertainment industry.
This autobiography "Where Did I Go Right?" takes the reader on a journey from Bernie's childhood right up to the time of writing when he sold his management company to protégé Brad Grey and went into semi-retirement at the age of sixty-five. Brillstein chronicles his experiences in showbiz from the 1940's to the year 2000 and gives us a hilarious and honest insiders view of both his personal and work life as well as talking about the feuds he was involved in. This book is about so much more than Muppets but for the purpose of this review I will concentrate on Bernie's foray into the world of puppetry.
Signing him on an instinct one day in 1960, Bernie represented Jim Henson right up to the day he died. He first made his mark on Henson's career when he arranged for "Rowlf the Dog" to appear regularly on "The Jimmy Dean Show" - a major break in Jim's life that the gentle giant would never forget. As Bernie moved over the years from company to company, Jim Henson always stuck with him and the pair became firm friends.
The style in which Brillstein writes this book has to be one of its best features. Quite simply, he always tells it like it is. He doesn't just reproduce the same old biographical data on his clients that most books do - he actually gives the reader an insight into who these people really were.
In Jim Henson's case a great example of this is when in the summer of 1972 Bernie persuaded Jim to merchandise the "Sesame Street" characters. Originally both Jim and wife Jane Henson were against this move wanting to retain complete control over their characters and also not wanting to profit from children's public television. Brillstein sold them on the idea by explaining that from merchandising Jim would have both the funds and artistic freedom to make films like "Labyrinth" and "Dark Crystal" which may never have been produced otherwise.
Bernie goes into detail about the problems encountered putting Henson puppets on "Saturday Night Live", his experiences pitching "The Muppet Show" to CBS and then ATV, and also his surprise when "The Muppet Movie" was a smash hit at a time when nothing similar had ever been tried before.
From 1986 Bernie Brillstein was Executive Producer of another puppet show called "ALF" and managed it's creator and puppeteer Paul Fusco. According to Henson company president David Lazar, Jim didn't like the idea of his agent being involved in another show involving puppets. "ALF" was a smash hit of the sitcom genre and Jim thought "ALF" might harm the Henson's business. As it turned out, "ALF" actually helped Henson. The show was such a success it allowed Jim to pitch his own puppet sitcom "Dinosaurs" to ABC and for the record, Jim turned out to be a big "ALF" fan and became friends with Paul Fusco.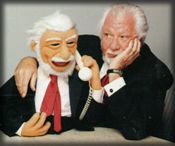 Brillstein and the Bernie Muppet are hard at work. Jim Henson gave Brillstein the Muppet at the "Free Clinic" roast.
In the book, Bernie gives us a new twist on Disney's 1989 deal to buy "The Jim Henson Company". He reveals that in 1980 Jim planned to buy "Disney" and held initial meetings, it was this which planted the seeds for a Henson-Disney pairing years later. Disney wanted to acquire Henson's company at a good price at a time when the Muppets were not as hot as they had been. In return, Jim had massive overheads to pay and wanted to concentrate on being an artist rather than a businessman.
The Disney deal was never finalized, due to the tragic death of Jim Henson in 1990. Bernie raises a controversial point that in the six months prior to his death he believes Jim Henson may have known that he didn't have as much time left to live as everyone else thought. It was, of course, widely speculated that Henson privately believed in the occult and other worldly phenomena.
Brillstein observes that Jim acted a little different from his usual pattern of behavior in the months leading up to his death. Specifically Bernie mentions that Jim went out of his way to have dinner with Jay Tarses (writer of two Muppet movies) and talked about his life and beliefs. He also held a Poker game with former friends and people he had disagreed with in the past, it seemed like Jim was trying to put things right before he passed away.
Bernie remembers vividly the day Jim Henson died and goes into great detail about his funeral, and reproduces the speech that he read at the service. He remembers that by leaving letters for his children, Jim planned a lot of his funeral arrangements himself and everything turned out exactly as Jim had wanted it. Brillstein comments that the death of his special friend was one of the lowest points in his life.
To me, this book is one of the best ever written about the entertainment industry from an insiders point of view and the sections devoted to puppetry and Jim Henson are among its greatest. After reading it, you truly feel that Jim was not just another client. He was a true friend who Brillstein represented for thirty years without a contract. Bernie Brillstein's autobiography is a masterpiece from a showbiz legend.