The Muppets Big Book of Crafts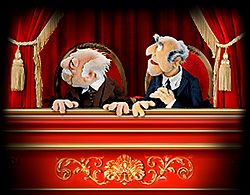 Danny Horn (01-09-00) - 1999 was a rough year for Muppet collectors. Hardly any Muppet toys were released, even with the release of the new movie, and the videos that were released were edited versions. A number of Muppet fans have been complaining all year, saying, "Who still cares about the Muppets at Henson? Who cares about the history and has respect for all the cool stuff? Where are the secondary characters? Where is the LOVE?" Fans who buy "The Muppets Big Book of Crafts" will be very relieved to see that the Muppet spirit is still very much alive in Henson publishing.
"Crafts" is a very worthy sequel to the 1996 Workshop book "The Muppets Make Puppets" -- even bigger and with a variety of crafts projects. It's got masks and pinatas and sculpted gargoyles and snowglobes and wall hangings and stationery and costumes and all kinds of stuff. And the Muppet Workshop folks make everything look so GOOD that just flipping through it, I'm coming across stuff that I desperately want to make. I must make a fuzzy monster bank!

There is no option! The instructions seem clear, and it seems pretty user-friendly -- there's a list of materials with every project, a difficulty rating... seems like a pretty easy to use book, not that I've had a chance to make anything yet. But we're Muppet fans and we don't care about crafts. The big question is, How's the Muppet content? And it's GREAT. Seriously. You don't have to care about crafts. If you're a Muppet fan, you want this book.
I just opened to a random page and found a two-page spread showing how to make little finger puppets. And the two finger puppets they've made as an example are (get this) Wayne and Wanda. Really! And they look great! Let's take another random page -- this one shows a Christmas card made by Henson in the 1960's. Another page shows the Richard Hunt memorial quilt. And this is all just randomly flipping through the book; the book is FULL of this stuff.
The photos are totally amazing, better than practically any Muppet book. Main characters, secondary characters, really random odd characters... all in full color and all gorgeous. There's old photos, new photos -- a whole bunch of things I haven't seen before. Mahna Mahna and the Snowths, Janice and Zoot performing little puppets of Cyndi Lauper and Michael Jackson, Marvin Suggs and the Muppaphone, Harry Belafonte and the African masks, Beauregard, Sam, Song of the Cloud Forest, Labyrinth and Dark Crystal characters, Piggy on a motorcycle... And all of it is captioned with real love and attention, explaining who and where many of the characters come from, and how the props were made. It's SO cool. There's an intense sense of love and respect for the characters and Henson's work. YOU WANT THIS BOOK.

So there's been some disappointment with the toy and video end of the Henson world over the last year... but the publishing end has been doing extra-special great work. Between "The Muppets Big Book of Crafts," "Jim Henson's A Very Muppet Christmas," "The Muppet Book of Friendship" and "The Making of Muppets From Space," Muppet Press has had a very, very good year -- really wonderful, loving, well-designed, funny, authentic, great Muppet books. These are books that are accessible to kids and casual fans, and also totally satisfying to hardcore fans. And in that excellent list, "Crafts" is the best Muppet book of the year. If Muppet Press' excellent record can be duplicated in Henson's other departments over the next few years, the Muppets will have a great new decade.

Julian Lowy (01-28-00) - This book is perfection. It's been a long time since there has been a Henson product that really captures the Muppets whimsy and this is the book does it.
Every ingeniously designed page is bursting with Muppety goodness. Besides all the wonderful crafts, designed by the Muppet Workshop, there are endless Muppet facts and trivia. Some of the little articles are real eye openers. For instance, did you know that Jim Henson used to carve walking sticks as a hobby (page 75)? Or that the miniature buildings in the set of London from the opening credits of The Muppet Christmas Carol are signed at the bottom by the people who helped build it (page 233)? There are many other wonderful facts in this book.
The Muppets Big Book of Crafts is about three times the size of The Muppets Make Puppets and has over 100 crafts, some of them Muppety, some not, but many very new and original. My personal favorite craft is the "giant bird" on page 64. This is the closest craft in the book to a Muppet and would look perfect in a Muppet room.
This is an absolutely wonderful book, one of the best Muppet ones ever written. It remains true to the Muppets' unique humor and is an absolute must for any Muppet fan.