1999 Muppet Movie Parodies Calendar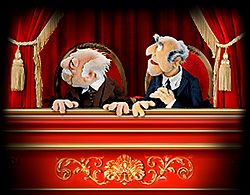 Quinn Rollins (9-14-98) - I just picked up the 1999 Muppet Movie Parodies calendar, and it was worth every penny. The films parodied include classics like "The Graduate," "Patton," and "The Godfather," and newer films such as "The English Patient" and "Face/Off." The Muppet parody line of calendars and merchandise has in the past provided some great Muppet moments, and this calendar is no exception. The art director for these has "my" Muppet dream job (outside of performing, of course). Here are my opinions about the various parodies for each month.
"Ratton"… is a "Patton" parody. Rizzo stars as World War II's smallest (and probably hungriest) general. This is a great idea and Rizzo gets his starring vehicle. The calendar pulls it off nicely.
"The Dogfather"... is one of my favorites (along with 5 or 6 others....)! Rowlf stars in this "Godfather" spoof, which I love because it's darkly stylistic, very understated (no horse's head in bed or anything), and it has Rowlf, who's had a very low profile recently. Thank you for including Rowlf, Muppet people!
"Swine"… is a "Shine" spoof. This one is probably my least favorite, for a few reasons. (1) I haven't seen "Shine." (2) It stars the pig that played Champ Schwimmer on "Muppets Tonight." Schwimmer is okay, but every time I see him, I'm reminded of Link Hogthrob's superiority in the dumb blond pig department. Other than that, if you liked "Shine" or Schwimmer, you'll probably love the Parody. Executed perfectly.
"The Undergraduate"... is "The Graduate" parody. This is another one of my favorites because it has Piggy's leg in the picture as she slowly, seductively peels off a silk stocking with Kermit watching sheepishly with his hands in his pockets. This is a perfect copy of the movie poster. Poor Kermit, he doesn't know whether to stay or go. I would stay.
"Schnoz"... is a "Jaws" parody. There is a bit of a stretch with the title, but the picture of Gonzo (and his somewhat-larger-than-average proboscis) coming up through the water at the swimming Piggy made me laugh. And that's all I ask.
"Mission Improbable"... is a "Mission Impossible" spoof, with Fozzie playing Tom Cruise's character. I loved this one, because it brings Fozzie into the foreground for at least a month. He deserves it as much as Rowlf. And, if you look at the top of the picture, there's a distinctly spindly pair of green hands holding on to the cable supporting the bear, reviving the Kermit and Fozzie team, if only for a month, very nice.
"Frog Ventoori: Wet Detective"... is an "Ace Ventura" parody that is executed perfectly; from Kermit's coifed head to his booted feet, he IS Frog Ventoori. If only this had come out before "When Nature Calls," I would have liked it much more.
"Our Wedding or your Funeral"… is a "Four Weddings and a Funeral" spoof, and makes it onto the calendar's cover. It deserves to be there. This is one of my... let's say, my #3 favorite. Reminds me of all that's best about the feistiest years of the pig-frog relationship.
"The Greenish Patient"... is a parody of "The English Patient." This was a good movie that seemed about as long as the dog days of August, so it's fitting that this spoof falls in that month. There's a great picture of Kermit, and if you're so inclined, you can see his bottom through the hospital gown. Of course, he's naked most of the time anyway…
"Men in Plaid"… is a "Men in Black" spoof starring Statler and Waldorf that I really, really want to like. However, I can't stand the movie it's based on, but I do love Statler and Waldorf! What to do? I'll love it by the time September gets here.
"Piggy Woman"... appropriately enough is a parody of "Pretty Woman." Let's see, Piggy is playing a prostitute, and Kermit playing the "American Gigolo" himself, Richard Gere. I knew this day would come. Now that it has, I love it! The pose captures their tempestuous relationship as well as "Our Wedding or your Funeral."
"Face/Lift"... is my number one favorite. This "Face/Off" Parody has the 1976 Miss Piggy side by side with the 1998, much more beautiful (and I DO mean that, heaven help me) Miss Piggy. This pig has come a long way. This picture illustrates that beautifully, while addressing the issue of plastic (foam rubber) surgery, that Piggy has fervently denied for so long. I give this parody 5 stars and a hubba-hubba-ding-DING!
The last month (December, for those who don't know) is the "Star Wars" parody we've all seen with Kermit and Gonzo as Luke and Vader crossing light sabers, and the cinnamon roll on-the-head Miss Piggy in the foreground as Leia. The title is "Star Warts," with "May the frog be with you" in the corner. A great one to reissue, to be sure. This is the framed copy of Muppet Magazine I have on my wall. Which is why I was less than enthralled with it in the calendar. Great stuff, but I've already got it. If you don't, you need it.
Overall, a final rating, I give it 5 out of 5 stars. I like it more than last year's calendar. I really like the starring roles of Rizzo, Gonzo, Fozzie, and especially Rowlf. I also enjoy the balance of older, classic movies with the new films. My only negative remark is that I would like to see the Electric Mayhem in a spoof, either as a band or as individual characters. If they can give a month to Champ Schwimmer, they can certainly spare a month for the Electric Mayhem. Other than that, I loved it, bought it, and have it. You should too.