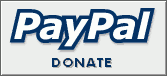 2000 Sesame Street Calendar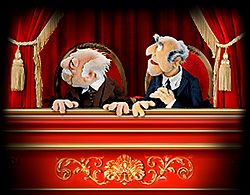 Travis Frost (12-17-99) - This cute, little, review is brought to you today by the letters Y and K and by the number 2! Because I, Travis, SUPER pal of the cute, furry, adorable, little, SUPER GROVER, here, am reviewing the 2000 Sesame Street calendar, "Sunny Days: A Celebration of Sesame Street Songs", a Hometown Graphics brand calendar published by Cullman Ventures, INC.! And what a SUPER duper calendar this is too!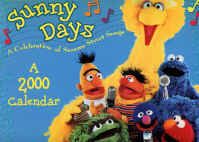 OH! I do like it so! Let me count the days! And the ways I like it too while I am at it! For there are 366 days in this calendar! Yes indeed! The year 2000 is leap year! All the more reason to leap ever so valiantly into action and get this SUPER little calendar for yourself, the kiddies, friends and family! OH! And such pretty little pictures too! Each month features not only an OH so very vibrant and colorful photo of our favorite Sesame Street Muppets, but also the lyrics to the most beloved Sesame Street songs of all time! I cannot think of a better way to celebrate the first year of the new millennium than with something as familiar, comforting, happy, cheery and loved, not to mention SUPER, as a favorite Sesame Street song from the days of yore! Yore sure to love it as much as I do! OH! I am so excited for this calendar! Even a couple of songs from favorite Sesame Street holiday specials are included! Behold!
January: Grover and Elmo with the lyrics to "We're Gonna Stay Up Late and Party" from a Monster New Years Eve special. Stephen Lawrence composer, Lou Berger lyricist.
February: Ernie and Rubber Duckie with the lyrics to "Rubber Duckie" by Jeff Moss.
March: Grover with lyrics to "Monster in the Mirror". Chris Cerf music and lyrics, Norman Stiles lyricist.
April: Ernie and Bert with lyrics in both English and Spanish to "Sing" by Joe Raposo.
May: Zoe with lyrics to "My Name" by Jeff Moss.
June: Oscar the Grouch with lyrics to "I Love Trash" by Jeff Moss.
July: Elmo and Rosita with lyrics to "Mambo I, I, I". Fernando Rivas composer, Nancy Sans lyricist.
August: Big Bird with lyrics to "Sunny Days: Sesame Street Theme". Words by Bruce Hart, Jone Stone, and Joe Raposo. Music by Joe Raposo.
September: Big Bird and Rosita with lyrics to "Read Me A Story". Stephen Lawrence composer. Tony Geiss lyricist.
October: Elmo and The Count with lyrics to "The Batty Bat" by Joe Raposo.
November: Cookie Monster with lyrics to "C is for Cookie" by Joe Raposo.
December: Elmo and Lightning the Reindeer with lyrics to "Elmo Saves Christmas" by Pat and Michael Silversher from Elmo Saves Christmas.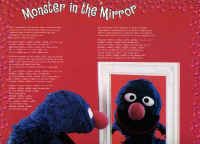 Each and every day of the year is bound to be a truly Sunny Day with this calendar! I shall tell you! And now I, Travis, SUPER pal of the cute, furry, adorable, little, SUPER GROVER, am finished telling you.
I give it six Wubbas!*
*Based on a SUPER little scale of one to five!