Strong Museum Sesame Street Exhibit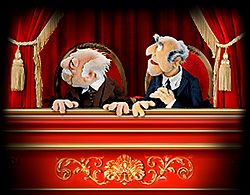 Stephanie Stussman (3-21-99) - If you were anything like me as a child, you dreamed of visiting Sesame Street; walking hand in hand with Big Bird, sharing an ice cream soda with Grover at Hooper's Store, or helping Ernie pull a prank on Bert. That dream never came true, but now you can experience the next best thing.
In 1997, the Strong Museum, in Rochester, New York, came together with the Children's Television Workshop to create a hands on exhibit entitled "Can you tell me how to get to Sesame Street?"
Talented artisans recreated many of the buildings from the beloved television show, which stand along side of the original Hooper's Store and Fix-it Show storefronts (on loan from the Smithsonian). The life size building fronts are accompanied by several new structures including a cobblestone bridge, playground, and several activity centers.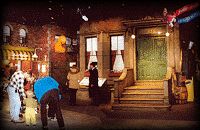 When you enter the exhibit, you find yourself standing right on the pavement in front of 123 Sesame Street. You can sit on the stoop and see yourself in a television monitor. And for just one moment, you can imagine that you're on the show, waiting for Oscar to pop up and tell you to scram.
Oscar isn't there, but many of our other Muppet friends are. Big Bird greets you as he peers out of a second story window at the exhibit's start. Elmo and Zoe wave from the roof of Gina's daycare. Bert and Ernie are watching favorite Sesame Street clips in the movie theater, and Rosita is hanging out above the Bodega.
The entire exhibit was created with kids in mind, so there are plenty of two-foot tall activities for them. Kids can curl up in Big Bird's nest, or talk to Cookie Monster on the telephone. They can climb the bridge and slide down again after playing with Bert's pigeons. They can play steel drums and spin letters to form words. They can use computers to play games with Ernie and Bert or watch sesame Street footage from other countries.
Kids can perform too. They can put on a puppet show while watching their performances on monitors below the platform, just like real Muppeteers. There is also a television studio where, thanks to a video recorder and blue screen, parents can make a video for their children reciting the alphabet or counting with Elmo, Rosita and the Count.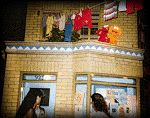 While the exhibit is inviting to young fans of the show, it is also a giant nostalgia trip for adults. I took great joy in overhearing one man exclaim, "Wait a minute... you mean they can actually see Snuffy?" Chronological facts about the show are posted on walls throughout the exhibit, and there is a hall of video monitors showing some memorable clips. One of the busiest monitors is the one showing the Sesame Street friends explaining to Big Bird that Mr. Hooper is dead. There's never a dry eye.
Shortly after it's opening, I spent an afternoon at the exhibit with several twenty-something friends. We had the time of our lives watching and remembering the role that Sesame Street had played in our childhood.
Just recently, I returned to the museum accompanied by my cousin's two-year-old twins. The exhibit took on a whole new life seeing it through their eyes. The colors seemed even brighter, the music seemed happier, and Sesame Street once again felt like a magical world waiting to be explored.
The exhibit has been very successful, and is slated to remain at the museum for a few more years. A traveling version is being built at this time, and will be visiting museums across the country in the near future.
Can you tell me how to get to Sesame Street? No problem, go to the Strong Museum in Rochester, New York. For more information, check out the museum's web site at www.strongmuseum.org.