A Muppets Christmas - Letters To Santa DVD

Phillip Chapman (September 17, 2009) - On September 29, the Christmas season officially arrives (for Muppet fans at least). Not only will The Dark Crystal Blu-Ray and Labyrinth Blu-Ray discs debut, but most notably Disney is releasing last year's TV special, A Muppets Christmas - Letters To Santa as an extended DVD.
Fans have a lot of questions about this release. Will the announced extended scenes and bonus features live up to their billing? Will the DVD be reduced to pan-and-scan treatment (like The Muppets' Wizard of Oz and A Very Merry Muppet Christmas) or will Letters to Santa receive the full widescreen treatment as originally filmed?
THE STORY
A Muppets Christmas - Letters to Santa can be considered as Disney's second major attempt at re-launching the Muppet characters on network television since Disney bought the Muppets five years ago. Not since 2005's television movie, The Muppets' Wizard of Oz have we seen the classic Muppet Show characters on their own show on one of the big four networks.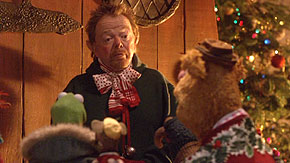 Letters to Santa made some nice improvements on many of Oz's disappointments. The Muppets return to New York with several scenes shot on location. The Muppets are playing themselves, telling their own story and there is a fantastic mix of classic and recent characters alike. From Crazy Harry to Big Mean Carl, this special is one of the most character-balanced features fans have seen in a long time. (I did miss seeing Johnny and Sal as they were noticeably absent.)
Veteran Muppet lyricist Paul Williams not only returns to write songs for Letters to Santa, but he also makes a cameo and joins Andrew Samson, Hugh Fink and Scott Ganz as they brings years of writing experience to the Muppet franchise. (Last year, we interviewed Samson, Fink and Ganz for their thoughts on writing their first Muppet special.) Paul Williams' songs are a breath of fresh air as new Muppet music has been lacking throughout the past decade. While not up to the standards of his original Muppet compositions, the four songs in the special do bring a warmth and classic feel that we haven't seen in a long time. Hopefully, we'll hear more of Paul Williams' Muppet music in the future.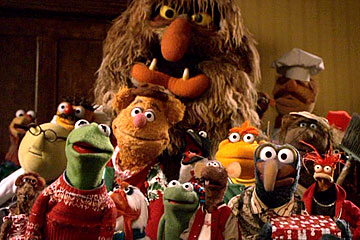 For me, the special has some pacing issues. Some developments in the story seem rushed while others are slightly dragged out. Since the plot focused on Claire (Madison Pettis) and her letter getting to Santa, it would've been nice to have seen her give the letter to Gonzo at the beginning of the special so that the audience would sympathize more with Claire and her mom. We needed to know more about Claire's back-story and their family in order to give her Christmas wish more meaning.
Some of the guest star cameos worked well (like Nathan Lane with Bobo or Petra Nemcova with Beaker), but others could have been removed entirely from the special without taking anything away from the plot. For example, the scenes with Steve Schirripa and Tony Sirico felt somewhat out of-place. Reportedly, NBC greenlit this special very quickly last summer. Taping was only about 15 days. No doubt with a little more time, some of these issues could have been greatly improved upon.
OVERALL PRESENTATION
After a slew of Disney trailers for other releases (most notably Snow White and the upcoming Toy Story 3), the opening menu looks similar to the scenes at the beginning of the special with letters stacked to resemble the New York skyline. An instrumental version of "Angels We Have Heard On High" plays in the background.
The main menu for bonus features is titled "The Muppets Stocking Stuffer Smorgasbord." Here you will see a Christmas tree and stockings hung with care over a fire. As you navigate to the items on and around the tree, you'll discover interviews and deleted scenes.
When broadcast on network television the runtime on the special was about 43 minutes. Disney hyped this release as an "extended edition" DVD. It was disappointing that it was only extended with about three minutes of additional scenes in the special. (Disney added 20 minutes of scenes to 2005's Muppets Wizard of Oz DVD.)
However, immediately after the 46 minute feature are a wonderful four minutes of bloopers. Next is the "Glad All Over" music video featuring the Muppets dancing to the Dave Clark Five. Then, there are another three and a half minutes of bloopers over the extended credits for the special. Disney's decision to have the bloopers and music video at the end of the feature and not as additional bonus features is an interesting one. It seems as if Disney wanted the special to seem longer than it actually is.
VIDEO AND AUDIO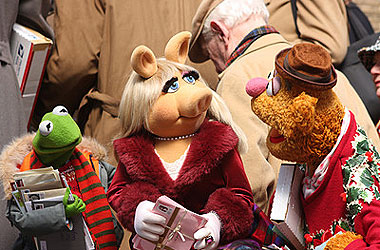 The great news for fans is that the DVD is presented in anamorphic widescreen (1.78:1), so if you happened to see the 4:3 version on TV last year, you're in for a treat with the widescreen presentation, especially in some of the large character scenes.
The special is presented in Dolby Digital 5.1 Surround and with English subtitles. For those with surround sound, you may notice that the surround mix is lacking somewhat especially during musical numbers. Even when the special first aired on NBC, the audio on the more upbeat musical numbers seemed too distant and lacking punch.
BONUS FEATURES
As mentioned earlier, the bonus features can be found under a slightly odd menu called "The Muppets Stocking Stuffer Smorgasbord".
As you navigate around the menu, you'll discover the following ten interviews and deleted scenes. Some are ornaments and gifts around the tree, while others can be found by clicking over the Muppetized stockings hung from the mantel over the fireplace. There was another bonus feature ("Searching for Santa Claus") which unfortunately didn't make the final mastering of the DVD.
The bonus features are presented inside of a frame of Christmas lights. I would've preferred that the deleted scenes were presented full-screen as they were originally shot.
| | | |
| --- | --- | --- |
| | | |
| JANE KRAKOWSKI INTERVIEW (1:04) | | MADISON PETTIS INTERVIEW (1:06) |
| | | |
| KERMIT INTERVIEW (1:18) | | MISS PIGGY INTERVIEW (0:57) |
| | | |
| GONZO AND FOZZIE INTERVIEW (1:10) | | SLIDE SHOW (1:15) |
| | | |
| DELETED SCENE 1 (1:24) | | DELETED SCENE 2 (0:29) |
| | | |
| DELETED SCENE 3 (0:44) | | DELETED SCENE 4 (0:21) |
CONCLUDING THOUGHTS
With Letters to Santa, Disney is making steps in the right direction. Hopefully, they'll continue to build upon this foundation for the recently announced 2010 Halloween TV special and the upcoming theatrical film, "The Cheapest Muppet Movie Ever Made". The DVD is a recommended purchase for Muppet fans young and old.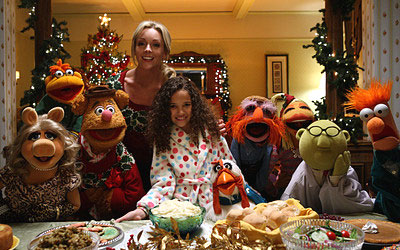 Initially, there were some disappointments with this DVD just because I was expecting much more with this being an "extended edition." It also would have been nice to see a 15-30 minute behind-the-scenes "making of" special from the cast and crew. There are so many deserving performers and Muppet folks who are worthy of some screen time. Nothing is as thrilling as seeing the cast in action behind-the-scenes and Disney missed an opportunity to showcase the magic of how Muppets work for a new generation.
Nonetheless, the real test in our house will be to see how this special fares over time when we have our annual viewing of Muppet Christmas specials. Since the 1970's, the Muppets have always been a big part of the holidays for families around the world and thankfully Letters to Santa keeps that tradition alive. NBC is planning to reair Letters to Santa on network television again this year and hopefully for many more holidays to come.

Discover what you may be missing!
Learn the differences between widescreen and pan-and-scan DVDs.