Fraggle Rock Season 1 DVD

Phillip Chapman (August 30, 2005) - Fraggle Rock, it can be argued, has the most devout followers of any Henson production. While The Muppet Show and Sesame Street have garnered larger audiences and more recognizability, Fraggle fans have always been extremely dedicated to their beloved show. The Fraggle following is almost religious, yet underground (pardon the pun). Since Fraggle Rock premiered in January 1983, I've treasured this show as one of the pinnacles in the Henson library.

It is with great enthusiasm that Fraggle Rock Season 1 finally arrives on DVD. The first three-episode Fraggle DVD arrived on the market fourteen months ago as a test release to see if sales were significant enough to warrant season-by-season box sets. Now that Season 1 has arrived, hopefully all 96 episodes won't be far behind. This DVD box set lives up to expectations of even the most devoted fan. No matter what you know about the show, you will discover new details about the program's origins, history and development.

OVERALL PRESENTATION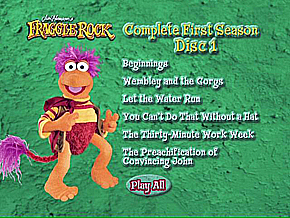 The menus are light and fun, but nothing outstanding. When you select a program or bonus feature there is a nice falling rock effect that transforms you from the menu to the particular episode. The real joy of the presentation is in the finely crafted episodes.
All twenty-four shows appear here uncut with separate opening and closing credits. The Jim Henson Company logo from the mid-nineties is used on the closing shot. You may notice some random shifts in character design and voices during the first few episodes. "Beginnings" (episode 1) was actually the tenth episode taped. While "The Thirty-Minute Work Week" (episode 5) was the first program recorded.
In the original HBO broadcasts at the end of the theme, Boober usually proclaimed, "Down at Fraggle Rock." However, early on the performers tried other characters in the closing shot as well. Two of these aired featuring Wembley (on "The Terrible Tunnel") and Gobo (on "The Finger of Light"). Unfortunately, these two original openings are not included. Thankfully, everything else is pristine with most episodes having a runtime of about 24 minutes, 45 seconds. On-screen titles are not at the beginning of each episode in Doc's workshop. These began appearing for each episode later in the show's run.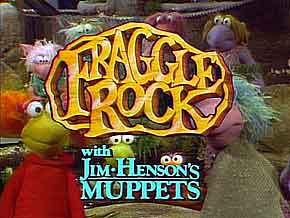 Unlike the previous HIT releases, the original logo is seen during the opening titles.

The five-disc box set includes an amazing replica of Jim Henson's notepad. Literally it looks exactly like a hand-held paperback notepad with Jim Henson's personal handwriting and scribbles inside. It includes personal notes from Jim during meetings that preceded the show's television debut.

For example Jim wrote, "There are none of our present characters in the show, but we would anticipate coming up with new personalities which would have much of the same kind of appeal as a Kermit, Fozzie or Gonzo. We will not create anybody with Miss Piggy's kind of appeal – nobody should try." From the original title of the "Woozle Show" to Sprocket's original name of George there are plenty of fan nuggets in Jim's notepad.

Considering the source material, audio and video quality is very good. You will never want to watch your old VHS tapes again.

BONUS FEATURES

One of the most special moments at MuppetFest came during the Fraggle Rock panel. It was obvious that the performers love the show just as much as we do. Thankfully, a plethora of new interviews are included on this disc which recapture the love that everyone has for Fraggle Rock. If you are a casual fan and have never seen the 50 minute "Down at Fraggle Rock" documentary. I recommend you start with that outstanding look behind-the-scenes. But for those of us who have watched the documentary countless times, skip right to the new interviews.
Jerry Juhl,
Co-Creator and Writer

Jocelyn Stevenson,
Co-Creator and Writer

Jerry Nelson, performer
of Gobo and Pa Gorg

Karen Prell,
performer of Red

Steve Whitmire,
performer of Wembley

Dave Goelz, performer of
Boober and Traveling Matt
Totaling over 100 minutes, the interviews are shot on a set resembling a home with cast members seated in director chairs. Interviewed are the performers: Jerry Nelson (Performer of Gobo and Pa Gorg), Karen Prell (Performer of Red), Steve Whitmire (Performer of Wembley and Sprocket) and Dave Goelz (Performer of Boober and Traveling Matt). Other cast members interviewed include: Jerry Juhl (Creative Producer and Writer), Susan Juhl (Writer), Duncan Kenworthy (International Producer), Jocelyn Stevenson (Writer) and Lawrence Mirkin (Producer). Notably absent among the living cast are Gerry Parks (Performer of Doc), Kathy Mullen (Performer of Mokey and Cotterpin) and Michael Frith (Creative Designer). Jerry Nelson's interview appears to have been shot at a different location.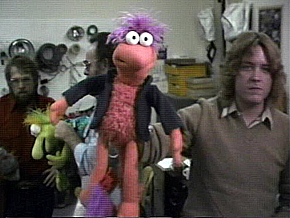 Steve Whitmire tries out Gobo while Dave Goelz watches Jerry Nelson perform Wembley. Their characters would be reversed for the show.

Great cutaway video footage is showcased during the interviews including: behind-the-scenes photos, Michael Frith's conceptual drawings, and even the original tryouts for each of the characters. These brief tryout sessions are wonderful to watch (with the performers in full view) since many puppeteers auditioned for different characters than those they would eventually perform.

For future bonus features, I would love to see HIT include more interviews concerning key episodes. For example, time was given here for "Marooned" and "The Minstrels". I'd like more of this for historic episodes in the show's run. Another nice future bonus feature would be to have several different foreign segments included. Since the Doc and Traveling Matt segments of each Fraggle episode varied according to the country's co-production, these non-US segments would be fantastic to see how the show was customized for each culture. In 1999 for Odyssey, many of the foreign Traveling Matt segments were reworked as one-minute spots with new English dialogue by Dave Goelz. I'd love to see these resurface as well since the foreign Matt segments weren't usually on the original series. The unaired, original version of the theme song would be another great bonus feature.

PACKAGING

The Fraggle Rock logo is nicely embossed on the cover. The discs are in a large, cardboard box with an actual lid instead of a sleeve (which is kind of unusual for a box set). The five discs are enclosed in a little book that opens. The first four discs contain six episodes each with disc five reserved for bonus material. The sleeves have to be positioned just right in order to close the box properly. HIT gets props for the sturdy case and having each disc in its own individual slot. Hopefully future seasons will follow in a similar format.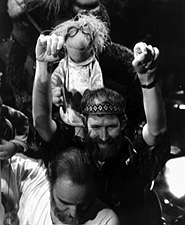 CONCLUDING THOUGHTS
HIT scores a very high 4 ½ Kermits for this outstanding release. More than 715 minutes of Fraggle magic is included here. It is nothing short of outstanding and a must have for any parent or fan or the show.
Children need the message of Fraggle Rock more today than ever before. Jim Henson's dream was that Fraggle Rock would help bring hope, peace and harmony to the world. Adults and children alike need to be reminded of the great potential within all of us. Thanks to Jim and the cast and crew, Fraggle Rock's message will live on for generations to come.

Discover what you may be missing!
Learn the differences between widescreen and pan-and-scan DVDs.