Dog City: The Movie

Phillip Chapman (June 1, 2010) - Fans were pleasantly surprised in April when Lionsgate released "The Song of the Cloud Forest and Other Earth Stories" on DVD. Immediately we began to wonder if other selections from the short-lived, but beloved Jim Henson Hour series would also arrive on DVD.
Thankfully we don't have to wait long. On Tuesday June 8, fans will be treated to another great release, "Dog City: The Movie" on DVD for the first time. Dog City originally aired starring Muppets in 1989 on The Jim Henson Hour. In 1992, Dog City: The Animated Series began airing on Saturday mornings (hence "the movie" designation was added to the DVD release to distinguish between the animated series).
OVERALL PRESENTATION
The main menu includes two selections: "Play Movie" and "Special Features". A video montage of scenes from the special is shown center-screen against a brick wall. The best part of the menu is the music playing in the background. Surprisingly, it's the theme from The Jim Henson Hour.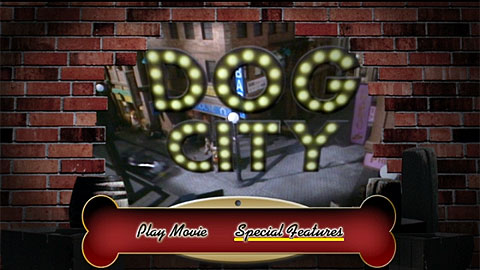 Jim Henson won an Emmy for Outstanding Directing in a Variety or Music Program for his work on Dog City, a Depression-era story of gangsters and heroes set in a city populated by Muppet dogs. In the show, Ace Yu (Kevin Clash) travels to Dog City to investigate the murder of his uncle, who was killed by canine mob boss Bugsy Them (Jim Henson). Along the way, Ace Yu finds a surprise as he meets the love of his life, Colleen Barker (Fran Brill).
Throughout the show, you'll recognize some of the background Muppet dogs from other various Henson productions. If you love Muppet humor, Dog City is filled with puns and sight gags from beginning-to-end. The "above ground" set designs are elaborate and Jim Henson advances the direction further than previous "Muppet story" specials. While Cloud Forest has appeal for all ages, Dog City is more suited for older children and adults, not necessarily pre-schoolers. Video and audio quality is good for a 1980's television production. The run time of the special is 39 minutes.
Huge props should be given to Disney. Even though Rowlf the Dog is now a Disney-owned character, his narration and scenes throughout this special remain intact as they were originally broadcast.
SPECIAL FEATURES
In early promotional material, Lionsgate planned on including two animated episodes of Dog City as bonus features. These were unfortunately not included on this DVD. We've heard that Dog City: The Animated Series may be released by Lionsgate in the near future if the original version sells well on DVD.
Two other bonus features are included: "Original Movie Concept Art" and a "Behind the Scenes Photo Gallery." Each of these are short slide shows which show some of the secrets behind the magic.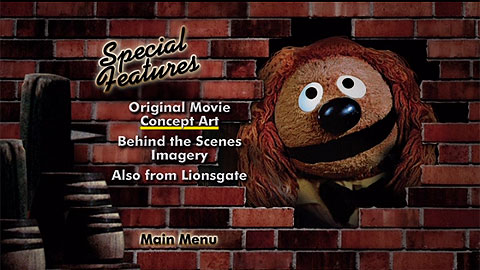 ORIGINAL MOVIE CONCEPT ART: In this first slideshow, you'll see about ten different images of character sketches from Bruce McNally, costume drawings from Polly Smith, scenic designs from Val Strazovec and several storyboard from Lorenzo Contessa. Brief textual notes are beside each image against the same brick wall seen in the opening menu. The Jim Henson Hour theme is again playing during this slide show. It would have been nice to hear a song from the special instead. Run time is 2 minutes 30 seconds.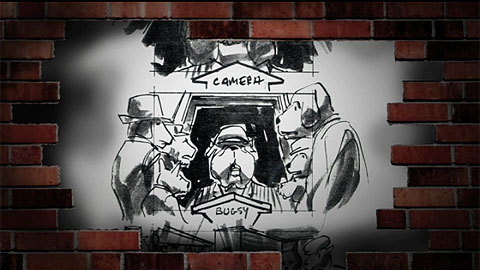 BEHIND THE SCENES IMAGERY: This slide show is shorter at only 48 seconds, but it includes some rare photographs of Jim Henson and company producing Dog City.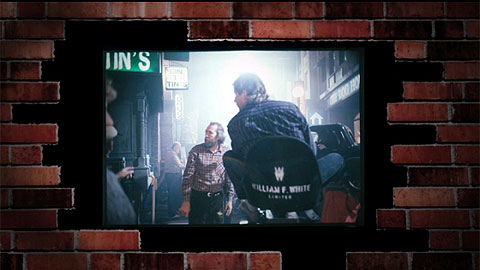 ALSO FROM LIONSGATE: Here you'll see trailers for other Lionsgate releases: Wallace & Gromit: A Matter of Loaf and Death, Happily N'Ever After 2: Snow White Another Bite at the Apple and Battle for Terra. It's somewhat surprising that there are no trailers for the other Lionsgate Henson releases like Fraggle Rock or Cloud Forest.
CONCLUDING THOUGHTS

"Dog City: The Movie" is a must-have addition to your Muppet collection. Order "Dog City: The Movie" and help ensure more Henson classics debut on Lionsgate DVD. The special follows in the tradition of "Emmet Otter's Jug-band Christmas" and "Tale of the Bunny Picnic".
Lionsgate is planning to release more Henson rarities this summer. The 1989 special, "Sesame Street: 20 and Still Counting", starring Bill Cosby, Kermit, Jim Henson and the cast of Sesame Street is coming to DVD July 13. And then on August 3, the 1984 documentary "Henson's Place: The Man Behind the Muppets" arrives on DVD for the first time ever.
We'll have to wait and see if Henson and Disney can work together on the ultimate release of all, the complete Jim Henson Hour series on DVD.

Discover what you may be missing!
Learn the differences between widescreen and pan-and-scan DVDs.