Kids' Favorite Country Songs DVD


Phillip Chapman (June 1, 2007) - Many Classic Sesame Street fans may overlook the release of the new DVD Kids' Favorite Country Songs and that would be a mistake. Even though at first glance the cover looks like just another Elmo-centered release, there's a lot more featured here, including something I've been hoping Sesame Workshop would include on their DVD's for a long time.

For more than 12 years the video and audio rights to Sesame Street products have belonged to Sony Wonder. In February, Genius Products acquired the video distribution rights (and coincidently Sony Wonder's children's division has now ceased to exist). This new DVD, Kids' Favorite Country Songs is the very first to be released under the Genius label.

OVERALL PRESENTATION

The main feature runs 45 minutes. The new footage revolves around Elmo having a playdate with his cousin Elmer from the country. Elmo and Elmer are putting on a country jamboree. Musical instruments, Muppets and guest stars visit Elmo's room throughout the show. The DVD is directed by Muppeteer Kevin Clash and written by Joseph Mazzarino and Rickey Boyd.

Here's a rundown of the songs and clips that are featured:
"Rootin' Tootin' Hootin' Hollerin' Jamboree"

"Oh Susanna" with
John McEuen
("Nitty Gritty Dirt Band")

"Home on the Range"
with John Popper ("Blues Traverlers") and LD Miller

"Sesame Jamboree"
with Allison Krause
and Union Station

"Froggy Went A Courtin"
(CGI and Puppets)

"Tall Tales"
with Johnny Cash

"The Ballad of Casey McPhee"

"Telly's Triangle Dance"

"Happy and You Know It"

"Feelings That Are Real"

"Polly Wolly Doodle / Skip to My Lou / Farmer in the Dell"
with Lee Ann Womack

"Rootin' Tootin' Hootin' Hollerin' Jamberee"
with Lee Ann Womack
For a newly produced DVD there are some nice elements here including some new songs and classic material. Adults will enjoy the "Hee-Haw" parody during the show's open. I would have preferred if the classic skits were balanced a little better with the new material. (Most of the older clips are in the middle of the DVD). Production values are high, especially with a nice crane shot at the end of the DVD showing all the Muppets with Lee Ann Womack.
BONUS FEATURES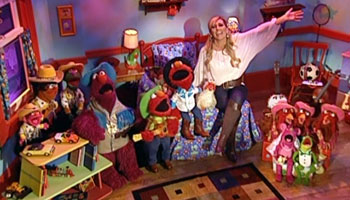 Sesame Workshop has been churning out 30-45 minute videos and DVD's since the late 1980's usually with new footage intertwined with segments from the show. The issue with this is that the clips are usually cut short from their original form or even edited to some extent. I've always wished that Sesame Workshop would include at least a half-hour or so of unedited bonus skits on each DVD. This would be an easy way to add more perceived value to each release. Also, more "old school" fans would buy these releases if they knew they were getting a significant amount of classic material uncut. While three bonus clips were included on the What's the Name of that Song DVD from 2004, this approach hasn't yet happened on other releases until now.
All-in-all, eight Muppet songs are included as bonus material over about 25 minutes. When I saw the bonus features for Jerry Nelson's "It's Funny" and the Forgetful Jones song "I'm A Real Cowboy", I was ecstatic that Sesame Workshop is beginning to let some of these classics out of the vault.
"Together We'll Make Music" with Garth Brooks

"It's Funny"

"The Dirtiest Town
in the West"

"It's Zydeco"

"Take a Turn" with Faith Hill and Tim McGraw

"I'm a Real Cowboy"

"The Ballad of
Slippery Slim"

"I Make Music"
I hoped that another rarely seen 1970's country classic, "There's A Hole In The Bucket" with Henry and Liza would make an appearance here, but alas maybe that will see the light of day on an upcoming Sesame Street Old School release. For me and many other fans, this one country song would be worth the price of the entire DVD.
CONCLUDING THOUGHTS
We applaud Sesame Workshop on the bonus uncut skits. Hopefully, this is the beginning of a new trend for Sesame Workshop. The more 1970's and 1980's Sesame Street that can be released the better for long-time fans of the show.
And for those waiting for a sequel to last year's Sesame Street Old School DVD box set, volume 2 is expected this October. We'll have more details soon on this release.

Discover what you may be missing!
Learn the differences between widescreen and pan-and-scan DVDs.