Being Elmo - A Puppeteer's Journey DVD

Cindy Chapman (March 30, 2012) - It's the laugh. It's the adorable furry red face. It's the ability to define the curiosity of every three-year-old. Whatever it is, Elmo's got it. Whether you love him or loathe him, you have to admit that Elmo has managed to capture the hearts of young children everywhere.

And since Elmo has been around for nearly thirty years a lot of those children have grown up. A lot of those same children now have children of their own and they are rediscovering their childhood by exposing a new generation to Sesame Street and Elmo. This new era of aging Elmo fans has emerged – I believe that's just the demographic that Constance Marks (director, producer) is hoping to reach with this documentary.

"Being Elmo: A Puppeteer's Journey" was released to the big screen in select cities across the country this past year. For those of us who were unable to see it in the theater, "Being Elmo" arrives on DVD and digital download on Tuesday April 3. (Unfortunately, a Blu-ray release isn't currently planned.) "Being Elmo" also premieres on Independent Lens Thursday April 5 on most PBS stations and is available for streaming via Netflix and iTunes digital download.

OVERALL PRESENTATION

The DVD's main menu features the same photo of Kevin holding up Elmo as the DVD cover. Three choices await: Play, Scenes, Extras. (The instrumental audio on the menu is louder than it should be, so you'll likely be adjusting the volume when you begin the main feature.)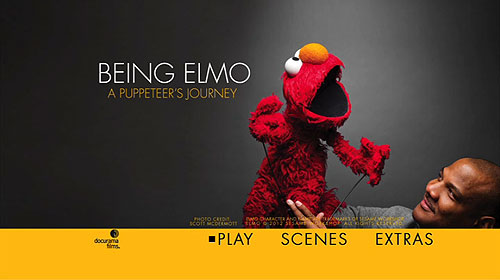 Let's get right into the movie, shall we? Having not seen the film in theaters, I wasn't sure what to even expect. Obviously I'd heard about the film for the past several years and was curious about it, but I purposely avoided any details or specific reviews. As a long-time Muppet fan it's easy to sometimes feel as though we know just about everything there is to know before we see a production. As much as we are eager to discover more about our beloved Muppets and the people behind them, too often we are just met with the same facts, figures, and photos we've seen a hundred times before. I couldn't help but wonder, was this documentary going to be just a retelling of Kevin's book "My Life as a Furry Red Monster"?
Kevin meets
Kermit Love

Kevin with his puppets
for Captain Kangaroo

Clifford on Arsensio Hall with Jim Henson and Kermit

I'll clear up that last question for you right now. "Being Elmo" is a delightful documentary that will entertain the Elmo fan, the Muppet fan, the puppetry fan – just about anyone, really. Narrated by Whoopi Goldberg the film begins by telling us about Kevin's childhood and inspiration. Working his way into show business, Kevin paid his dues by working in local programming. Eventually, after some success on network television and through his relationship with Kermit Love, a puppet builder for Jim Henson, he landed a gig on Sesame Street several years later. Just like thousands of others in the 70's and 80's, working with Jim Henson was Kevin's dream job.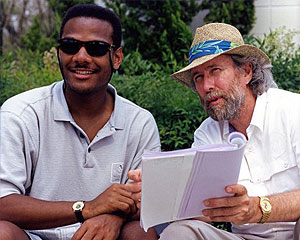 Thanks to some rare film footage, we see a young Kevin performing his hand-made puppets. Gladys, Kevin's doting mother, lovingly recalls Kevin's childhood and his first television experience. We also get to hear from Kevin's sisters and brother and how he dealt with his growing fascination with puppets. Fans will also appreciate the sprinkling of vintage clips and photos of an early Jim Henson, Kermit Love, Jerry Nelson and Frank Oz. Even I squealed a little when they showed the beloved Muppet Workshop. Muppet fur, eyes and puppet heads are everywhere you look.
As expected a good deal of the film is dedicated to Kevin and Elmo, but it's definitely not overdone. Despite Elmo's rise to fame, the Tickle Me Elmo craze, the constant exposure, it's clear that he has earned the admiration of his peers. Martin P. Robinson, Fran Brill, Frank Oz, Cheryl Henson and Bill Barretta, are just a few of the fellow Muppeteers that are interviewed for the documentary.
What I didn't expect was how emotional the film would make me. Pay careful attention to the scene when Elmo meets Maria (a terminally ill girl who visits the set). Another tear jerker is when Kevin recalls Jim Henson's death and the footage from the funeral. I also felt privileged to witness Kevin's dedication and love for his daughter. The documentary gives a special glimpse into the heart of a father.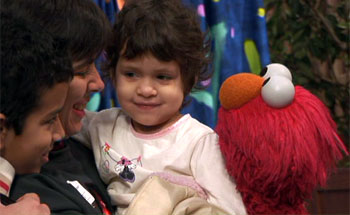 One particular theme throughout the entire film is just how passionate Kevin is about his craft. Not only does he puppeteer Elmo, but he is also puppet captain responsible for teaching and training current and future Muppeteers. He is also a producer and director of Sesame Street. If Kevin didn't have Elmo he would still be an essential leader and indispensable part of Sesame Street. Just as Kevin was taken under the wing of Kermit Love in the late 1970's, we see Kevin do the same with a young man by the name of Tau Bennett. Discovering and nurturing future talent is proof of Kevin's passion for the craft of puppetry.
BONUS FEATURES
The extras section of the DVD includes a wealth of material. Even if you see the documentary elsewhere, the bonus material make "Being Elmo" an essential purchase for your collection.
Kevin Clash,
Q&A

James Miller, Producer
with Elmo

Constance Marks,
Director/Producer

Sundance Premiere Q&A with Kevin and the Filmmakers (8 minutes) - This excerpt shows Kevin as he answers questions from the audience at Sundance after viewing the film's debut. Elmo even makes an appearance and talks to a very special audience member.
Some Thoughts from the Filmmakers (14 minutes) - Watch behind-the-scenes insights from the makers of the documentary, including their favorite scenes that were cut from the final film. This is incredibly moving because their passion for Kevin Clash and his impact on so many lives shines through.
Tau Bennett meets
the Muppeteers

Kevin performing a
remote controlled Elmo

John Tartaglia,
Muppeteer

Tau performs in the Macy's Thanksgiving Day Parade (4 min) - Kevin's protégé Tau Bennett performs Baby Bear along side Martin P. Robinson's Telly during the Macy's Thanksgiving Day Parade. Fans get to see inside the Sesame Street float for the first time. Tau meets other Muppeteers including Matt Vogel, Tyler Bunch, Fran Brill, Carmen Oshbar and Sesame Street cast members, Dr. Loretta Long (Susan) and Roscoe Orman (Gordon).
Interview with John Tartaglia (6 minutes) - Tony award nominee John Tartaglia of Avenue Q shares his experience as an enthusiastic teenager meeting Kevin Clash and his entry into the Muppets and Sesame Street.
Theatrical Trailer (2 minutes) - The original trailer is included here.
Onscreen menus also include: "Filmmaker Bio", "About Docurama" and "Docurama Trailers."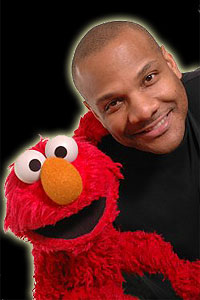 CONCLUDING THOUGHTS
"Being Elmo: A Puppeteer's Journey" is entertaining, informative and delightfully moving. Not only is the film for Elmo fans, it's for all Muppet fans. Whether you're into puppetry, Jim Henson, classic Muppets, or just a casual fan who grew up on the Street you'll enjoy this film.
Die hard Muppet fans will enjoy the behind-the-scenes footage, old photos, and the interviews from such greats as Fran Brill, Joan Ganz Gooney, Bill Barretta, Frank Oz, Carroll Spinney, Martin P. Robinson and Kevin himself. Puppetry lovers will appreciate the care and dedication to preserving the craft.
Casual viewers will discover an entertaining and incredibly inspiring documentary of a man who gave life to some fur and foam and found his way into our hearts. And maybe that's what "Being Elmo" is all about.

Discover what you may be missing!
Learn the differences between widescreen and pan-and-scan DVDs.