A Special Sesame Street Christmas DVD and CD

"I never see any of your shows, so I never miss them!" – Oscar the Grouch
Phillip Chapman (October 29, 2012) - On Tuesday November 6, Muppet fans are being treated to three long-awaited video releases: The Muppet Christmas Carol Blu-ray, Sesame Street Old School Volume 3: 1979-1984 DVD and A Special Sesame Street Christmas DVD.
Four versions of "A Special Sesame Street Christmas" are being released on DVD, CD, MP3 and a DVD-CD combo pack.
"A Special Sesame Street Christmas" was a made-for-CBS special in 1978. It aired once in prime time and was never seen again until now. Also in 1978, Sesame Street produced the hour-long Emmy winning "Christmas Eve on Sesame Street" which aired annually on PBS stations for more then ten years and has received numerous releases (including DVD and MP3). Therefore it's no surprise that some fans have never seen "A Special Sesame Street Christmas" and that for others, the two specials have consequently been compared to each other since they were both produced in 1978.
OVERALL PRESENTATION
Let me say right off the bat, I'm very thankful that this rare special is being released on DVD by Legend Group Studios. (Ironically, it was the very first program I ever personally recorded on a VCR so this one holds some sentimental memories.)
Bob and
Mr. Hooper

Big Bird

Maria
Many fans are critical of this special and I think it's important to watch this with the right expectations. "Christmas Eve on Sesame Street" produced by Sesame Workshop and written by Jon Stone and Joe Bailey is a timeless masterpiece. It features the entire Sesame human cast and the most popular Sesame Muppets of the late 70's. (If you don't have it, get the DVD and thank us later.)
David and
Leslie Uggams

Michael Jackson and
Oscar the Grouch

Bob, Ethel Merman
and Maria
"A Special Sesame Street Christmas" was produced by Bob Banner Associates (not Sesame Workshop), most notable for Perry Como and Carol Burnett specials. Banner Associates literally rented the Sesame Street set and some of the Sesame cast for this special. Think of it as a 1970's Christmas variety-show with TV celebs and just a little plot that happens to be on Sesame Street and you'll get the idea.
Anne Murray as the
Ghost of Christmas
Past

Imogene Coca as the Ghost of Christmas Present

Dick Smothers as the
Ghost of Christmas
Future
Sesame Street regulars Bob, Mr. Hopper, David and Maria are featured along with Muppet favorites Big Bird and Oscar (Caroll Spinney) and a larger-than-usual Barkley the Dog created just for this special. Leslie Uggams (who also appeared on The Muppet Show Season 3 in 1978) is the main star of the special. Other guests appear including: Imogene Coca, Henry Fonda, Michael Jackson, Ethel Merman, Anne Murray and Dick Smothers.

This 48 minute special includes 12 songs (mostly about Christmas) and the main story involves the cast trying to help cranky old Oscar get in the Christmas spirit. More than fourteen years before The Muppet Christmas Carol, the cast dresses up as the Ghosts of Christmas Past, Present and Future to try to get Oscar to turn to his good side with the help of a little kitten named Tiny. For 1978, this was an original idea for Sesame Street. The execution of the plot starts off all right but falls off along the way. Oscar does shine in many of his scenes and is one of the special's bright spots.

Some of the guest star cameos work better than others. It does seem a little strange that albeit a major hit at the time that Anne Murray sings "You Needed Me" to Big Bird. She could've sung a Christmas song or even her signature "Snowbird" which with it being winter and a bird song would've fit the scene much better.

It is also unusual that Michael Jackson appears briefly, but yet he doesn't even sing a song. (It feels like he came on the set during a break from working on another project and then left.)

While Michael Jackson was very fond of the Muppets, this is unfortunately the only time he appeared in a Muppet production. Devoted Sesame fans will recall that Michael saved Sesame five million dollars by settling a lawsuit of Chris Cerf's Beatles parody, "Letter B". (Listen to a 2009 Sesame panel on Michael Davis' Street Gang book where Chris Cerf discusses the lawsuit.)

The special is uncut as originally broadcast with the exception of the Sesame Street Theme being removed from the closing credits and being replaced with a generic instrumental interlude to end the show.

Since there are various fan opinions of this special, I wanted to include the opinions of our two sons, Preston and Connor. Since they have seen hundreds of Sesame episodes (from the 1970's to today), I was curious how they would respond…
"My favorite part was when the adults made ghosts that were fake. Their costumes really made me laugh! Oscar is funny because he plays tricks on the grown-ups. All of the people are trying to make Oscar like Christmas and that really made me happy. I liked when Oscar holds little Tiny the cat. Oscar can be nice! Big Bird could have been funnier especially if he played a Christmas trick on Oscar or did something for him for Christmas. I wish Kermit would have been there."
- Preston, Age 8

"I liked when the people were singing to Oscar. Oscar doesn't like Christmas the whole day. I liked when Oscar was holding the kitty cat."
- Connor, Age 3
I was surprised that neither of them asked: "Where's Cookie Monster, Grover or Elmo?" They did get a little restless during some of the slower songs (Anne Murray's "You Needed Me" and Leslie Uggams "Look at that Face" for example), but they really liked to see Oscar show a nicer side even if it was just for a few moments.
The main menus are straightforward using the same graphics as the cover. Audio from the closing credits of the special play over the menus. There is a chapters menu highlighting key moments in the show. Menus are in 16:9 whereas the main feature is presented in 4:3.
Considering the age of the source material, the video quality is good but with somewhat soft colors. There is some color shifting most visible on some of the shots of Big Bird's feathers. Even though the soundtrack is in mono, the frequency range is very broad with crisp highs and acceptable bass. While not perfect, the video-audio quality of the DVD is so much beyond existing fan copies of the special that it was more enjoyable than anticipated to watch.
BONUS FEATURES
The bonus features include mainly the same bonus songs included on the CD (more on that in a bit) and a few extra features.
DANCE BONUS TRACK: "Holiday Groove Moves with Michael and DJ Oscar" – This is a new 2-minute techno remix featuring Michael Jackson and Oscar dialogue from the special. A techno voice sings this chorus in between the dialogue, "Your imagination is allowed to run wild…" The remix works well and helps give Michael Jackson fans a little more, especially since Legend Group is promoting MJ on the cover.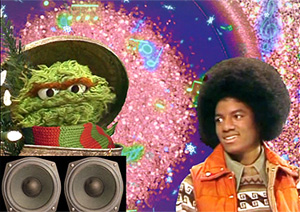 On-screen are animated stills of Oscar and Michael with an animated pyschadelic background playing over the song. (On the DVD we received the title of this song was spelled as "Hoiday", not "Holiday" on the menu.)
MERRY MISTLETOES BONUS TRACKS: This is a group of generic Christmas singers singing "Angels We Have Heard on High", "We Three Kings" and "Jingle Bells" with a little whimsy through in for good measure. An animated blue background with snow flakes is shown on-screen. (On the DVD menu mistletoes is spelled as "missletoes" but on the CD the group is spelled as "Mistletoes".)
SONG MODE: There is also a song mode which will play an edited version of many of the songs from the special and the bonus tracks with accompanying video.
SNEAK PEAKS: Trailers for Legendary Entertainment Alliance releases are featured here including: "Bud & Lou" with Buddy Hacket and Harvey Korman as Abbott and Costello, "A Special Sesame Street Christmas", "Christmas Around the World" with Perry Como and "A Carol Burnett Christmas". Of interest to Muppet fans is that Perry Como sings the Joe Raposo classic "Sing" in "Christmas Around the World".
CD SOUNDTRACK
As mentioned earlier, "A Special Sesame Street Christmas" is also being released as a CD and MP3 soundtrack. Since the original isolated stereo tracks either no longer exist (or were not acquired in the rights for this release), a slightly enhanced mix from the special is included on the CD. All of the main songs are featured. Even though it's brief, Big Bird does sing a short version of "Winter Wonderland" on the DVD, that's not on the CD soundtrack.
Four bonus tracks are included on the CD, the most interesting of which is the before mentioned "Your Imagination" remix with Michael Jackson and Oscar. The three Merry Mistletoes songs are also included on the CD as well.
CONCLUSION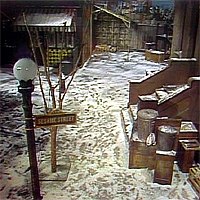 While not the greatest Sesame Christmas production, "A Special Sesame Street Christmas" is still a worthwhile addition to any fan's collection especially if you like 1970's Sesame Street. Seeing rare footage of the late Mr. Hooper (Will Lee) and David (Northern Calloway) is always a plus. Oscar's parody of cold and cranky Scrooge is fun as well.
Most importantly, another benefit of purchasing "A Special Sesame Street Christmas" is that you are showing Legend Group Studios (and other rights holders) that there is a market for other 1970's Sesame specials to be released on DVD. "Julie on Sesame Street" (1973) with Julie Andrews and Perry Como along with the extremely rare "Out to Lunch" (1974) would make fantastic future releases that would no doubt be very profitable for the studio releasing these sought-after Sesame Street specials. What a merry Christmas that would be!

Discover what you may be missing!
Learn the differences between widescreen and pan-and-scan DVDs.