Were there any guests that were difficult to work with?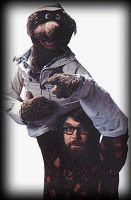 Dave Goelz performs the dimwitted Beauaguard.
GOELZ: A couple, but not terribly difficult. What amazed me more was that virtually everybody was so professional and so good to work with. I guess when you go to get your watch fixed, you expect the jeweler to know how to do it. But when I saw these guests working, I was so impressed. For example, I'll never forget the rehearsal with Elton John. We gathered in the rehearsal room around this old gray piano, all nicked and dented and banged up, and he came in on a Sunday morning, sat down and played "Benny and the Jets," "Goodbye Yellow Brick Road," and "Crocodile Rock." He did it time after time, perfectly. I was two feet from him, just leaning on the piano, enjoying a private concert from Elton John. I'm telling you, he could really play the piano and he could really sing, just like on the records. He could do it. I was just so astounded by that. I felt that way about every guest because they could really do what they did.
How difficult a transition was it from doing the show to coming out to the States to do "The Muppet Movie?"
GOELZ: I always think of TV as calisthenics and movies as craftsmanship. You get in shape with TV, because you do so much material so fast. Sometimes quality suffers, but it helps you develop your instincts. Then you go shoot a film, and you get the luxury of doing it right. You shoot with a single camera, and it's always in exactly the right place. The shot is lit for that angle, and you get to do a number of takes of that shot just to make it work properly. That craftsmanship is something that I just love about film, but is very useful to go into that type of film work with a television background.
Which films do you look back on and say, "I really enjoyed working on that one?"
GOELZ: Well, the original "Muppet Movie," mostly because we got to come to California. I was a bit homesick after living in cold and rainy London. We all looked forward to spending a few months out in California, and it was a very laid-back and easy going set. As I look at the film now, it was one of the most heartfelt of all - a very sweet film.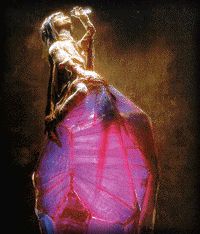 The quest of Jen and Kira in The Dark Crystal was unprecedented in originality and technology.
I loved the atmosphere on "Dark Crystal." That turned out to be a very stimulating project, because it was pretty much unprecedented. On the very first day we filmed, the Skeksis had to file past the deathbed of the Skeksis emperor, performed by Jim. The Skeksis all had ulterior motives as they walked by the bed to pay their respects. In our very first shot, I was inside the Garthim Master Skeksis with another puppeteer doing the right hand. I was totally blind except for a little monitor on my chest, and I just stepped off the platform and we started to fall. Fortunately somebody was there and caught us and pushed us back up. At that moment I thought "Jim's optimism is going to get him this time - we can't possibly shoot this film." But after two weeks, we were all up to speed and it was a normal way of working. We got used to the conditions, and it became fun.
Another film I enjoyed was "Muppet Christmas Carol." That was great fun. It was a nice change of pace to do a work of such depth, especially with Gonzo playing Dickens. It was Jerry Juhl's way of preserving Dickens' narrative prose. It allowed us to use his beautiful language in the film. Despite the presence of pigs and frogs and whatevers, I think the film was very true to Dickens' intent.
How much of the emotion of the film came out of the group coming back together after the passings of Jim and Richard's?
GOELZ: Well, that's a good question because I think that this particular project was a perfect fit at the time. Our wounds were raw. Jim and Richard were very spiritual, and this project was about the ultimate spiritual journey. And going back to work together did feel like a rebirth.
"Treasure Island" was a lot of fun, too. And "Muppets From Space" has been a terrific experience. We have an extremely talented and warm crew here.
I'm taking it that the two films you didn't mention were your least favorites...
GOELZ: I had reservations about both "Caper" and "Manhattan." "Caper" was set up as the characters presenting a movie to you. It felt smug and awkward to me. "Manhattan" was like a restatement of "The Muppet Movie," but not as heartfelt.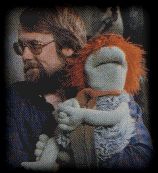 Dave Goelz and Boober were a perfect match.
After "Dark Crystal," you segued into "Fraggle Rock." Was playing Boober a given?
GOELZ: That would be a good question for Jerry Juhl, since he always insists that there was no pre-casting, but I think there was. I think we went through the motions of playing around with the puppets in New York before we went to Toronto to shoot. I think they had always thought of me as Boober. I think each of the characters seemed to have been written for it's performer.
What sticks out in your mind as the defining moment of "Fraggle Rock" and sums up your experiences doing the show?
GOELZ: Jim originally stated the premise of "Fraggle" by saying, "I want to do a show that will end war." So with that kind of lofty mandate, the show became about the need for harmony between individuals and species, and respect for the environment. Everything worked well and we had a great team. I would love to do a show like that again.
When did you first hear that Jim was ill?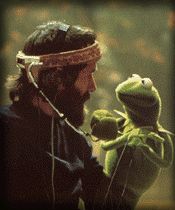 Jim Henson stares into the eyes of Kermit, the unflappable frog.
GOELZ: I was in New York doing some vocal recording with the other performers for a Disney World costume show, and we were told that Jim had called in sick. No one could remember Jim ever calling in sick. When all around him had colds and flu... Jim would will himself to be well. He once had surgery during his lunch hour and continued to shoot till eight p.m. So this struck everyone as very odd, and we made light of it. We finished up, and the next morning I flew back to California. When I got home, there was a string of messages on my machine telling me that Jim was gravely ill. I couldn't believe it. I spoke to Frank Oz at the hospital a couple of times, and he told me the doctors didn't expect Jim to make it. Jim was so vital and indestructible. It took a whole hour for me to process the news. I got back on a plane and returned to New York. I had to change planes in Chicago. All the Henson people had been using a pay phone in the hallway right next to Jim's hospital room. During my plane change in Chicago, I called that pay phone and a custodian answered. He said no one was around. That's when I knew Jim had died.
Does it surprise you how lasting your characters have become?
GOELZ: The public interest always surprises me. I come to work in these rooms with no windows. At night I go home. I just live my life. I guess I just don't think much about whether people are going to watch. Most of my friends don't know much about what I do, and we don't talk about it. I have a different life away from work. Which is fine, because my work can get pretty intense.