The Unseen Work of Jim Henson
Fans treated to Muppet rarities at Henson seminar
By Andrew Young
October 22, 2003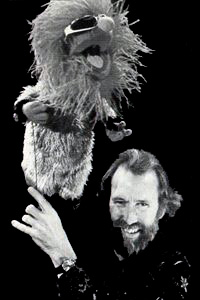 On Wednesday October 15, 2003, the Museum of Television and Radio in New York City hosted a very special event, "Muppet Rarities: The Unseen Work of Jim Henson". The seminar was presented by the Jim Henson Legacy, which was established in 1992 by the friends and family of Jim Henson in response to the extraordinary interest in Jim's life and work. The Jim Henson Legacy is dedicated to preserving and perpetuating Jim Henson's contributions to the worlds of puppetry, television, motion pictures, special effects and media technology.
The Legacy's mandate is to share the power of Jim's art, imagination and positive view of the world by making his body of work available to the public through preservation and exhibitions, and this event was certainly in keeping with those goals. Tickets were affordable (just $12 each) and when the theatre sold out a week or so before the event, the Museum was kind enough to open a screening room upstairs so that people who hadn't been able to buy tickets for the main room could watch a closed-circuit video feed of the event.
A number of notable Henson and puppetry people were in the audience including Muppeteers Joey Mazzarino and Eric Jacobson, legendary Muppet designer Bonnie Erickson (who the audience quickly learned was a previously unannounced member of the panel) and two of Jim's children, Heather and John Henson, whom Jane Henson referred to as "the east coast kids." I also spotted Bill Remington, a New York-based puppeteer and member of "Team Twooey" in the current Broadway production of Little Shop of Horrors in the line-up for the closed circuit room on my way inside.
The event was divided in to two parts: first screenings of unseen material, followed by a discussion and Q&A with a panel that included puppet designer Bonnie Erickson, archivist Karen Falk, and historian-writer Craig Shemin. Craig also served as host for the evening.
Ron Simon, curator of the Museum of Television and Radio, welcomed the audience and spoke briefly about the long association between the museum and Jim Henson's Muppets, including some events in which Jim himself had taken part in. He also noted that the Jim Henson Legacy had held a number of successful events at the museum. He then introduced our host, Craig Shemin. Ron listed Craig's many Muppet writing credits and added mischievously that Craig was "also the author of a book…Miss Piggy's Cookbook". Craig quickly took the podium and joked, "the cookbook is actually quite good. I'm sure you could still find a copy of it on a remainder table somewhere."
Craig then discussed the work of the Legacy and it's ongoing efforts to preserve Jim Henson's work. He explained that although most of the Muppet's post-Sesame Street work has been well preserved and documented, much of their early work from the `50s and `60s has not survived.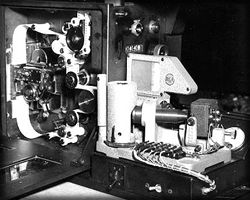 In the early days of television most local TV programs - like the ones the Muppets appeared on in the Washington D.C. area - were broadcast live. Although some national TV shows were filmed, the costs associated with filming were so high that few stations ever bothered to record their local shows.
As shown on the right, early Muppet programs from this pre-video-recording era were recorded on kinescopes or "kines", films made by setting up a Kinescope camera in front of a black and white monitor and filming a TV program as it aired live. Unfortunately, few kinescopes of Sam and Friends (the first Muppet television series) and Jim's other early work have survived, purportedly because Jim rarely bothered to record his programs, unless he was trying out a new technique or wanted to review a particular aspect of his performance.
Craig briefly outlined for us the early career of the Muppets and their early appearances in commercials and on the many variety shows of the `60s; likening that era's variety show craze to TV's current explosion of reality TV shows. He also assured the audience that although some of the footage that was to be screened might be familiar to die-hard Muppet fans, everyone in the audience was going to see something they had never seen before. That was an understatement. Not only had we not seen most of this footage, we never even knew it existed.

Sam and Friends

The very first clip was of Kermit and Chicken Liver lip-syncing to "I Have No Bananas." They didn't do much, but it was still really funny. In the next clip, Kermit interviews Muppet versions of Chet Huntley and David Brinkley, hosts of The Huntley-Brinkley Report, NBC's flagship news program of that era (which Sam and Friends followed each weeknight on WRC-TV 4 in Washington, D.C.). In this skit Kermit asks each of the newsmen a series of questions and each time they answer with a portion of the phrase "I'm David Brinkley from NBC Washington" (for David) or "I'm Chet Huntley from NBC New York." This was actually one of the funniest skits shown and a good example of why Jim was such a television pioneer. Years later the same comedic device would be used on Saturday Night Live's Fun with RealAudio and Comedy Central's Crank Yankers among countless other TV programs.

The Today Show

The Muppets were frequent guests on the Today Show, doing local cut-ins for the show from Washington. We saw the closing moments of "Old Black Magic" with Sam and a blonde wigged Kermit lip syncing to the music. Jim and Jane (who had performed the number) were interviewed afterwards briefly. Unfortunately the interview wasn't very revealing – the interviewer was strangely obsessed with Kermit's wig and kept asking Jane what gender he was supposed to be – but it was great to get a "behind the scenes" view of the Muppets from the early 1960s. It was also surprising to discover that Jane performed Kermit in the skit while Jim did Sam and that even in this early stage, the Kermit puppet was built with rods in the back of his legs so they could be crossed and manipulated.

Southern Bread Commercials

About a dozen or so eight-second commercials featuring the Southern Colonel followed Sam and Friends. The Southern Bread commercials are thought to be the first examples of the Muppets filming on location and are really just a series of eight-second, one-gag spots. Each of the commercials featured a dapper Southern Colonel (Muppet) who would say "I'd do anything for Southern Bread…" and would then proceed to do something extreme like jumping out a window, driving to the north or (horror of horrors) going to Yankee Stadium! Most spots also included a twist at the end. Such as the Colonel deciding he likes Yankee Stadium (because all the fans are yelling at the "Yankees") or the Colonel jumping out a window only to magically float back up ("because Southern Bread won't let you down"). The commercials are quick, clever and as funny today as I imagine they were in the `60s.

Wilson's Meats (Meeting Film)

Screened next was an early "Muppet Meeting Film" produced for the sales staff of Wilson's Meats. During this period Muppets Inc. were producing an ongoing series of popular commercials for Wilson's Meats featuring two Muppets named Scoop and Skip. This was the longest single clip screened at the event and it's filled with lots of funny bits. It's fascinating to watch this film because it's clear that even at this early stage of his career Jim was extremely comfortable directing live action as well as puppets.

The film is a pseudo-documentary revealing the "process" behind the latest series of Wilson's Meat commercials and begins with Scoop and Skip assuring viewers that Muppets Inc. does not spend their commercial shoots throwing wild parties. We then quickly cut to scenes of a wild party featuring – who else – the employees of Muppets Inc., Jim, Frank and Jerry drinking, dancing and having a wild time in a TV studio.

A boardroom meeting is seen next, with the Muppets Inc. employees (again Jim, Frank, Jerry and someone who I presume was Don Sahlin) on one side and a group of advertising "suits" on the other. The suits argue back and forth with the Muppet folks about what kind of commercials should be produced and how. Jane Henson later revealed that these were the actual advertising executives on the Wilson Meats account and that they had been thrilled to participate in the film.

Although no one in the film was a "professional" actor everyone put in a great performance and the film has a wonderful campy feel to it. Frank Oz is especially funny in a segment where he tries to go door to door doing research only to be chased around and brutalized by an angry housewife. Frank later reappears in the boardroom bandaged, bruised and looking like he just came out of traction.

This film also showcased Jim's fascination with animation and experimental filmmaking. It wasn't clear whether or not this film followed or preceded Jim's Oscar-nominated 1965 short, Timepiece, but one proposed "commercial" within the film is shot in a style very similar to Timepiece. In another segment Jim and an assistant (again, Don Sahlin I believe) animate a can of Wilson's Meat using stop-motion. The film finishes off with the ad agency executives exhausted and Muppets Inc. going back to business as usual – partying in the TV studio while Skip and Scoop look on with disgust.

Tales of the Tinkerdee

Next we were treated to three short clips from the TV pilot "Tales of the Tinkerdee", which the Muppets shot in Atlanta in the summer of 1962. The pilot featured Kermit, Tamanilla Grinderfall and King Gosh Posh, characters who would all reappear a few years later in the Tales From Muppetland TV specials. The longest of the three clips featured Tamanilla Grinderfall scheming with a "human" Ogre played by Jim (seen only from the knees down).

Land of the Tinkerdee

This program was only recently discovered and one extended clip was shown featuring a live actor who attempts to repair the watch of King Gosh Posh. "Land of the Tinkerdee" was another Tinkerdee-themed TV pilot, presumably featuring the same characters. It's a notable production because it featured probably the first real blending of Muppets and actors; a technique later employed in almost every Muppet project from Sesame Street onward.

The Wizard of ID

Next was another recently uncovered TV pilot, "The Wizard of Id". Shot in 1969 (the same year Sesame Street debuted), the pilot was based on the popular comic strip by John Hart and Brant Parker. This is believed to be the first time Jim had ever built puppets based on someone else's designs and the then-fledgling strip's Wizard and King were faithfully adapted in Muppet form for television. A generic monster (who also appears in the original Sesame Street pitch film) is featured as well. The Wizard blows up the King at the end of the clip and tells the audience "it's a typical Muppet ending," which it is. It's really unfortunate that this series was never produced. Even though the short segment filmed for the pilot was obviously done on a small budget, it still looks beautiful. The gags are great and the characters all seem promising.

Jimmy Dean

A clip of Jim performing Rowlf singing "You're Just In Love" with Jimmy Dean from the Jimmy Dean Show was screened next. Afterwards, Craig Shemin explained that all the segments for The Jimmy Dean Show were shot live, which meant that the puppeteers had to perform non-stop with their arms in the air for over seven minutes. Joey Mazzarino pointed out from the audience that seven minutes was an excruciating long time to perform a puppet by Muppet standards!

Craig also revealed that the Muppets had been pitted against Jimmy Dean in a heated bidding war for the footage, though they didn't initially realize who they were bidding against. When Jimmy offered the owner of the footage substantially more money, Jim struck an agreement to buy the Rowlf segments of each show (Rowlf only appeared in 15 minutes of each episode) with his own money while Jimmy Dean retained the remaining footage from each program.

Our Place

More of recently discovered footage followed the Jimmy Dean clips. "Our Place" was a summer replacement series for The Smothers Brothers Comedy Hour and was produced by Ed Sullivan, with whom the Muppets had a warm working relationship. Two clips from this series were shown, one of the classic "Boston Pops" Muppet sketch (seen later on The Muppet Show) and the other a duet between Rowlf and a comedian named Carol Burnette who was about to get her own variety series that fall. Say, I wonder how she made out with that?

The Dick Cavett Show

Remember those funky puppets of Jim, Frank and Jerry that popped up on The Muppet Show once and awhile? If you've always wondered what they were built for now you know - this skit on The Dick Cavett Show. In it, puppet versions of the Henson Trio sing "Mama Don't Allow No Country Music". The Jerry Nelson puppet played guitar, while Jim's puppet played banjo and Frank's played bass. The skit was followed by a nice interview with all three performers still holding their puppets. Dick seemed a little thrown throughout it and kept repeating, "that's so weird" as he compared the puppeteers and their puppet offspring. Most interesting in this clip is that Frank is seen wearing a body brace that supports the bass his puppet was playing. Jim also tells Dick in the clip that Bonnie Nelson (now Bonnie Erickson) built the puppets.

After the clip played, Bonnie addressed the issue of the puppet's outrageous bohemian clothes by telling the audience "I dressed them that way because that's the way they really dressed back then!" Craig added that the forthcoming Palisades' Jim Henson action figure is based on the Jim Henson puppet seen in the clip. Palisades has done a lot of research on the puppet itself to get the figure right. They even consulted with Bonnie to determine what the Jim figure's pants should look like since the Jim puppet was only built from the waist up.

The Mike Douglas Show

Next up were clips from the Mike Douglas Show, a daily talk show the Muppets appeared on several times and co-hosted for one week in the 1960s. A number of sketches from this show were presented, including a sweet number with Rowlf cheering up a sad little girl, who promptly leaves him for the next boy who comes along.

The sketch, "Idea Man," featured a character named Idea Man (a puppet sometimes referred to as "Nobody"); a ghostly white face superimposed over a filmed background. In this sketch, Idea Man ponders the nature of ideas – where they come from and what they are. This is a good example of Jim's lesser-known interest in experimental forms of puppetry. In the interview that followed the sketch, Jim and Jerry Juhl explained that the puppet was actually made of white string, suspended in a black frame about three feet high. Jim was able to animate Idea Man's face using gloves connected to it via invisible strings. Jerry Nelson is also seen in the clip performing the character's eyes (possibly assisted by Frank Oz) using an airplane-style marionette control, which makes sense as Jerry began his puppetry career working with marionette legend Bill Baird.

The minimalist experimental puppetry continued in the next sketch. In it three hands listen to the radio and dance to jazz. They are soon joined by a fourth hand that wants to listen to classical music. The channel on the radio is changed. A battle between the hands erupts, which ends only when the fourth hand uses a gramophone to blow away the other hands and resumes listening to classical music. A classic Muppet ending.

Next, Mike discussed the Muppets' work in commercials. A commercial for Aurora bathroom tissue was screened. In it a tutu-clad hand frolics among rolls of toilet paper. The commercial is so impressive and original that the audience spontaneously applauded and Mike exclaimed "do you realize we're applauding commercials?!"

Several more sketches followed, including Jim (as Rowlf) playing charades trying to get the show's human guests to guess, "Look behind at anger". In another sketch, a robot sang a few verses of "Anything You Can Do, I Can Do Better", before being blown to pieces.

My favorite clip from the Mike Douglas show was a Muppet rendition of "Good Loving." Like the aforementioned "Hands" sketch, a familiar Muppet theme is revisited - a small Muppet is bullied by larger Muppets until he turns the tables on them at the last minute. The "Muppets" in this case are singing feathers and the sketch is absolutely adorable. The small feather is repeatedly kicked off stage by the larger feathers until the smallest feather returns with a fan.

That's where this sketch went awry. Jerry Nelson explained that the fan was supposed to blow the other feathers away, but ended up taking his small feather with them, even though it worked perfectly in rehearsal. As an ad-libbed cover, the other feathers rushed back on stage at the last minute and danced out the rest of the song while the stunned Jerry presumably tried to figure out what went wrong. It made for an awkward ending to the sketch, but Jerry gave the audience a great "behind the scenes" Muppet story!

A very brief discussion and Q&A with the panel followed the screenings. When asked if she thought Jim knew the Muppets would become as big as they did, Jane replied, "I think he did." She also joked that "it wouldn't have gotten as big as it did if it had been up to me."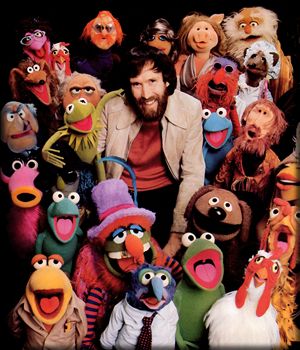 Karen Falk told the audience that it had been remarkably easy to catalogue the Legacy's collection since Jim had always kept detailed notebooks documenting what he was doing and what he was working on. Bonnie revealed that the Jim Henson Legacy has approximately 2,000 puppets in storage. Although many are not in very good condition (or are "toast" as Jerry called them) she remarked it's an interesting "science experiment" to go in to the archives and see which puppets and building materials have held up over the years. She also mentioned that the original Kermit – made in the `50s from Jim's mother's coat – is still intact and safe in the archives.
Craig added that it's amazing so much of the early Muppet material exists, though Jim always claimed he didn't like to think about the past he still managed to save almost all of his work including scripts, storyboards and puppets. I was surprised to hear Craig tell us that most of the "undiscovered" footage the Jim Henson Legacy finds is usually discovered in old boxes in people's attics and garages or things the organization's staff find on eBay. Craig encouraged everyone to "check their garages" just in case. He then ended the evening by donating some of the Muppet footage that had been screened to the museum's archives.
All in all "Muppet Rarities" was a wonderful event that provided a rare glimpse at some of the Muppets' earliest work. Thankfully for those who could not attend, a video of the entire presentation will be edited together and made available for public viewing at both the Los Angeles and New York branches of the museum.
For more information on the Museum of Television and Radio and its many activities to preserve and promote the history of American broadcasting please visit www.mtr.org.