Mokey Fraggle, an intimate portrait
By Byron Summers
January 30, 2001
Yes, I watch the Lifetime network to laugh my larynx out at "The Golden Girls" and "Designing Women", and I'll watch an Intimate Portrait if it's on somebody I like--for instance, they just had Carol Burnett, Betty White, and Mary Tyler Moore this past week.
Anyway, I thought, wouldn't it be absolutely Muppetational if they had Muppet Intimate Portrait themes? For instance, just imagine a commercial--"Intimate Portrait--the girls of 'Fraggle Rock'. Next week on Lifetime. Premiering Monday, Mokey Fraggle".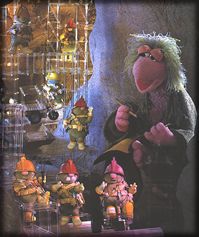 I can just picture it now, with Uncle Matt as the narrator:
UM: "Hello to all you Silly Creatures out there. Tonight we look at one of the most successful and popular characters of 'Fraggle Rock'. I am Uncle Travelling Matt. Please join me for an intimate portrait of my friend, Mokey Fraggle."
"Mokey was created in 1981 by Jim Henson Productions. She became one of 5 stars in a humble 'television show' that she wasn't even aware of. Little did she know (or me, for that matter), that those 5 years were to be 5 of the biggest in her life..."
(Camera changes to Mokey, relaxing by a tree near--but not *too* near--the Gorgs' garden).
Mokey Fraggle: "I have always thought of Fraggle Rock as home. It's where I've lived, made friends, worked, played...I've spent my whole life there. We never went into Outer Space--except Gobo for the postcards."
UM: "She may not have gone into Outer Space much, but she has a tough task of her own."
MF: "It's always been my job to gather the radishes in the Gorgs' garden. Sometimes somebody will come along and help, but usually it's just me. The garden is a beautiful place--so peaceful, so serene, and charming. Unless a gorg comes after you, then you just have to make sure you don't get trapped. The gorgs were terrible when we first encountered them. They're a little more tolerable now, but you still have to watch your back--and your beluvious."
UM: "In the unique world of Fraggle Rock, Mokey knew that 1 Silly Creature knew of our existence--Doc."
MF: "Gobo had seen Doc a lot over a number of years--but we had no idea that Doc was friendly. Or his dog, Sprocket, for that matter. He was what really kept us on edge. It wasn't until several years after Gobo first saw Doc that Doc actually knew about us."
UM: "One day in 1988, Doc and Sprocket moved away to the desert. Yet they were not long gone..."
MF: "Oh, I'll never forget that tunnel--it was so magical! Beautiful with gorgeous music...and at the other end, we found Doc! Then for the first time, Red, Wembley, Boober and myself actually met Doc and Sprocket. They were terrific!"
UM: "UP till then, Doc was the only Silly Creature to know of us fraggles. Then came a revolution..."
MF: "I couldn't believe it, the day we found out that Silly Creatures all *over* Outer Space knew about us--more than that, they *watched* us! The five most exciting years of our young lives in Fraggle Rock--and some of our most challenging times--were viewed by Silly Creatures world over. I've seen where some of them thought it was a 'TV show' made on purpose, but honestly, we didn't know a thing about it."
UM: "Surprised by this sudden news of exploitation, the fraggles' reception was quite warm...mine was about lukewarm, but it quickly became warm."
MF: "Well, when I found out that all these events of our lives were broadcast for young Silly Creatures to see, I was speechless. They were *learning* something from us, really beginning to model their lives after our own! I remember hugging Gobo and telling him how wonderful that was, to be a good influence in somebody's life."
UM: "A heart-felt fraggle, Mokey is often seen as the 'den-mother' of her group of friends."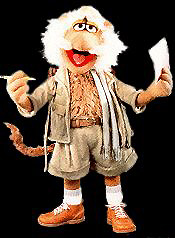 MF: "I've always been an optimistic fraggle, and I try to see the good in everyone. Feelings are also very important to me. I don't like to see others hurt--I've been hurt by my friends before, and it doesn't feel good. But we've all been hurt, and we never *mean* to hurt each other. Other fraggles have told me that I connect with the heart in others, and I guess that's true. I believe strongly in one's soul, and I like to try and smooth over any bad things between other fraggles."
Gobo Fraggle: "Mokey's always loved trying to set good examples for others. So when she learned we were doing just that for young Silly Creatures in Outer Space, she got so excited. Even the tough times we went through were for good, eh?"
MF: "Gobo and I *both* felt so good over that. Gobo is such a wonderful fraggle . . ."
Gobo: "If our lives were gonna be seen by the Silly Creatures, then I'm proud that Mokey was a big part of that. She's just the sort of kind, compassionate fraggle that everyone should know. Her sensitivity is great, and we share a special connection with each other."
UM: "Another fabulous discovery about the existence of Fraggle Rock--I just *love* discoveries--came when Mokey found out about 'merchandise'..."
MF: "I had seen myself in the Fraggle Pond before, but to suddenly see these dolls of me, and pictures of me in books and things--it was amazing!"
UM: "And Mokey's excellent musical talent did not go unnoticed, either."
MF: "They had taken songs that I'd sung with my friends and put them on flat, black things called 'records', where you can hear the songs again and again. I was so touched to see that some of my favorites, like, 'Why?', 'The Beetle Song', 'Helping Hand', 'Perfect Harmony', and others had been preserved for the Silly Creatures to listen to. I just love it that our lives are helping the Silly Creatures to try and make a better world in Outer Space."
UM: "Then came the day when Mokey was informed that the fraggles' lives were no longer being broadcast for their learners."
MF: "I don't know why they stopped recording our lives. Maybe someone discovered them, maybe the Silly Creatures behind it all had other things they had to do. But at least for 5 years we were able to make a difference in their world, and give them glimpses of ours. After all, Fraggle Rock is *very* hard to get to! If you find a fraggle hole, then you're very special."
UM: "Coming up, the televised 'Fraggle Rock' comes to a close--and Mokey loses someone very important in her life..."
COMMERCIAL BREAK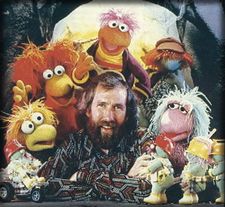 UM: "I'm Uncle Traveling Matt. We now return to 'Intimate Portrait: Mokey Fraggle'".
UM: "That same winter of the last year our lives were broadcast to the Silly Creatures, Mokey got to be part of something that was very special in itself..."
MF: "These 2 green things called 'frogs' came in through one of that world's rare fraggle holes, and they told us about 'Christmas'. It was fun, and we went up into their world when we heard this wonderful, exciting music--and there were so many other creatures around that were made kind of like us! Doc and Sprocket were there, and one of the green guys called himself Kermit. And there was this *huge* yellow thing! It was a very special and warm moment."
UM: "'A Muppet Family Christmas' aired in December of 1987, and was a huge treat for Silly Creature fans of us and other--what did you call them, Mr. Producer?--oh yes, thank you--'Muppets'. Yet in 1990, someone very important to the 'Muppet' family departed the world..."
MF: "I don't really know who Jim Henson was...I do know that he was an important figure in our lives and who we were, but he always seemed like an omniscient entity--distant from us, but all around us at the same time. I wish I could have known more about him..."
UM: "Mokey's fans also wish they could know more about her...and what she's been up to in recent years."
Byron Summers: "I've loved Mokey for years--always have, always will. She's just a wonderful fraggle, so caring, so generous. She has her flaws, as we all do, but she overcomes those with such ease. If she chooses to embark on anything here in Outer Space, I will follow her career with gusto and support her in anything she does--I just wish she knew who I am--MOKEY! I LOVE YOU! YOU'RE MY FRAGGLE SOULMATE!!"
MF: "Actually, if you watched what happened in our lives in the years we were on 'televisions', my life is pretty much the same. We go out into Outer Space from time to time, but not for too long. Fraggle Rock is our home, and for most of us, we couldn't imagine living anywhere else."
UM: "Through the part of her life that Silly Creatures got to see on 'televisions', Silly Creatures got to see Mokey's blossoming relationship with her best friend--Red."
MF: "Red, gosh...she's just the best friend a fraggle could have. Oh, we have our differences--and I guess you've seen that, (*laughs*), but we always manage to work things out. We love to play together, sing together, and I think we balance each other out very well."
Red: "Mokey's *great!* She always loves to play games, knows LOTS of great songs...she's just a super fraggle! I know we get on each other's nerves sometimes, but it's never anything we can't handle. Even Gobo could learn something from her! *snicker*"
Wembley Fraggle: "Fraggles love Mokey, especially her creativity. She loves to draw, and write poems--she's the best fraggle we have! Or maybe she isn't--well, she's *one* of the best--isn't she?--or maybe--AAAAAGH!!"
Boober Fraggle: "When I cook a dish, Mokey always savors every tasty bite and appreciates the hard work I do. *sigh* Do you know how rare it is for a cook to be appreciated in his own time?!"
Sprocket: "Ruff! Ruffruffruff!"
MF: "Yes, I've made such wonderful friends in my life. And we're all still very close. I love to do special things for them. Draw a picture for them, sing to them...I write about them in my diary a lot. I'm sure there are adventures and things in there that even *you* haven't heard of! *laugh*"
UM: "Will those adventures ever be revealed? Maybe, maybe not (I'll try to send you a postcard and let you know). However, one thing we do know--Mokey has always been one of the most popular fraggles in the rock, and Silly Creatures the world over adored her--and still do. She's creative, she's musical, she's kind--she's one of Henson's best creations--Mokey Fraggle."
Tomorrow, an Intimate Portrait on Mokey's best friend--Red Fraggle.