Kermit Soars High in the Macy's Thanksgiving Parade
By Nate Downs
October 31, 2002
Remember a time when one single day ushered in the beginning of the holiday season? No I'm not talking about the 4th of July, I'm talking about Thanksgiving.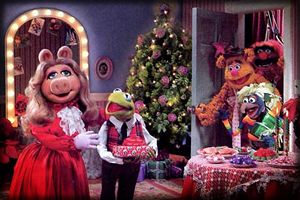 Once upon a time people all over the country looked forward to the start of the madness known as Christmas Time. With the advent of Wal-Mart and outlet malls, this tradition has gone the way of the dinosaurs, but for me there is one event, and only one event, that can kick off the holiday festivities, and that's the Macy's Thanksgiving Day Parade.
What man or woman over the age of 25 doesn't have fond memories of waking up early, running downstairs, and plopping in front of the TV to see famous celebrities, whimsical floats, and gigantic balloons? For me, the Macy's parade has also been something more. Not only was it a signifier that Christmas was on the way, but it was my first exposure to another world. That world was called New York City. It was with the Macy's Parade that I also discovered something else, Broadway. (For those that don't know, NBC always has the casts of Broadway Musicals perform before the parade starts.) And lastly, it forged my great love of parades.
But what of the Muppets you might ask? Well one of my earliest parade memories (I don't think it was the Macy's Parade) was watching the entire Muppet Show cast on a float. I was only a few years old, but I was hooked. There was Fozzie, Piggy, Sweetums, and Kermit, waving to the crowd. I still remember wishing I could have been there to see them "live" and in person. Every year I would bug my parents trying to find out when "Parade Season" would start. If they were good enough for Kermit & Co, they were good enough for me. And every year I wasn't disappointed, from the Rose Bowl, to the Thanksgiving Parade in Philly, Kermit and the gang showed up for at least one of them. But the biggest thrill every year was seeing the Kermit Balloon in NYC.
Of course, Kermit hasn't been the only Muppet to grace Macy's parade in New York. Many years have found the cast (both humans and Muppets) from Sesame Street riding down the parade route, followed in tow by the Big Bird Balloon.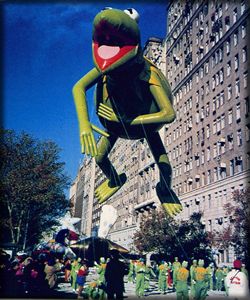 Kermit has always been my favorite though.
Kermit and the Macy's parade have a long standing relationship. The first Kermit balloon made its debut in 1977 and lasted for 13 years. He was amazing, at 36 feet wide, 78 feet long, and 61 feet tall, its sized rivaled even the legendary alligators living in the sewer. Most people are unaware, but these balloons wear out with time, get patched, re-stitched, and finally just give out. Alas, that's what happened to our beloved Kermit. While the parade has had other helium filled creations, our poor Kermit has been out of handlers' (the people who carry the balloons) hands for 12 years. Oh what I wouldn't give to be one of those volunteers, dressed all in green, walking our spokesfrog down the Great White Way.
No question though, the most exciting thing for a parade connoisseur has to be the collectibles that Macy's issues every year. My favorite items, without a doubt, are the plush creations that celebrate the featured balloon of the year. From the Pink Panther to Curious George, they've featured a bevy of Childhood favorites. And of course, how could Macy's not feature Kermit at least once in this collection. With his Plaid vest and gold buttons, I can't think of a time when I was as excited to get to a Macy's Department Store.
Unfortunately, since entering college, the parade just hasn't been the same. For one, Holidays are now a little more grown up, and finding the time to plop down in front of a TV isn't as easy as it used to be. Secondly, time took its toll on my beloved Kermit Balloon, and he was to make no more appearances.
Now you might be asking, "Why didn't Macy's make a new Kermit balloon?" Well, Macy's doesn't pay for most of the balloons. The majority of the time they are sponsored by someone else. This explains for the recent trend of advertising balloons making treks down the parade route. No offense to Kraft Macaroni and Cheese or Nestle's Quick, but I don't have fond recollections of their mascots, or munching down on their products.
This year will be different though. Why? Well I'm excited to say that the Jim Henson Company is once again sponsoring a Kermit balloon in honor of the Muppet Show's 25th anniversary. Yes, the frog himself will once again be rolling down the street, looking down on everyone with those familiar ping pong eyes and amphibian smile. And what a doozie this balloon is going to be. He's filled with over 11,000 cubic feet of helium, and is sure to bring a smile to every man, woman, and child he floats above.