Muppet Magic: Kermit's inducted in the Walk of Fame
By Trevor Kimball
November 16, 2002
On November 14, 2002, our favorite felt amphibian received a special honor in Hollywood, California. Kermit was honored with the 2,208th star on the Hollywood Walk of Fame. I live just north of LA and had the good fortune and opportunity to attend the ceremony. I'm self-employed and was a bit bogged down with work and responsibilities so I almost didn't make the 30-mile drive. In hindsight, I'm really glad I did.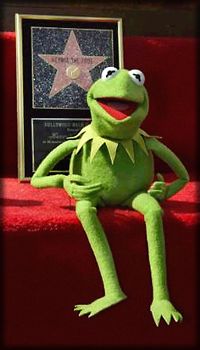 Sometimes these kind of events pass under the radar of tourists and fans and only a few people show up. Other times, the event becomes a big media frenzy and it's impossible to see what's going on. I left my office around 10:15 and, as I made my way through light LA freeway traffic, I wondered what I would find.
Parking in Hollywood can be a challenge in the best of conditions so, when I arrived at 10:50, I bit the bullet and parked in a parking garage that offered a bargain of $2 for 15 minutes ($8 maximum). As I searched for an underground parking spot, I noticed two ladies walking towards the stairs. One of them looked quite familiar. I found a parking spot, zipped up the escalator and began the few block walk down to 6801 Hollywood Boulevard. I ended up walking behind the two ladies who I'd seen earlier. My earlier suspicion was confirmed as I realized I was walking behind Jane Henson. I considered saying "hello" but decided not to intrude.
The location of the ceremony (and Kermit's star) was in front of the Kodak Theatre. This beautiful new facility has quickly become a landmark of the area and is the new home of the annual Academy Awards ceremony. I couldn't help but think that it was a great spot to have a star. I do wish it was closer to Jim Henson's star which is two blocks away in front of 6631 Hollywood Boulevard.
As we got closer, I could see that there was certainly plenty of interest in this special event. Fortunately, the sidewalk in front of the theatre is quite wide and accommodated the crowds. The press was out in full-force and there was a large sectioned-off area. There were lots of cameras set up in front of a raised podium and the covered star. The sectioned off area also contained numerous Henson family members, associates and industry members. Excitedly lining up on the street side of the gates were over 200 fans. Guards were stopping people from blocking the sidewalk on the side of the theatre. There were a relatively few people standing along the back gates, facing the podium, so I decided to stand there.
The video crews stood between me and the action, but because the podium was raised, my view looked perfect. When the event began, all of the cameramen stepped up on boxes and into my field of vision. Not so perfect. Luckily my video camera is equipped with a view screen so I raised it above my head and held it there for 25 minutes, keeping it as steady as I could. Now I know how a Muppeteer must feel!

"But the most important people I want to thank today are all you people over here, the fans. You represent all the people who've given me such a great career and because of you, thanks to you, a short, green, talking frog from the swamp made a huge splash in Hollywood. And because of you, I'm able to stand here today, uh, on a huge stack of phone books."
- Kermit the Frog

At 11:30, Johnny Grant (honorary mayor of Hollywood) began his introduction at the podium and was immediately joined by Kermit at his side. Johnny seemed genuinely surprised and Kermit apologized and joked that he wasn't sure what his cue was. As Johnny good-naturedly read his introduction (which shared a whole lot of similarities to the Kermit bio at the Henson site), they traded lots of quips back and forth to the delight of the crowd.
At one point Johnny noted that it would be Kermit's responsibility to keep the star clean. Kermit said he hadn't known about that but that he would clean it "every morning before work, around 5."
During the introduction, Johnny acknowledged the presence of actress and animal-supporter Tippi Hendrin. Johnny mentioned that Tippi had gone with him (Johnny) to Vietnam years ago with him as part of a USO show and that he was going to Afghanistan next week as part of another. Johnny asked if Kermit wanted to join him. Kermit respectfully declined saying that, if he went, Miss Piggy would want to join him and her wardrobe would be too heavy for the plane. Johnny misunderstood and said that he'd be glad to have just Miss Piggy join him. "You would?" Kermit said incredulously, "Well, no accounting for taste, John."
Charlie Rivkin (president of Henson) then spoke and joshed with Kermit as well. He acknowledged the presence of Jane and the Henson children and spoke about the contributions of Jim and Jane to Kermit's career. He joked that they certainly "had a hand in his success." Charlie mentioned the upcoming Christmas TV-movie and then said that everything he knew about business, he'd learned from Kermit. He sited that there were few people who could be so calm and organized amongst total chaos. He also commented that he had lots of experience managing divas.
"Lots of those. One in particular." Kermit replied.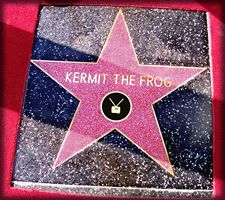 Charlie continued "But most of all, Kermit, You are the best of anybody in the world for keeping and spreading a better attitude for everything you do in life. We want to thank you for that. A great man named Jim Henson once said 'My hope still is to leave the world a little better place for my having been here.' Jim certainly made the world a better place and today, we want to tell you, Kermit, that you've made our world a better place and for that we thank you. Congratulations."
During Charlie's speech, out of the corner of my eye, I saw a guy dressed in a bright green suit pass by me into the gated area. He was introduced soon after as two-time Muppet costar David Arquette. David spoke good-naturedly for a few moments and didn't seem to have anything prepared to say. He spoke of how much he admired Kermit and that he hoped to live in his shadow. Kermit responded that it would be tough considering how much smaller he is than David. Kermit thanked David for coming and afterwards said to the fans, "Have you guys seen David's wife? Wow! Woo-hoo!" The audience really cracked up.
Johnny took the podium briefly to acknowledge the president of the Hollywood Chamber of Commerce, Russ Joiner, and to read a congratulatory proclamation from the Los Angeles City Council. When he was done, Johnny proclaimed it "Kermit the Frog Day" in Hollywood.
As Johnny left the podium, Kermit said, "I just want to say a few words. I want to thank you all for coming here today. I feel like I've been preparing for this day my entire life because, after all these years of working in this city, I sort of know what it's like to have thousands of people walk all over you everyday. I want to thank everyone for their kind words, Johnny and David and Charlie, and everybody. And now, as you may know frogs aren't usually very comfortable being so close to busy roads. It kind of gives us a run-down feeling. That's a Fozzie Bear joke."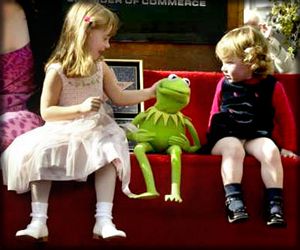 Kermit the Frog talks with Katrina and Ginger, granddaughters of Jim and Jane Henson.
"But I want to take this opportunity to thank the folks at Hollywood and Highland (intersection of the theater) and the Kodak Theater for giving me such a great location and I promise them that I will keep that star shining and that they should feel free to cover me with a red carpet whenever they want."
"But the most important people I want to thank today are all you people over here, the fans. You represent all the people who've given me such a great career and because of you, thanks to you, a short, green, talking frog from the swamp made a huge splash in Hollywood. And because of you, I'm able to stand here today, uh, on a huge stack of phone books."
"And accepting one of greatest honors in show-business… And it really is a great honor. When I was looking around yesterday, I saw all the stars of the great performers nearby. I'm proud to be their new neighbor. Like my friend Edgar Bergen who's magic with Charlie McCarthy kind of inspired my career, and my closest friend Jim Henson. Now Jim not only inspired my career, he actually inhabited it. And Jim was a great man whose work moved us all, especially me. And I know truthfully he would be very, very happy that we're receiving this honor today."
"You know at the end of The Muppet Movie, I had a line that I think sums up what I and Jim Henson and everybody else that's part of this great Jim Henson Company have tried to accomplish through the years. And that line was 'I have a dream. It's about singing and dancing and making people happy. And, that's the kind of dream that gets better the more people you share it with. And I've found a whole bunch of people who share the same dream and that kind of makes us a family.' And that includes everybody that's here today too. Thanks to Hollywood, I've had a chance to share that dream with all of you and thanks to the lovers, the dreamers and you, Hollywood has made me a part of their family! Thank you all!!"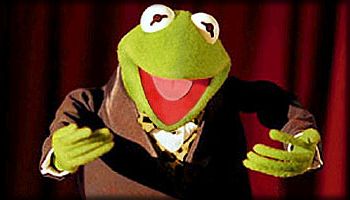 The humans moved down to the ground in front of the podium where the star was. Kermit disappeared from the podium and Sweetums (John Henson) talked to the crowd (presumably stalling for a bit of time while Steve rested and drank some water). Using a gruff lower voice, I was taken by how much John sounded like his dad's Rowlf and Dr. Teeth.
Five minutes later, Kermit reappeared on a stair near the ground and joined Johnny and others unveiling the star. Johnny gave Kermit a framed miniature version of the star and put on a special Kermit hat that looked as if it had been specially prepared by the creative folks at the Henson Company. There were a lot of different photo set ups taken by the press of Kermit with family and friends, but with the hoard of press people, this part was hard to see. One of the pictures was taken with members of the Henson family which included some of Jim & Jane's grandchildren.
When all of the photos were finished, a group of ladies (who Kermit referred to as "the Henson ladies") crowded around Kermit on the stair and I saw part of a cloth brown bag appear. When the ladies dispersed Kermit was gone and a plant had been moved to where he had been sitting. The frog had left the building.
The crowd and media either dispersed or swooped in on David Arqette in his green suit. Sweetums also signed autographs and chatted with some fans. We were waiting for the man under the stage to appear. While I waited, I noticed Jane standing nearby and I said hello and mentioned that we had met about 9 years ago when she had signed my Kermit puppet (which I had with me) at a speech she had give at the LA Public Library. She was very nice and cordial.
About 10 minutes later, Steve Whitmire came out from under the platform and few people noticed him. He signed several things (including I think the official proclamation) and had some pictures taken in front of the star with a few people including David.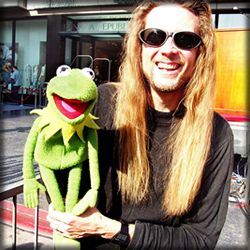 After signing Trevor's Kermit puppet, Steve Whitmire poses for a picture. Steve has been a Kermit fan has entire life. Friends even called him "Kermit" in high school.
Afterwards, he came over to chat with a few of us fans and to sign a few autographs. One lady I was standing next to had brought a Kermit painting she'd done. Steve signed that and then her Kermit tattoo on her leg. He commented that that was the strangest thing he'd ever been asked to sign. I had brought my Kermit puppet and he very nicely signed it on the back (alongside Jane's and Brian's autographs from 9 years ago). He then put it on his hand and did a bit of talking with it. I was especially happy to get a photo of them together, as I have a photo of Jane doing the same thing from years before. I was impressed with how kind and genuine and he was. Steve left after that to do an interview "upstairs" and the fans dispersed.
By this point, the company that had set up the podium, gates and stage were taking their gear away. Before I left, I got a chance to take a few photos of the new star and under the stage where I could see the pieces of foam that Steve rested on while performing and the rods that helped him control Kermit's arms. This was a close up chance to glimpse into the conditions of a Muppeteer.
As I made my way back to the parking garage around 12:45, I was really glad that I had made the trek to Hollywood. Though I live near LA, I had to miss the first MuppetFest when it was rescheduled to December (I had already committed to performing in a musical version of Scrooge! as Kermit, uh I mean Bob Cratchit). Having this opportunity to see Kermit, some of the Hensons and to meet Steve in person was a nice little consolation and brush with the makers of Muppet magic.