A Family Connection: Dr. Phil and Zelda
By D. W. McKim
February 17, 2002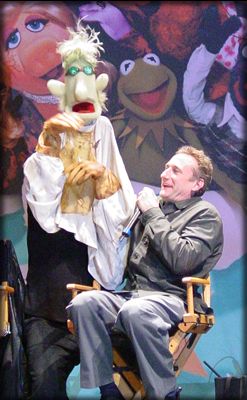 It only just struck my conscious mind a few days ago, but I realized... Zelda Rose is Mulch's mother-in-law!
Zelda is revealed to be Dr Phil's mother in the Cameo Show episode of Muppets Tonight in a line that was cut from the USA airings. After Phil asks "Who threw that meatball?", Zelda stands up and Phil incredulously asks, "Mother?!" And it had been revealed earlier that Phil had married Mulch's sister.
That actually got me thinking a bit more about Dr. Phil, who is one of my fave characters to come out of Muppets Tonight (and I'm very glad to see that with Muppets From Space, Family Feud, and MuppetFest that he seems to be living on).
Dr. Phil must have an interesting backstory! Raised by Zelda, and married to Mulch's family. I wonder if he was introduced to the casting director at KMUP via his relationship with either of the two? When you consider Zelda's best-known act was her singing owl duet that makes me wonder if Phil spent a lot of time around animals in his youth and if they fueled his veterinarian career!
Zelda herself, though, seems to be an interesting character considering all the little bits and pieces we've been given of her. On the surface she looks like a very straight-laced librarian type (and even played the part of a librarian in the Mummenschanz episode). Yet when you consider she has a singing owl and has danced with Sam Eagle and other assorted characters in "At The Dance", one realizes there may be even more quirky interesting sides to this woman. This is especially confirmed in one of the Playhouse Video retrospectives where when cleaning the attack, Kermit is looking at a newspaper asking Fozzie if he remembers Zelda Rose, the implication being that she's done something (or had something done to herself) to warrant a news article.
Finally, I have to close with a quick singing of Brian Henson praises. At MuppetFest, he was being very modest apologizing that he wasn't as funny as the other guys up on the stage. Yet Brian was my favorite performer on Muppets Tonight, practically all my favorite new characters were his, and this is all a testament to his talents as an individual performer. He's got a marvelous sense of humor and character development, and just listening to him delivering one of Phil or Sal's tirades - for a seemingly quiet, reserved fellow he can really let loose in a big way with his characters!